Chapati, pronounced [chuh-pah-tee] is unleavened flat bread.  It is a staple food served at most meals in East Africa, (Uganda, Kenya, Tanzania, and Rwanda).  This fried bread is from South Asia and also found in Central Asia and the Horn of Africa.  This bread is used as an eating utensil, as well as a bread.  You tear off pieces of it to use to pick up other foods.
My granddaughter, Tabitha "Tabi" visited Kenya with her friends.  They were taught to make the bread by the family they stayed with.  When Tabitha returned home, she shared with me the process and recipe that they used in Kenya.  Chapati, has many variations depending on who makes it and where they live.  This version uses a blend of wheat flour and corn flour.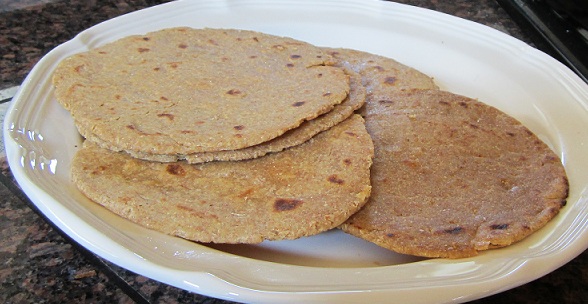 Check out Linda's Bread Making Hints: Secrets to using the bread machine, About yeast in bread making, Sourdough Starter, and Quick Breads.
More great Bread Recipes for your bread making.
Chapati Bread Recipe - Unleavened Flat Bread:
Keyword:
Chapati Bread Recipe, Unleavened Flat Bread Recipe
Servings
:
8
Chapati breads
Ingredients
1

cup all-purpose

flour 

1

cup

corn flour*

1

teaspoon

salt

or to taste

2

tablespoons

vegetable oil

3/4 to 1

cup

water

1

teaspoon

salt
Instructions
In a large bowl, stir together the all-purpose flour, corn flour, and salt.

Use a wooden spoon (or your hands) to stir in the vegetable oil until the flour feels a little bit like sand.

Add just enough water, adding a little at a time, to make a soft dough that is elastic but not sticky. Go slow adding the water. Add the water as you go along and only as needed. The dough must be smooth and just the right softness.

Knead the dough on a lightly floured surface until it is smooth.

Divide into four (4) parts. Roll each piece into a ball. Divide each of the 4 balls into 2 balls. You should have a total of 8 balls (the size of the balls is dependent on how big and how thick you want your chapati). Let rest for a few minutes.

Flatten each ball, on a lightly-floured surface to prevent the dough from sticking to the surface. Using a rolling pin, roll out to approximately 10- to 12-inches in diameter.

Preheat a lightly-greased frying pan or Cast-Iron Skillet over medium heat. One at a time, cook each chapati in the hot pan. Brush one side of the chapati with vegetable oil and the place in the hot skillet. Fry slowly until light golden brown. As the chapati is cooking, twirl it with your hands to prevent sticking.

The chapati is ready to flip when you begin to see raised bumps on its surface. Use a spatula (or use your hands as the people of Kenya do) to flip the chapati over in the pan; let cook until light golden brown. Remove from heat and set on a plate. Repeat with the remain chapati dough circles, adding additional vegetable oil as needed.

Serve with desired accompaniments.
Recipe Notes
*  Corn flour is flour made out of corn - not corn meal.  If desired, you could substitute other types of flour.
Comments and Reviews