Cherry Scones are best served warm and fresh from the oven and topped with either lemon curd or thick homemade jam and clotted cream (Devonshire Cream or Creme Fraiche).  Cherry Scones are so very easy to make and so delicious.  They will definitely delight all your family and friends.
It is thought that the name comes from the Stone of Destiny (or Scone).  Scottish kings have been crowned upon this stone for more than a thousand years.  The present British Queen Elizabeth II was crowned on the Stone in 1953.  The original version of scones was made with oats and griddle baked.  Today they are flour-based and baked in the oven and come in various shapes (triangles, rounds, squares, and diamonds).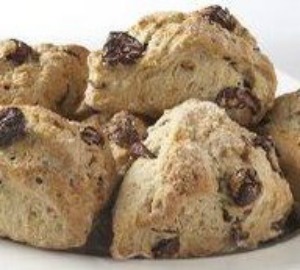 Check out Linda's History of English High Tea, English High Tea Menu, and Afternoon Tea Recipes.
More great Scone Recipes, Bread Recipes, Sourdough Bread Recipes, and Quick Bread Recipe for all your bread making.
Cherry Scones Recipe:
Keyword:
Cherry Scones Recipe
Ingredients
2

cups all-purpose

flour 

1/3

cup plus 2 tablespoons granulated

sugar,

divided

2

teaspoons

baking powder

1/8

teaspoon

salt

1/3

cup

unsalted butter,

chilled and cut into 1/4-inch pieces*

1

cold

egg,

beaten*

1

teaspoon

pure vanilla extract

1/2

cup

whipping cream

or heavy cream, chilled*

1/2

cup

sour cherries

(fresh or frozen), pitted and drained

1

cold

egg,

beaten*
Instructions
Preheat oven to 375 degrees F. Place oven rack in middle of oven. Lightly spray a large baking sheet with vegetable-oil cooking spray.

In a large bowl, combine flour, 1/3 cup sugar, baking powder, and salt. With a pastry blender or two knives, cut cold butter into flour mixture until particles are the size of small peas; stir in dates. Add 1 cold egg, vanilla extract, and cold whipping cream; stir just until mixed. When making scones, work the dough quickly and do not over mix.

On a lightly floured surface, knead dough gently. Pat or roll out the dough into a circle 1/2-inch thick. To make wedge-shaped scones, cut into 8 pieces. Use an 1 1/2-inch diameter cookie cutter to cut out center of circle. separate each section. Place wedges 1 1/2 inches apart onto prepared baking sheet.

Tip: Prior to baking, place the tray of scones in the refrigerator for about 5 to 10 minutes to ensures that the scones remain cold before baking.

When ready to bake, make a small indentation in the center of each scone. Place approximately 1 tablespoon cherries in the indentation. Brush scones (except for the cherries), with the beaten egg and sprinkle with 2 tablespoons sugar.

Bake 15 to 18 minutes or until golden brown. A good check is to use an instant digital thermometer to test your scones. The temperature of the scones should be at 200 degrees F. when done.

Remove from oven and serve warm.
Recipe Notes
* Why do your ingredients need to be cold?  It is important that your ingredients (both fats, liquids, and eggs) remain cold.  The purpose is to keep the butter solid and not let it melt.  If your dough is kept cold, it will have little bits of dispersed butter.  In the heat of the oven, that butter melts into the dough but leaves pockets and layers in the scones.  If it's hot in your kitchen, freeze your butter before making scones.  Cold butter makes scones rise higher!

I get many readers asking what cooking/meat thermometer that I prefer and use in my cooking and baking. I, personally, use the Thermapen Thermometer. Originally designed for professional use, the Super-Fast Thermapen Thermometer is used by chefs all over the world.  I only endorse a few products, on my web site, that I like and use regularly.
You can learn more or buy yours at: Super-Fast Thermapen Thermometer.
Sponsored Content
Freezing Scones
Courtesy of Debbie Anderson of Victorian House Scones LLC.
Freezing baked scones:  When the scones are cool, wrap airtight and hold at room temperature for up to one day or freeze to store longer.  To reheat, unwrap scones (thaw wrapped, if frozen) and place onto a baking sheet.  Bake in a 350 degrees oven 8 to 10 minutes or until warm.
Freezing unbaked scones:  When the dough is made and patted into circles or cut into 8 wedges/circle, place on a cookie sheet and place, uncovered in the freezer.  It will take about an hour for the dough to freeze firm.  Once the dough is firm, put frozen scones into a zip-lock bag and return them to the freezer.
When you are ready to bake the scones, simply take out as many as you want to bake and let them sit on the kitchen counter on aluminum foil or parchment paper while you preheat the oven.  They should only be allowed to thaw as long as it takes the oven to preheat.  Once the oven is preheated, place the scones onto a fresh sheet of aluminum paper or parchment paper and bake.  It will be necessary to extend the baking time by a few minutes (it could easily add up to 4 to 5 minutes to the baking time – just add it in 2 minute increments until you are sure of your times).
Comments and Reviews