Sourdough Ciabatta Italian bread recipe is also know as Italian Slipper Bread, as ciabatta is an Italian word meaning slipper. This bread has a crunchy crust with an extra-light interior. For an interesting and delicious variation, this Sourdough Ciabatta Italian Bread can also be topped with your favorite pizza ingredients.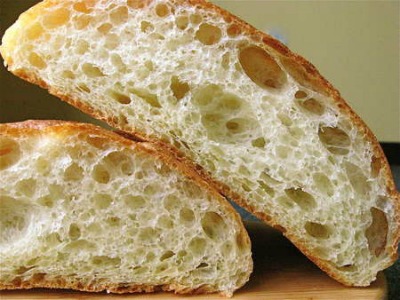 For more great Low Fat Recipes, Low Calorie Recipes, Low Carbohydrate recipes, and Diabetic Recipes, check out my Diet Recipe Index. Also check out my Nutritional Chart for fat grams, fiber grams, and calories for all your favorite foods.
Bread Making Hints: Secrets to using the bread machine, About yeast in bread making, and Sourdough Starter – How to make a Sourdough Starter. More great Bread Recipes, Sourdough Bread Recipes, and Quick Bread Recipes for all your bread making.
Sourdough Ciabatta Italian Bread Recipe:
Keyword:
Sourdough Ciabatta Italian Bread Recipe
Ingredients
1

cup

sourdough starter,

room temperature*

3/4

cup

warm water

(110 degrees F.)

2

tablespoons

olive oil,

extra-virgin

1 1/2

teaspoons

salt

1

tablespoon granulated

sugar

1 1/2

cups

bread flour

or unbleached all-purpose flour**

1/2

cup

semolina flour

1/2

teaspoon

diastatic malt

(optiona)l***

1

teaspoon

instant yeast

(I use Red Star Instant Active Dry Yeast)
Instructions
Place starter, water, olive oil, salt, sugar, bread flour, malt and yeast in bread pan of your bread machine.  Select dough setting and press start.  When dough cycle has finished, dough will be very soft (between a batter and a runny dough).  Remove dough from pan and place into a oiled large bowl.  Cover with plastic wrap and let rise in at room temperature approximately 1 1/2 hours or until tripled in bulk (dough will be sticky and full of bubbles).

On a baking sheet, place a sheet of parchment paper.  Sprinkle parchment paper with semolina flour.  Turn the risen dough onto a flour dusted work surface.  Pat dough (do not punch down) into a rectangle and dust with flour.  Transfer to prepared baking sheet.  Press fingertips into dough in several places to dimple surface. Cover dough with plastic wrap and let rise at room temperature for 1 1/2 to 2 hours or until doubled in bulk.

At least 45 minutes before baking, place baking stones on lowest oven rack in oven and set the temperature to 500 degrees F. Allow the oven to heat for 30 minutes.

Lower oven temperature to 400 degrees F. Transfer loaf (with parchment paper) to the hot baking stones. Bake 15 minutes or until pale golden. A good check is to use an instant digital thermometer to test your bread. The internal temperature should be between 200 and 210 degrees F.

Remove from oven and place the bread on a wire rack to cool. Let baked loaf cool for 30 minutes before cutting (this is because the bread is still cooking while it is cooling).
Recipe Notes
* If you do not presently have a sourdough starter, either make your own sourdough starter or purchase Packaged Sourdough Starter Mix by mail-order.
** This bread will end up being a very sticky, wet dough.  Do not add any additional flour to the dough.
*** Diastatic malt contains active enzymes which help break starch down into sugar.  The extra sugar feeds the yeast in the dough, helping the bread to rise, and also gives the bread a browner crust.

I get many readers asking what cooking/meat thermometer that I prefer and use in my cooking and baking. I, personally, use the Thermapen Thermometer. Originally designed for professional use, the Super-Fast Thermapen Thermometer is used by chefs all over the world.  I only endorse a few products, on my web site, that I like and use regularly.
You can learn more or buy yours at: Super-Fast Thermapen Thermometer.
Sponsored Content
Source: Photo from King Arthur Flour web site.
Did you know that the name sourdough comes from San Francisco and their famous sourdough breads? It is thought that French bakers brought sourdough techniques to Northern California during the California Gold Rush in the late 1800s. If you don't want to make your own sourdough starter, you can buy a San Francisco sourdough starter from Amazon. 
sponsored content
Comments and Reviews