My family loves cornbread! It is easy to make and so good.  Cornbread made in the Northwest is a little sweeter and lighter than the traditional southern cornbread.  I often double the recipe ingredients so that there is leftover cornbread for another meal, and to make cornbread croutons.  Southern U.S cornbreads are a traditional New Year's food.  The golden color of the corn bread is said to be good luck as the color is resembling gold, and the corn kernels gold nuggets.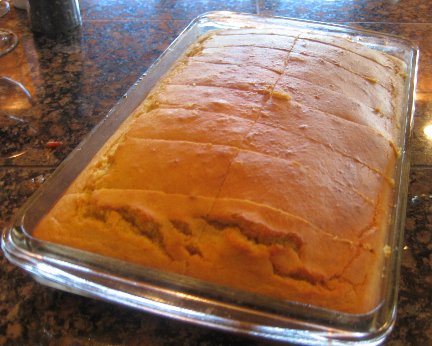 Check out Linda's Bread Making Hints: Secrets to using the bread machine, About yeast in bread making, Sourdough Starter, and Quick Breads.
More great Bread Recipes for your bread making.
Northwest Cornbread Recipe:
Keyword:
Northwest Cornbread Recipe
Instructions
Preheat oven to 425 degrees F. Place oven rack on the middle rack of your oven. Butter a 9-inch square baking pan.

In a large bowl, mix together the cornmeal, flour, sugar, baking powder, baking soda, and salt. Push the dry ingredients up the sides of the bowl to make a well in the center. Crack the eggs into the well and stir lightly with a wooden spoon; then add the olive, oil, buttermilk, and milk. Stir all the ingredients just until they are just combined - do not overbeat!

Pour cornbread batter into the prepared baking pan. Bake approximately 20 to 25 minutes until the top of the cornbread is golden brown and lightly cracked and the edges have pulled away from the sides of the baking pan.

Remove from oven and immediately transfer to a wire rack for cooling. Let cool 5 to 10 minutes before cutting and serving. Cut into squares and serve warm with butter and honey.

NOTE: Cooked cornbread can be wrapped in aluminum foil and stored, on the counter, for one (1) day. To reheat, place in a preheated 350 degrees F. oven for 10 to 15 minutes.

Makes 6 to 8 cornbread squares.
Cornbread Croutons:

If, by any chance, you some some cornbread left over – how about using it to make Cornbread Croutons? Making Cornbread Crouton is very easy-to-do and so good!   I can think of no better way to use leftover cornbread than as croutons to top off your next dinner.  You could use these croutons on your salads, chili, stews, and soups.  Also, wouldn't these Cornbread Croutons make a wonderful turkey stuffing/dressing? Yum!
Ingredients:
Leftover cornbread
Melted butter, oil, or non-stick cooking spray
Coarse salt and freshly-ground black pepper to taste
Instructions:
Preheat oven to 400 degrees F.
Chop the leftover cornbread into approximately 3/4-inch cubes.  Spread cubes on a rimmed baking sheet.  Drizzle with either melted butter or oil, or do as I did and spray with some non-stick cooking spray (such as Pam).
Sprinkle with salt and pepper to taste and toss gently.  NOTE: You could also add some fresh or dried herbs of your choice.
Toast in the oven for approximately 8 to 10 minutes, shaking the pan every 2 minutes until they get crusty, golden brown, and turn into croutons.
Remove from oven.  Let the croutons cool completely before storing in an airtight container until ready to use.
Comments and Reviews