Pumpkin Chocolate Chip Bread recipe is the perfect quick bread to enjoy the Fall season.  With the cool days and cold nights of Fall, this combination of pumpkin and chocolate in this bread is fantastic!  This spicy and delicious pumpkin bread is so incredibly moist and filled with chocolate.  The bread is moist and dense and filled with delicious chocolate.  Everyone who tries this bread – loves it!  You can not just eat one slice of this pumpkin bread, as one leads to another.  My family and myself could not stop eating this Pumpkin Chocolate Chip bread.  This quick bread recipe is great for breakfast, a mid-afternoon treat, or just any time of day you feel that you want a slice.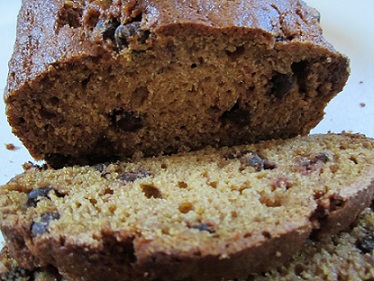 More great Bread Recipes, Sourdough Bread Recipes and Quick Bread Recipes for all your bread making.
More of Linda's Bread Making Hints: Secrets to using the bread machine, About yeast in bread making, Sourdough Starter, and Quick Breads.
Pumpkin Chocolate Chip Bread Recipe:
Keyword:
Pumpkin Chocolate Chip Bread Recipe
Ingredients
3 1/2

cups all-purpose

flour

2

teaspoons

baking soda

2

teaspoons

salt

2

teaspoon

cinnamon,

ground

1/2

teaspoon

nutmeg,

ground

1/2

teaspoon

allspice,

ground

1 3/4

cups 1 (15-ounce) can

pumpkin puree

(not pumpkin pie filling)

1

cup

vegetable oil

3

cups granulated

sugar

4

large

eggs,

beaten

1

teaspoon

pure vanilla extract

2/3

cup

water

1 1/2

cups 1 (12-ounce) bag semisweet

chocolate

chips
Instructions
Preheat oven to 350 degrees F. Place oven rack in center of oven. Generously grease two (2) 9x5-inch loaf pans. In a medium bowl, sift together the flour, baking soda, salt, cinnamon, nutmeg, and allspice; set aside.

In a large bowl of your mixer, combine pumpkin puree and vegetable oil. Add sugar and eggs to combine. Then add vanilla extract and water until blended. Using a rubber spatula, stir in the chocolate chips. Add the flour mixture and stir until just blended. Do not over mix.

NOTE: Bake all quick breads as soon as the ingredients are assembled. Since high temperatures are often called for, it is best to bake them in the center of the oven, as the heat in the top third of the oven will be too intense.

Pour batter into prepared loaf pans and bake approximately 60 to 70 minutes (rotating the pans halfway through the baking time) or until a toothpick inserted in the center comes out clean. NOTE: Be sure and poke the toothpick already to the center of the loaf. A good check is to use an instant digital thermometer to test your bread. The internal temperature of the bread should be at 200 degrees F. when done.

Remove from oven and cool on a wire rack 10 minutes; remove from pan. Cool completely before slicing.

I get many readers asking what cooking/meat thermometer that I prefer and use in my cooking and baking. I, personally, use the Thermapen Thermometer. Originally designed for professional use, the Super-Fast Thermapen Thermometer is used by chefs all over the world.  I only endorse a few products, on my web site, that I like and use regularly.
You can learn more or buy yours at: Super-Fast Thermapen Thermometer.
Sponsored Content
Comments and Reviews