The Best Sourdough Cinnamon Rolls Recipe
Sourdough makes everything taste extra special and adds that special WOW!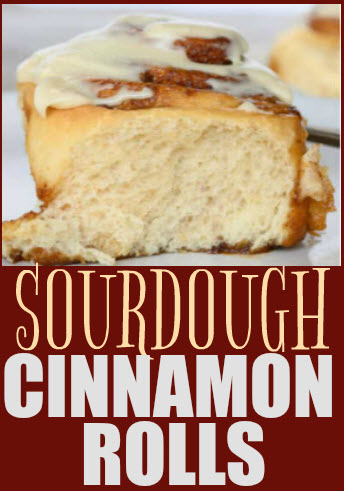 Sourdough Cinnamon Rolls are a fantastic and delicious recipe to use your sourdough starter in.  These Cinnamon Rolls treats are wonderful – so easy to make in your bread machine and so rewarding!  This recipe still uses yeast, and the sourdough starter is added for another dimension of flavor that will amaze your taste buds!  I have been making this recipe for years and always get asked to share my recipe.
As far as I am concerned, Cinnamon Rolls are the best food invention ever made.
Bread Making Hints: Secrets to using the bread machine, About yeast in bread making, and Sourdough Starter – How to make a Sourdough Starter.
More great Bread Recipes, Sourdough Bread Recipes and Quick Bread Recipes for all your bread making.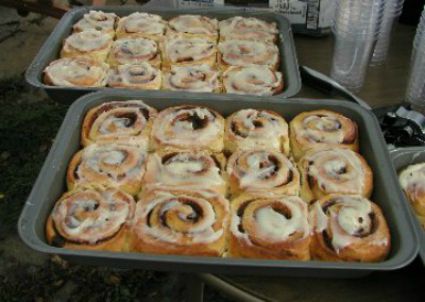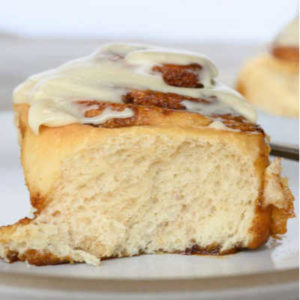 Sourdough Cinnamon Rolls Recipe:
Keyword:
Sourdough Cinnamon Rolls Recipe
Ingredients
Sourdough Cinnamon Rolls:
Cinnamon Filling:
2

tablespoons

butter,

melted or softened

1/2

cup firmly-packed

brown sugar

1

teaspoon ground

cinnamon

3/4 to 1

cup

nuts,

chopped (optional)
Frosting:
1

cup

powdered sugar

(confectioners' sugar)

1

teaspoon

pure vanilla extract

2

tablespoons

hot water
Instructions
Sourdough Cinnamon Rolls Instructions:
Add all the ingredients in the bread pan of your Bread Machine. Process according to manufacturer's instructions for a dough setting. NOTE: Do not be afraid to open the lid and check the dough. It should form a nice elastic ball. If you think the dough is too moist, add additional flour (a tablespoon at a time). The same is true if the dough is looking dry and gnarly. Add warm water (a tablespoon at a time).

When the bread machine has completed the dough cycle, remove the dough from the pan to a lightly floured surface. Knead the dough several times and form the dough into an oval; cover with plastic wrap and let rest for 10 to 15 minutes.

Butter a 9 x 13 x 2-inch baking pan; set aside.

After dough has rested, roll and stretch the dough into approximately a 15 x 24-inch rectangle. Brush the softened butter (listed below in the Cinnamon Filling) over the top of the dough with a rubber spatula or a pastry brush. Sprinkle Cinnamon Filling over the butter on the prepared dough. Starting with long edge, roll up dough; pinch seams to seal. NOTE: Rolling the log too tightly will result in cinnamon rolls whose centers pop up above the rest of them as they bake.

With a knife, lightly mark roll into 1 1/2-inch sections. Slide a 12-inch piece of dental floss or heavy thread underneath. By bringing the ends of the floss up and crisscrossing them at the top of each mark, you can cut through the roll by pulling the strings in opposite directions. Place rolls, cut side up, in prepared pan, flattening them slightly. The unbaked cinnamon rolls should not touch each other before rising and baking. Do not pack the unbaked cinnamon rolls together.

1. Refrigerating or Freezing Unbaked Cinnamon Rolls:

At this point, the cinnamon rolls can be covered with plastic wrap and refrigerated overnight (I've actually made them two days in advance) or frozen for one (1) month.  Before baking, allow rolls to thaw completely and rise in a warm place if frozen.  I have found that I have to take the unbaked frozen cinnamon rolls out of the freezer 10 to 12 hours before planning to bake.  I just put the frozen cinnamon rolls (container and rolls) on my counter (not in the refrigerator) overnight for 10 to 12 hours.

If refrigerated, they can be either baked upon removing from the refrigerator or let come to a room temperature (I've done both ways).  They do a slow rise overnight and it is not necessary to let them come to room temperature before baking.  If you rolls are not rising enough after being refrigerated, your yeast may need to be tested.  To overcome this, let them rise, while sitting on the counter, until you achieve the desired rising before baking.

2. Bake Immediately After Making:

Cover and let rise in a warm place for approximately 45 to 60 minutes or until doubled in size (after rising, rolls should be touching each other and the sides of the pan).

Preheat oven to 350 degrees F. Bake approximately 20 to 25 minutes in a regular oven until they are a light golden brown.  A good check is to use an instant digital thermometer to test your bread.  The temperature should be between 190 and 200 degrees.

Remove from oven and let cool slightly.  Spread prepared Butter Frosting over the cinnamon rolls while still warm.

Best served warm, but room temperature is also great!
Cinnamon Filling Instructions:
Soften the butter; set aside.  In a bowl, combine brown sugar and cinnamon; stir in chopped nuts (optional).  NOTE: I like to sift the brown sugar and cinnamon together to remove any lumps.
Frosting Instructions:
In a medium bowl, combine powdered sugar, vanilla extract, and hot water until well mixed and creamy.  Refrigerate frosting until ready to use and then bring to room temperature before spreading.
Recipe Notes
* If you do not presently have a sourdough starter, either make your own Sourdough Starter or purchase Packaged Sourdough Starter Mix by mail-order.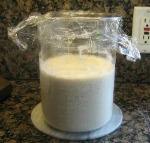 I find working with a sourdough starter can be very time consuming.  Especially if you follow what most sourdough books say and feed them everyday.  That's too much work for me as I already have a cat.  You even need a sourdough sitter when leaving town.  Because I do not use my starter everyday, I store it, covered, in the refrigerator until ready to use.  When I decide I want to use my starter, I then remove it from the refrigerator and let it come to room temperature (usually I let it sit overnight on the counter). I then feed it with 1 cup flour and 1 cup warm water.  I let this site 8 hours or preferably overnight.  It is now ready to use in your sourdough recipes! - Linda Stradley


I get many readers asking what cooking/meat thermometer that I prefer and use in my cooking and baking. I, personally, use the Thermapen Thermometer. Originally designed for professional use, the Super-Fast Thermapen Thermometer is used by chefs all over the world.  I only endorse a few products, on my web site, that I like and use regularly.
You can learn more or buy yours at: Super-Fast Thermapen Thermometer.
Sponsored Content
Did you know that the name sourdough comes from San Francisco and their famous sourdough breads? It is thought that French bakers brought sourdough techniques to Northern California during the California Gold Rush in the late 1800s. If you don't want to make your own sourdough starter, you can buy a San Francisco sourdough starter from Amazon. 
sponsored content
Comments and Reviews