Sourdough Fruit Bread is a take off of my Breakfast Fruit Bread recipe. My husband and I loved this bread! Both of us could not stop eating it!
Since I have a sourdough starter that I am always feeding, I decided to convert the recipe to a sourdough bread recipe. This Sourdough Fruit Bread is studded with nuts and chopped dried fruit. So delicious!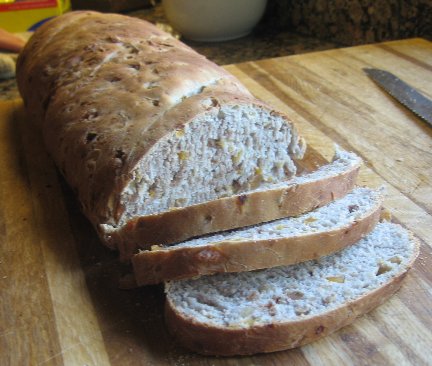 Bread Making Hints: Secrets to using the bread machine, About yeast in bread making, and Sourdough Starter – How to make a Sourdough Starter.
More great Bread Recipes, Sourdough Bread Recipes and Quick Bread Recipe for all your bread making.
Sourdough Fruit Bread Recipe:
Keyword:
Sourdough Fruit Bread Recipe
Ingredients
2

cups

sourdough starter,

room temperature*

1

cup

lukewarm water

(approximate)

2

tablespoons

olive oil

2

tablespoon granulated

sugar

1

teaspoon

salt

2

teaspoons

vital gluten

(optional)**

4

cups

bread flour

or unbleache all-purpose flour

1/2

cup of either

rye flour

or pumpernickel flour

1

teaspoon

instant active dry yeast***

2 to 2 1/2

cups of mixed chopped

nuts

and chopped dried fruit (such as raisins, dates, apricots, apples, cherries, etc.)****
Instructions
Add all the ingredients in the bread pan of bread machine except nuts and dried fruit.

Process according to manufacturer's instructions for a dough setting.

The thickness or consistency of your sourdough starter can determine how much flour or water needs to be used. The consistency of the dough should be medium-soft, but not sticky. If you think the dough is too moist, add additional flour (a tablespoon at a time). The same is true if the dough is looking dry and gnarly. Add warm water (a tablespoon at a time).

When dough cycle has finished, remove dough from pan and turn out onto a lightly-floured surface. Add the dried fruits and nuts and knead the dough until they are evenly incorporated. Shape dough into a loaf shape and place on a jelly roll pan or cookie sheet that is dusted with cornmeal (I use the Silicone Baking Mats instead of cornmeal). Cover with plastic wrap and place in a warm spot to rise until doubled in size, approximately 1 to 3 hours.

Preheat oven to 375 degrees F.

After rising, slash the bread with a bread razor or a very sharp knife making three 1/2-inch deep diagonal slashes. Bake for approximately 30 to 40 minutes or until nicely browned. A good check is to use an instant digital thermometer to test your bread. The internal temperature should be between 200 and 210 degrees F.

Remove from oven and place the bread on a wire rack to cool. Let baked loaf cool for 30 minutes before cutting (this is because the bread is still cooking while it is cooling).

Makes 1 large loaf or 2 smaller loaves.
Recipe Notes
* If you don't presently have a sourdough starter, either make your own sourdough starter or purchase Packaged Sourdough Starter Mix by mail-order.
**Also called gluten flour, instant gluten flour, pure gluten flour, and vital wheat gluten depending on vendor and manufacturer.  This is flour with the starch and bran removed.  Gluten is the natural protein in the wheat endosperm which, when combined with water, forms a taffy-like dough.  This retains the gas and steam from baking.
*** I added some Instant Active Dry Yeast to speed up the rising time.  I can then eliminate the 2nd rise in the bowl and just form the dough into a loaf shape and let rise. Give it a try!
**** To keep dried fruit and nuts from sticking together, put them in a small bowl with approximately 2 teaspoons flour; stir to thoroughly combine.

I get many readers asking what cooking/meat thermometer that I prefer and use in my cooking and baking. I, personally, use the Thermapen Thermometer. Originally designed for professional use, the Super-Fast Thermapen Thermometer is used by chefs all over the world.  I only endorse a few products, on my web site, that I like and use regularly.
You can learn more or buy yours at: Super-Fast Thermapen Thermometer.
Sponsored Content
Comments and Reviews