This fantastic sourdough pancakes recipe is a good way to use some of your extra sourdough starter.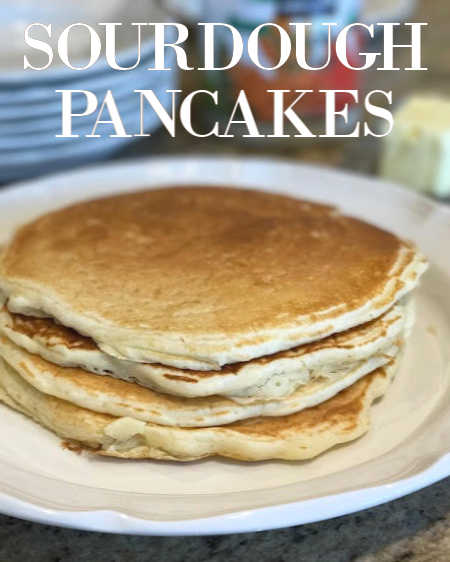 You could not ask for an easier pancake recipe, and the pancakes end up cooked so light that they "melt in your mouth."  My family loves these pancakes, and it has become a tradition to make them when they come to visit.
During the Klondike gold rush of 1898, it was said that a real "Alaskan Sourdough" would just as soon spend a year in the hills without his rifle, as to tough it through without his bubbling sourdough pot!  Since food was scarce, food provisions were more valuable than gold. In extreme cold, miners would put the dough ball under their clothes, next to their skin, or tuck it into their bedroll with them at night, anything to keep the sourdough alive.
I adapted this fantastic sourdough pancakes recipe from the wonderful sourdough cookbook called "Alaska Sourdough" by Ruth Allman.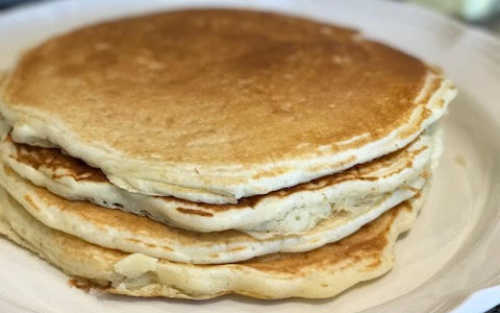 Best Sourdough Pancakes Recipe:
Keyword:
Best Sourdough Pancakes Recipe
Instructions
In a large bowl, add sourdough starter, sugar, egg, olive oil, and salt; mix well; set aside.

In a small bowl, dilute 1 teaspoon baking soda in 1 tablespoon of warm water; set aside until ready to bake your pancakes.

Important: Only add the baking soda/water mixture to the pancake batter just before you are ready to cook the pancakes. Make certain everything is ready to go, the griddle hot, so the sourdough can be cooked while the air is still working in the batter. This will produce light sourdough pancakes that melt in your mouth.

When ready to cook your sourdough pancakes, fold the baking soda/water mixture gently into the prepared pancake batter (do not beat). This will cause a gentle foaming and rising action in the batter. Let the mixture bubble and foam a minute or two before using.

Heat up a lightly-greased griddle (I like to use my cast-iron skillet griddle) until fairly hot; then pour the sourdough pancake batter onto the griddle. For each pancake, pour 1/4 to 1/2 cup sourdough pancake batter onto hot griddle. I find that using my soup ladle makes the perfect size pancakes.

Cook the pancakes 1 to 2 minutes on each side or until golden brown and bubbly. Remove from heat and serve.

Because I have an oven warming drawer, I usually keep the prepared pancakes on a plate in the warming drawer until they are all cooked, and then I served them to my family. If you don't have a warming drawer, just turn your oven on low and use it the same way.

Serve with your favorite toppings.

Sourdough Pancake Variations:

Blueberry Sourdough Pancakes:
Combine 1 cup blueberries dusted with 2 tablespoons sugar; let stand a few minutes. Gently fold blueberries into the batter just before adding the baking soda mixture. I also just sprinkle blueberries onto the raw side of the hotcakes and then flip them over when the cooked side is nicely browned. In fact, I usually do it this way.

Apple Pancakes:
Grate some tart apples into the batter before adding the baking soda mixture.

Banana Pancakes:
Thinly slice or mash a very ripe banana into the batter before adding baking soda mixture.
Recipe Notes
* If you do not presently have a sourdough starter, either make your own sourdough starter or purchase Packaged Sourdough Starter Mix by mail-order.  The night before using your sourdough starter, remove from refrigerator and let come to room temperature.  Then feed the starter with flour and water.  Let this sit eight (8) hours or preferably overnight.  It is now ready to use in your sourdough pancakes!  Learn how to feed and maintain your Sourdough Starter.
** I sometimes add an extra egg to the pancake batter.  I do this to add some additional protein.
*** This pancake recipe is very forgiving. The soughdough starter is added for another flavor dimension and adds an airiness to the pancakes.  If you batter seems too thin, add a little bit of flour at a time until if reaches a thicker consistency that your desire. LIkewise if the batter is too thick, add a little bit more water at at time to thin out the batter.
---

Did you know that the name sourdough comes from San Francisco and their famous sourdough breads? It is thought that French bakers brought sourdough techniques to Northern California during the California Gold Rush in the late 1800s. If you don't want to make your own sourdough starter, you can buy a San Francisco sourdough starter from Amazon. 
sponsored content
Comments from Readers:
This was possibly the best pancake I have ever had!  Fluffy and nutty tasting and absolutely melt in your mouth (the nuttiness maybe from the organic whole wheat that I refreshed my sourdough with last night).  I used an 80% hydration for the sourdough with about half organic whole wheat flour and half all purpose flour.  I thought it might turn out to be too dense for pancakes, but the sourdough was bubbling and beautiful, so I went for it.  I added a second egg for the extra protein as you suggested and the consistency turned out just perfect.
The only other difference was that I added only 3 tablespoons of olive oil only, and used a tablespoon of organic coconut oil on the cast iron griddle just so the surface of the griddle wan't completely dry.  I didn't keep adding oil to the surface and instead redistributed the remaining oil before each new batter addition.
Thanks a bunch for an awesome eats! (7/16/16)
Comments and Reviews