Stephanie Inn Scones are a favorite breakfast treat at The Stephanie Inn in Cannon Beach, Oregon.  These flavorful scones are moist, rich, and tender.  Depending on the season, these scones might be flavored with chopped nuts, dried fruits such as currants, dried apricots, dried cherries, raisins, fresh mango, or blackberries.  Fresh Stephanie Inn scones are offered every day at their delicious breakfast.
Stephanie Inn is a great oceanfront hotel located on Oregon's beautiful north coast in Cannon Beach, Oregon.  This is where my husband and I like to frequently escape!  Dinner at the Inn is a must for both hotel guests and visitors to Cannon Beach.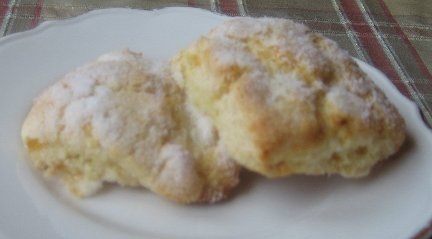 Check out Linda's History of English High Tea, English High Tea Menu, and Afternoon Tea Recipes.
More great Scone Recipes, Bread Recipes, Sourdough Bread Recipes, and Quick Bread Recipes for all your bread making.
Stephanie Inn Scones Recipe:
Keyword:
Stephanie Inn Scones Recipe
Ingredients
2 1/2

cups all-purpose

flour 

1/2

cup granulated

sugar

1

tablespoon

baking powder

1/2

teaspoon

salt

1/3

cup

butter,

chilled and cut into 1/4-inch pieces*

1

cup

fruit

(fresh or dried), nuts, chocolate chips, or a combination of flavors

1 1/4

cups

heavy cream

chilled (approximately)*

Sugar

(for topping)
Instructions
Preheat oven to 350 degrees F. Spray a large baking sheet with vegetable-oil cooking spray.

In a large bowl, whisk or stir together the flour, sugar, baking powder, and salt thoroughly. With a pastry blender or two knives, cut butter into flour mixture until particles are the size of small peas.

Stir in the fruit or nuts, and then slowly stir in the cream, just until the mixture binds together.

Turn the dough onto a lightly floured surface and gently pat the mixture into a round or square shape. Sprinkle with flour and roll to approximately 1/2-inch thickness. Cut into rounds, triangles, or squares. Place on a greased baking sheet and brush with additional heavy cream. Note: Scones can be cut into any shape you desire. Use a drinking glass to make circles, or cut into squares or wedges with a knife. Dip the edges of the cutter in flour to prevent the dough from sticking. Do not pat the edges of the scone down; instead leave the cuts as sharp as possible to allow the scones to rise in layers.

Space 1-inch apart onto prepared baking sheet.

NOTE: When making scones, work the dough quickly and do not over mix.

Sprinkle with sugar and bake for about 15 to 20 minutes, or until lightly golden. Remove from oven and serve warm or at room temperature.

Tips: When the scones are cool, wrap airtight and hold at room temperature for up to one day or freeze to store longer. To reheat, unwrap scones (thaw wrapped, if frozen) and plac e onto a baking sheet. Bake in a 350 degrees oven 8 to 10 minutes or until warm.
Recipe Notes
* Why do your ingredients need to be cold?  It is important that your ingredients (both fats, liquids, and eggs) remain cold.  The purpose is to keep the butter solid and not let it melt.  If your dough is kept cold, it will have little bits of dispersed butter.  In the heat of the oven, that butter melts into the dough but leaves pockets and layers in the scones.  If it's hot in your kitchen, freeze your butter before making scones.  Cold butter makes scones rise higher!
Source:  I slightly adapted this recipe is from The Stephanie Inn Cookbook, written with Lori McKean and the Stephanie Inn staff.
Comments and Reviews