Strawberry Banana Bread Recipe
Fresh strawberries are starting to come into season and make me dream about strawberry shortcake and all the different ways to enjoy delicious strawberries for breakfast, lunch and dinner!  Just thinking about strawberries and whip cream, I start to drool!
Last summer, after purchasing a flat of my favorite local strawberries from the farmer's market, I decided to make Strawberry Banana Bread.  I used my Grandmother's recipe for Banana Pecan Bread as the foundation.  Fresh strawberries were then gently folded into the batter.  The house smelled irresistibly delicious with the aroma of baking banana bread and strawberries wafting in the air!  My family and I took great pleasure in gobbling up this strawberry banana goodness.  We even used the Strawberry Banana Bread as our base for homemade strawberry shortcake.  I highly recommend baking this banana bread recipe variation while fresh strawberries are in season during late spring and early summer.
Check out Linda's Bread Making Hints:  Secrets to using the bread machine, About yeast in bread making, Sourdough Starter, Quick Breads, and more of Linda's great Bread Recipes for your bread making.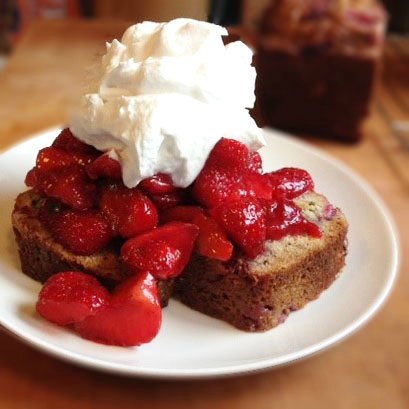 Strawberry Banana Bread Recipe:
Keyword:
Strawberry Banana Bread Recipe
Instructions
Preheat oven to 350 degrees F.  Grease two (2) 9x5-inch loaf pans.

In a large bowl, cream butter or margarine and sugar until light and fluffy.  Add eggs, one at a time, beating well after each addition.  Sift in flour, baking powder, baking soda, and salt; stir until dry ingredients are moistened.  Fold in bananas.

Reserve ¼ cup of sliced fresh strawberries and set aside.  In a medium-sized bowl, add sliced strawberries and sprinkle with flour on top.  Gently toss the strawberries in the flour (this will prevent the color and juices from bleeding into the bread while baking).

Gently fold in the strawberries into the banana batter.  Pour the batter into the prepared bread pans filling about 3/4 full (as bread will rise during baking).  Sprinkle tops of each loaf with the reserved strawberry slices.

NOTE: Bake all quick breads as soon as the ingredients are assembled.  Since high temperatures are often called for, it is best to bake them in the center of the oven, as the heat in the top third of the oven will be too intense.

Pour batter into prepared loaf pan and bake 55 to 60 minutes or until a toothpick inserted in the center comes out clean.  NOTE: Be sure and poke the toothpick to the center of the loaf.  A good check is to use an instant digital thermometer to test your bread.  The internal temperature of the bread should be at 200 degrees F. when done.

Remove from oven and cool on a wire rack 10 minutes; remove from pan. Cool completely before slicing.

Storage: Breads that contain fruit, nuts, or butter may be stored for 2 or 3 days, well wrapped in plastic wrap or aluminum foil.  May be frozen for longer storage.  After thawing frozen breads, reheat them in a 400 degree F. oven for a few minutes before serving.
Recipe Notes
* To ripen bananas allow green or yellow bananas to ripen at room temperature until the skin is covered with brown spots.
** Tossing strawberries in flour keeps the color from running into the dough.

I get many readers asking what cooking/meat thermometer that I prefer and use in my cooking and baking. I, personally, use the Thermapen Thermometer. Originally designed for professional use, the Super-Fast Thermapen Thermometer is used by chefs all over the world.  I only endorse a few products, on my web site, that I like and use regularly. You can learn more or buy yours at: Super-Fast Thermapen Thermometer.
Sponsored Content

Comments and Reviews