Vanilla Bean Bread is wonderful!  It is so moist that it is almost like cake.  I am in love with this quick bread recipe.   I slightly adapted the recipe for easier reading and preparation.
This Vanilla Bean Bread is excellent served at an afternoon tea.  There are three forms of vanilla in the batter and two vanilla beans in the syrup.  The vanilla sugar you make will be a fragrant addition to many other recipes, and the loaves freeze beautifully.  This bread is so good that you will receive lots of compliments.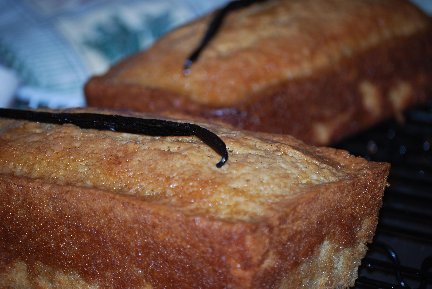 Check out Linda's Bread Making Hints: Secrets to using the bread machine, About yeast in bread making, Sourdough Starter, and Quick Breads.
Check out all of Linda's great Bread Recipes for your bread making.
Vanilla Bean Bread Recipe:
Keyword:
Vanilla Bean Bread Recipe
Ingredients
Vanilla Bean Bread:
1 1/2

cups (3 sticks or cubes)

unsalted butter,

room temperature*

2 1/2

cups

Vanilla Bean Sugar**

1

whole

vanilla bean***

1

tablespoon

pure vanilla extract

8

large

eggs,

room temperature

3

cups all-purpose

flour

1 1/2

teaspoons

baking powder

1/2

teaspoon

salt
Vanilla Bean Syrup:
1 3/4

cups granulated

sugar

1

cup

water

2

whole

vanilla beans,

split and seeds scraped out
Instructions
Vanilla Bean Bread Instructions:
Preheat oven to 325 degrees F. Place oven rack in center of oven. Generously butter or grease two 9x5-inch loaf pans. HINT: I like to place a piece of parchment paper on the bottoms of the loaf pans. I then grease the tops of them. This helps in removing the bread later.

In the bowl of your mixer, cream butter and vanilla sugar until mixture is pale and fluffy. Scrape the vanilla bean seeds into the batter, along with the vanilla extract and eggs; beat to mix.

In another bowl, sift together the flour, baking powder, and salt. Add to the batter and mix just until smooth (do not over mix). Take the bowl off the mixer and use a spatula to scrape the bottom and fold the mixture a few times, to make sure everything is blended. Divide the batter between the two prepared loaf pans.

Bake all quick breads as soon as the ingredients are assembled. Since high temperatures are often called for, it is best to bake them in the center of the oven, as the heat in the top third of the oven will be too intense.

Bake for 30 minutes, then turn the pans around, and bake an additional 35 to 40 minutes or until a cake tester or skewer comes out almost clean. NOTE: Be sure and poke the toothpick already to the center of the loaf. A good check is to use an instant digital thermometer to test your bread. The internal temperature of the bread should be at 200 degrees F. when done.

While the loaves bake, prepare the Vanilla Bean Syrup.

When loaves are done, remove from oven and let cool for 10 minutes on baking racks, then turn them out of their pans and set back on the racks. Place the racks over parchment paper or a baking sheet and brush generously all over tops and sides of the loaves with the Vanilla Syrup. Brush a couple of more times as they cool.

Storage: Quick breads may be stored for 2 or 3 days, well wrapped in plastic wrap or aluminum foil. May be frozen for longer storage. After thawing frozen breads, reheat them in a 400 degree F. oven for a few minutes before serving.
Vanilla Bean Syrup Instructions:
In a small pan over medium heat, dissolve the sugar in water. Add the vanilla bean seeds and stir a little so the seeds and fragrance disperse. Bring just to a simmer, remove from heat, and let cool.

NOTE: This will seem like a lot of syrup, but you will use it as the loaves absorb it up.
Recipe Notes
* If you use salted butter, leave the salt out of the recipe.
** To Make Vanilla Sugar - Split one (1) vanilla bean in half and scrape the seeds into 2 1/2 cups granulated sugar.  Let site for a few days before using.
*** This recipe uses a total of 4 whole vanilla beans.  One (1) in the Vanilla Bean Sugar, one (1) in the batter, and two (2) in the Vanilla Bean Syrup.

I get many readers asking what cooking/meat thermometer that I prefer and use in my cooking and baking. I, personally, use the Thermapen Thermometer. Originally designed for professional use, the Super-Fast Thermapen Thermometer is used by chefs all over the world.  I only endorse a few products, on my web site, that I like and use regularly.
You can learn more or buy yours at: Super-Fast Thermapen Thermometer.
Sponsored Content
Source:  This recipe is from the cookbook Cooking for Mr. Latte, A Food Lover's Courtship, with Recipes, by Amanda Hesser. Amanda says that she adapted this recipe from the Hi-Rise Bread Company in Cambridge, MA.  This photo was shared with me by Christie Grewe of Purcellville, VA.
Comments and Reviews