Regal Fruitcake will delight all fruitcake lovers, as this is one delicious homemade fruitcake!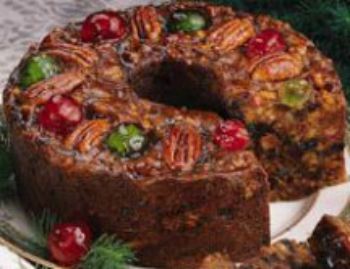 This fruitcake reminds me of the ones that my Mom and Grandma made every Christmas season.  My family and myself always look forward to this homemade fruitcake every year.  I am aware that there are some people out there that absolutely hate fruitcakes.  It is my contention that these people are "haters" from tradition rather than from experience.  Give this Regal Fruitcake recipe a try this holiday season.  I hope to change you from a fruitcake hater to a fruitcake lover!
Your homemade Regal Fruitcake should be made well in advance of the time that they will be used.  One month of storage is a necessity.  Two, three, or even four months is not too long a time if the storage facilities are cool and dry.  Do you know what happens when fruitcake sits around and ages?  It gets awesome.  Better and better with each month that goes by.  They also freeze very well, however, they must be aged at least four weeks before freezing, as they do not mellow while they are frozen.
Please read What's Cooking America's web page on Fruitcake Secrets before making your next fruitcake.
Check out Basic Rules For Baking.  Also check out more great Cake Recipes.
Regal Fruit Cake Recipe:
Keyword:
Regal Fruit Cake Recipe
Servings
:
1
large fruitcake
Ingredients
1 1/2

cups

pineapple,

candied and chopped

1 1/2

cups red

cherries,

candied and chopped

1

cup

raisins

3/4

cup

currants

2

cups

pecans

or walnuts, chopped

1/2

cup

white grape juice

1

cup

butter

or margarine, room temperature

2

firmly-packed cups light

brown sugar

5

eggs,

room temperature

2 1/4

cups all-purpose

flour

1/4

teaspoon

baking soda

1/2

teaspoon

cinnamon,

ground

1/2

teaspoon

mace,

ground

1

teaspoon

almond extract
Instructions
Grease a 10-inch tube or bundt pan; line with wax paper and grease well.

In a large bowl, combine candied pineapple, candied cherries, raisins, currants, and pecans or walnuts. dd grape juice; stir until well blended. Let stand 1 hour.

Preheat oven to 275 degrees F.

In a large bowl, cream butter or margarine. Gradually add brown sugar, stirring until light and fluffy. Add eggs, one at a time, beating well after each addition.

In another large bowl, combine flour, baking soda, cinnamon, and mace; gradually add to butter mixture. Add almond extract and fruit mixture; stir until well blended. Spoon into prepared pan.

Bake 3 hours and 20 minutes or until a toothpick inserted into the cake comes out clean.  A good check is to use an instant digital thermometer to test your fruitcake. The internal temperature should be between 200 and 210 degrees F.  Remove from oven and cool on a rack.

Remove from oven and cool on a wire rack for 30 minutes. Remove from pan, peel paper liner from cake, and cool completely.

Wrap in a brandy-soaked cheesecloth; store in an airtight container for one week. After one week, store in the refrigerator.

Check out my Fruitcake Secrets for fruitcake hints and tips and also how to store your fruitcakes.

I get many readers asking what cooking/meat thermometer that I prefer and use in my cooking and baking. I, personally, use the Thermapen Thermometer. Originally designed for professional use, the Super-Fast Thermapen Thermometer is used by chefs all over the world.  I only endorse a few products, on my web site, that I like and use regularly.
You can learn more or buy yours at: Super-Fast Thermapen Thermometer.
Sponsored Content
Comments and Reviews