Gingerbread cookies are not only a classic holiday cookie, but they are a cookie that will hold up well.  Ginger is a natural preservative that allows you to make gingerbread cookies well before Christmas and they will store well until the festivities.  Unless of course their hiding place has been discovered by your family.
This cookie recipe is shared with us by Peggy Weaver, our baking columnist who even makes her own cookie cutters.  Some of the popular shapes for gingerbread cookies, are the men, horses and houses.
Gingerbread Cookie Recipe:
Keyword:
Gingerbread Cookie Recipe
Ingredients
Gingerbread Cookies:
4

ounces

butter

4

ounces Crisco

vegetable shortening

3/4

cup (lightly-packed)

brown sugar

1/2

cup

unsulphured molasses*

1

large

egg

3 1/4

cup all-purpose

flour

2

teaspoons

ginger,

ground

1

teaspoon

cinnamon

1

teaspoon

baking soda

1/4

teaspoon

nutmeg,

ground

1/4

teaspoon

cloves,

ground

1/4

teaspoon

salt

1/4

teaspoon

brown food coloring **
Royal Icing:
1

pound

powdered sugar

or fondant

1/2

teaspoon

cream of tartar

5 1/4

teaspoons

egg white

or meringue powder

6

tablespoons

water

1/2

teaspoon

pure vanilla extract
Instructions
Gingerbread Cookie Instructions:
Preheat oven to 350 degrees F. Line two cookie sheets with parchment paper and spray lightly with pan coating.

Cream the butter with flat paddle attachment of electric mixer on high speed about 3 minutes or until soft. Beat in sugar; continue beating for about 2 minutes until light and fluffy. Beat in molasses and then beat in egg, scraping down bowl once or twice.

Sift together flour, ginger, cinnamon, baking soda, nutmeg, cloves, and salt. Add the dry ingredients to the butter mixture in three batches, mixing just until each batch is blended. Shape into a large flat ball by hand, kneading a few times until smooth. Shape into two disks (6-inch by 9-inch). Wrap in plastic wrap and refrigerate at least 2 hours or until firm enough to roll out. Overnight is best.

Using a rolling pin, roll out dough on a lightly floured surface to 3/16-inch thickness. Cut out shapes as desired using either a gingerbread person shape or any other cookie cutter of your choice. Transfer to cookie sheets using a broad-angled spatula, leaving at least 1 inch between cookies. Place similar sized cookies on the same cookie sheets. To make hanging ornaments, punch holes in the tops of the shapes with a straw.

Bake approximately 9 1/2 to 12 minutes depending on size, rotating pans front to back once during baking. They should just begin to brown around the edges and feel firm to the touch. Remove from oven and cool pans on wire racks for a few minutes; transfer cookies to racks to cool completely.

Let cookie sheets cool completely before proceeding with next batch (you may reuse the parchment paper).

Store baked cookies in airtight container at room temperature for up to two weeks or freeze for up to one month. Decorate as you desire with Royal Icing (see recipe below).
Royal Icing Instructions:
I chose this recipe because I can get Just Whites at my local market. I had problems getting the Meringue Powder that is recommended in many recipes. Raw Egg Whites are not advised to use these days. - Peggy

Warning: Any grease will break down icing. Remember if the icing is too dry, add water a few drops at a time. If icing is too moist, add more powdered sugar. It is as simple as that.

In a large mixing bowl, stir together powdered sugar, cream of tartar, and Egg White Powder. Add water and vanilla extract; beat at low speed until sugar is dissolved, then at high speed about 10 minutes or until mixture is light and fluffy (icing must hold its shape before using).

Keep bowl covered with a damp cloth to prevent drying.

I spooned 1/2 of this Royal Icing mixture into a 10-inch piping bag fitted with a #2 tip. I liked putting a "Chip Clip" on the top of the bag to keep it closed and twisting the bag to get the icing to flow. By twisting, I used a lot less hand pressure and didn't tire out so easily. Put the piping bag tip side down in a glass that has a damp paper towel in the bottom. This will keep the icing hardening up like cement while you attend to other life duties.

To the second 1/2 of the Royal Icing, I added water, a teaspoon at a time, and mixed well until the consistency of heavy whipping cream. Then I poured it into a squeezable bottle with a cap and stored the bottle upside down in a glass. I outlined the cookie with the pastry bag and let them sit for a few minutes, Then flood the icing from the squeeze bottle, with a back and forth motion over the whole area. If necessary use a knife to smooth all over the cookie and a toothpick comes in handy for getting rid of tiny bubbles and filling little holes. Set aside and let dry overnight.

Next day, pipe your designs. I had eight drawings of patterns that I made up, so I taped them on my dish closet door right in front of my face for fast reference. The drawing were the basic idea and every cookie ended up with different points, curls, swirls and dots. Let dry overnight then package.
Recipe Notes
* NOTE: You can substitute Kings Syrup or Treacle for the unsulphured molasses in the Gingerbread Cookie Recipe if you want a lighter colored cookie.
** Can be purchased at most craft stores.
Learn How To Make Cookie Cutters with Peggy Weaver – I make my own cookie cutters using a coil of copper 1-inch wide. – Peggy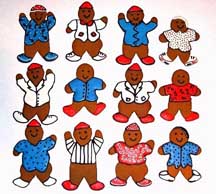 Peggy made the three cookie cutters for these little guys.  They are about 5 1/2-inches tall.  Her husband says that these cookies are the modern version of the Gingerbread Man.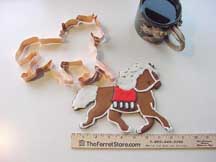 This horse is called a Striding Horse by the Carousel folks.  The cookie is about 8 inches by 6 inches.  It's big enough that most kids (even the grown up ones) are happy!  Peggy is planning on doing a series (possible five) of animals based on the antique Carousel Animals.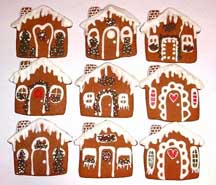 The gingerbread houses are about 4 x 4 inches.
A Fun Option, Try Striding Horses Cookies:

Use either the Gingerbread Cookie Recipe (above) or the Sugar Cookie Recipe that is posted on the Snowflake Cookie page.
Instructions:
Make cookie dough according to directions of the recipe of your choice.
Preheat oven to 325 degrees F.  Place a sheet of parchment paper on the counter.  NOTE: I pre-cut it so that it will fit on the jelly roll pan without curling up (this allows the baking cookie to lay totally flat).
Using a rolling pin, roll the dough on the parchment paper to between 1/8-inch and 3/16-inch thickness.  Use a little flour/powdered sugar combination, if necessary, to help prevent sticking.
Scoot a spatula under the dough, all the way around, so that you're sure it isn't sticking to the parchment.
Cut out the cookie with your cookie cutters and remove the excess dough.  Place the parchment with the cut-out cookie on a cookie sheet or a jelly roll pan.  If possible, place cookie on the pan so the feet are away from the edge and placed toward the center.  This will help keep from over cooking the delicate legs.  It's best if you bake one or two big cookies at a time.  Place two cookies on the same pan – but please, no more (you don't want to "crowd" the heat in the oven, as you want a good heat/air flow).
Refrigerate the cookie (on the baking sheet) until well chilled, approximately 20 to 30 minutes.
When ready to bake, place on the middle oven shelf of the preheated oven.  Bake 12 1/2 minutes. Remove the pan from the oven and allow to cool on a wire cooling rack for 2 to 3 minutes.
Carefully pick up the parchment paper with the cookies, and place it on a rack to cool completely.
Make Royal Icing with Egg white Powder.  It is best if the icing is made and allowed to sit for at least an hour.  Stir again and then place in separate bowls for coloring as needed.
For the outline thickness, use this test.  Dribble a thin line of the icing on the table.  After 10 seconds, the icing should still remain the same.  If it doesn't, add additional powdered sugar.
For a flooding consistency, you want the icing to be the thickness of heavy cream.  Dribble a fine line of the icing on the table.  After 5 seconds, it should have flattened out.   A helpful hint is that you add a bit more of the egg white powder.  This changes the chemical makeup of the icing and allows it to flow better.
More Delicious Ginger Cookies:
Gingersnap Cookies
Gingersnaps have been popular with children for generations, and today's children have seldom tasted true gingersnap cookies.  This excellent recipe makes cookies that really snap.
Chewy Ginger Cookies
Ginger cookies have been popular with children for generations.  Add these chewy ginger cookies to your holiday cookie plate.
Molasses Crinkles
This recipe originally came from an older 1950s Betty Crocker Cookbook that I received for a wedding gift.
Moravian Ginger Cookies
This paper-thin ginger cookies are absolutely fantastic! Moravian ginger cookies are cut into shapes and baked.  These cookies are considered a signature cookie of the town of Winston-Salem, NC.
Comments and Reviews