As the title says, "These Lemon Melt Away Cookies literally melt in your mouth!"
These cookies have a shortbread-like texture and taste wonderful!If you like lemon, you will definitely love these cookies.  These Lemon Melt Away Cookies are very similar to my High Tea Lemon Cookies.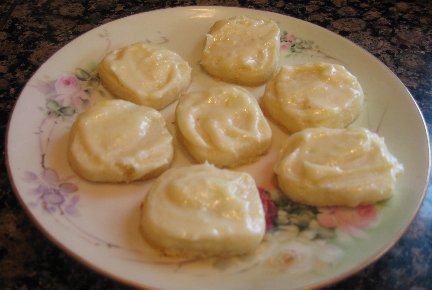 More favorite Cookie Recipes and Secrets To Making Perfect Cookies.  Also learn How To Have A Successful Holiday Cookie Exchange or Cookie Swap.
Please check out my American High Tea or Afternoon Tea Menu (with recipes) which includes these delicious Lemon Bars Deluxe.
Lemon Melt Away Cookie Recipe:
Keyword:
Lemon Melt Away Cookie Recipe
Instructions
Lemon Melt Away Cookie Instructions:
In a large bowl at low speed, beat butter until creamy looking. Add powdered sugar; mix until light and fluffy. Add lemon zest and lemon juice; beat well. Add flour and cornstarch into butter mixture and mix well until well combined.

Divide dough in half and shape each half into 8" x 1" rolls. Wrap each individual roll in plastic wrap. Refrigerate until firm, approximately 1 to 2 hours.

Preheat oven to 350 degrees F.

Using a sharp knife, cut each roll into 1/4-inch slices. Place cookie slices onto ungreased cookie sheets, place 2 inches apart on cookie sheet, and bake approximately 8 to 12 minutes or until bottoms are light brown (tops should not brown).

Remove from oven, carefully remove from baking sheet, and cool on wire cooling racks (when warm the cookies are delicate).

When cool, spread Lemon Frosting onto top of cookies.
Lemon Frosting Instructions:
In a medium bowl, combine butter, lemon zest, lemon juice, and powdered sugar; stir until well mixed.

NOTE: Additional lemon juice may be needed to get the frosting thin enough.
Recipe Notes
* Very important - please use room temperature butter (not softened or melted butter).
More Delicious Cornstarch Cookies:
Baby Button Cookies
Because of the relatively low sugar content, people who don't normally love sweets are delighted with these.
Biscoitos de Maizena Cookies
These cookies are a favorite in Brazil.  They are named "Maizena" because that is the brand name of their cornstarch.  Delicious anytime of the year.
High Tea Lemon Cookies
This is an old-fashion recipe that is very rich and delicious.  If you love lemon, you'll absolutely love these cookies.
Peppermint Melt Away Cookies
These cookies literally melt in your mouth!"  This version makes a beautiful Christmas cookie and will definitely make your cookie platter look very festive!
Comments and Reviews