Merry Christmas Cookies originally came from an older 1960's Betty Crocker Cookbook.  Christmas would hardly seem like Christmas without fancifully shaped and decorated cookies.  Decorated cookies are thought to have originated in pre-Christian times as offerings to various gods.  You and your children will love these Merry Christmas Cookies.  The honey in this recipe makes these cookies melt in your mouth.  This has always been a favorite cookie of my children.  They are now adults, but we still make these Christmas Cookies every year.
Every Christmas, my daughters and I carry on the family tradition by spending a day cooking baking.  New traditions include, Bing Crosby's Christmas songs, lunch, and pre-made cookie dough that we make at home so we're not lugging all the ingredients around.  We each take a few recipes and during the week mix up the love, and store the dough in ziploc bags.  That way the only task is baking and decorating when we get together.  Much easier this way!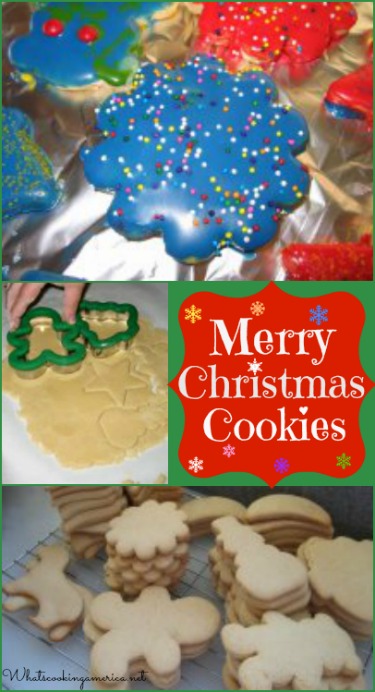 More favorite Cookie Recipes and Secrets To Making Perfect Cookies.   Also learn How To Have A Successful Holiday Cookie Exchange or Cookie Swap.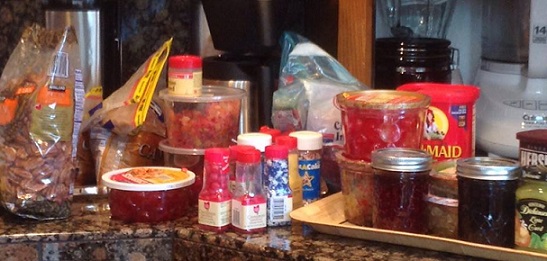 Getting our ingredients ready for our family's Christmas Cooking Making Day.  We made these Merry Christmas Cookies, plus Spritz Cookies, Chocolate Chip Cookies, Thumbprint Cookies, and Hazelnut Shortbread Cookies.
Merry Christmas Cookies Recipe:
Keyword:
Merry Christmas Cookies Recipe
Servings
:
5
dozen cookies
Ingredients
Milk Frosting:
1

cup

powdered sugar

(confectioners' sugar)

1/2

teaspoon

lemon extract

1 to 1 1/2

tablespoons

milk

Food coloring

of your choice (optional)
Instructions
Merry Christmas Cookies Instructions:
In a large bowl, cream vegetable shortening, sugar, egg, honey, and lemon extract until light and fluffy. Sift in flour, baking soda, and salt; stir until well blended. Refrigerate dough at least 1 hour or overnight.

Preheat oven to 375 degrees F (190 degrees C). Lightly grease Cookie Sheets or line with Silicone Baking Mats.

On a lightly floured board, roll dough 1/4-inch thick with your Rolling Pin; cut into desired shapes with your favorite Cookie Cutters. Place 1-inch apart onto prepared cookie sheets. Always leave room between cookies on the cookie sheets. If the cookies are extremely large cookies, adjust the space.

Bake 8 to 10 minutes or until edges are light brown. Remove from oven and cool on wire cooling racks.

Prepare Milk Frosting. When cookies have cooled, frost with the prepared Milk Frosting and decorate as desired.
Milk Frosting Instructions:
In a small bowl, combine powdered sugar, lemon extract, and enough milk to make frosting easy to spread.

Tint, if desired, with a few drops of food coloring.

We like to thin the frosting with additional milk so we can just dip the tops of the cookies in the frosting. We then decorate as we wish.

As you can see, my family and I have lots of fun decorating our Merry Christmas cookies – we get really creative!
Additional Family Favorite Christmas Cookies:
Russian Teacakes – Mexican Wedding Cakes
This favorite holiday cookie is known by many different names around the world, such as Mexican Wedding Cakes, Russian Teacakes, Swedish Tea Cakes, Italian Butter Nut, Southern Pecan Butterball, Snowdrop, Viennese Sugar Ball, Sand Tarts, and Snowballs.
Spritz Cookies
Crisp, fragile, and buttery tasting.  Great for Christmas goodies.  What Christmas holiday cookie plate would be complete without Spritz Cookies?  My mother made these every Christmas season since I was little, and I make them now.
Bon Bon Cookies
Some people will call these candy – but candy or cookie they are a wonderful!  These cookies have always been a holiday favorite of mine.
German Lebkuchen Squares
A wonderful German Christmas tradition that is consumed and enjoyed around the world.  It is thought that the Lebkuchen was probably the first cookie traditionally associated with Christmas and oldest form of cookie known to humankind.
Nanaimo Bar – Original Nanaimo Bar Recipe
There have been many versions of Nanaimo Bars made over the years, but the Original Nanaimo Bar recipe still stands as a favorite.  These bars are very rich!
Comments from readers:
Thank you so much for publishing this cookie recipe.  My mom always made these from a cookie book from the 1930's.  The original had depression-era substitutes of Karo light syrup for honey.  They also had a dark version with molasses (or karo dark).  I have moved several times and somewhere along the line the books with these were lost. – Rosemary (12/10/06)
Comments and Reviews