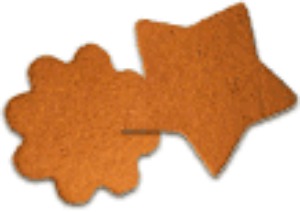 Moravian Ginger Cookies are paper-thin and crispy molasses cookies that are cut into shapes and baked. These cookies are considered a signature cookie of the town of Winston-Salem, NC. These cookies are better than any gingerbread or ginger snaps I have ever tasted.
Moravia once was part of Czechoslovakia. Persecuted for their religious beliefs, they found refuge first in Germany and then in the United States. Although Moravians settled in Pennsylvania, a contingent traveled to Winston-Salem, North Carolina in the 1700s.
This recipe was shared by Andra Cook of Raleigh, NC. Andra says that this make a large amount of cookies.
More favorite Cookie Recipes and Secrets To Making Perfect Cookies. Also learn How To Have A Successful Holiday Cookie Exchange or Cookie Swap.
Moravian Ginger Cookies Recipe:
Keyword:
Moravian Ginger Cookies Recipe
Ingredients
3/4

cup

vegetable shortening

1 1/4

cups (firmly-packed)

brown sugar

2

cups

molasses

1

tablespoon

baking soda

1

tablespoon

cinnamon,

ground

1

tablespoon

ginger,

ground

1

tablespoon

cloves,

ground

1/2

teaspoon

salt

4 1/2

cups

flour

(all-purpose)
Instructions
In a large saucepan over medium heat, combine vegetable shortening, brown sugar, molasses, baking soda, cinnamon, ginger, cloves, and salt; heat until warm, mashing out any lumps. Remove from heat; while still warm, stir in flour. Cover and refrigerate overnight.

Preheat oven to 375 degrees F. Lightly grease cookie sheets.

When read to bake, take only as much dough as you will need out of the refrigerator. (Unused dough may be stored in the refrigerator as long as a month - in fact, cookies are better if dough has "mellowed" for awhile.)

Roll dough on a lightly floured surface, using as little flour as possible. Also flour rolling pin. Roll dough out paper thin (or as thin as possible) and cut into desired shapes with cookie cutters. Place onto prepared cookie sheets.

Bake 5 to 6 minutes or until light brown.

After removing cookies from oven, with a clean soft cloth lightly brush off any excess flour. Let cool on cookie sheet and remove when you can handle them comfortably.

Store in airtight containers.
More Delicious Ginger Cookies:
Gingerbread Cookies
How about making these traditional Christmas gingerbread cookies?
Chewy Ginger Cookies
Ginger cookies have been popular with children for generations. Add these chewy ginger cookies to your holiday cookie plate.
Molasses Crinkles
This recipe originally came from an older 1950s Betty Crocker Cookbook that I received for a wedding gift.
Gingersnap Cookies
Gingersnaps have been popular with children for generations, and today's children have seldom tasted true gingersnap cookies. This excellent recipe makes cookies that really snap.
---
Questions from Bakers:
Question: Hello! I found your site and figured I'd ask. I'm stumped – I do a lot of baking and I'm pretty good, but I have been unable to master the *crisp* Moravian spice cookie. I use Crisco Butter flavor shortening sticks and I follow recipes exactly because I've learned a lot about cooking chemistry from previous mistakes. I recently read about measuring shortening by water displacement method which I haven't yet tried.
I am currently using a large aluminum pan with a 1-inch side as my cookie sheet —-all my others have warped (cheap) or are insulated sheets, which I figured would only exacerbate my problem.
Answer: Using a baking pan with sides is a problem as the edges keep the heat from circulating as much as it should.
Comments and Reviews