What could be better than a low fat and low calorie delicious crab cake –  even better yet. how about Crab Cakes with Orange Dill Sauce?
Please check out my Spanish Paella Dinner Menu (with recipes) using these delicious Crab Cakes with Orange-Dill Sauce as a tapa.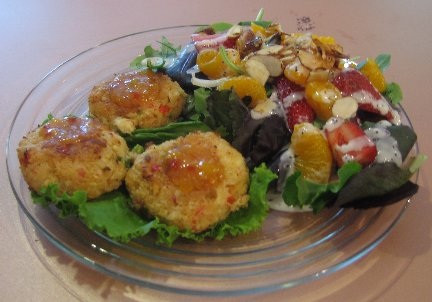 Crab Cakes with Orange Dill Sauce Recipe:
Keyword:
Crab Cakes with Orange Dill Sauce Recipe
Instructions
Crab Cakes with Orange-Dill Sauce Instructions:
Prepare Orange-Dill Sauce. Carefully clean the crab meat of any shells or cartilage; set aside.

In a large non-stick frying pan over medium heat, melt 1 teaspoon butter. Add celery, onions, chives, and chile pepper; saute 2 minutes or until vegetables are limp; remove vegetables from heat and place in a large bowl. Add crab meat, mayonnaise, bread crumbs, and lemon juice; gently mix together. Season with salt and white pepper. Carefully fold in egg with a rubber spatula until mixture just clings together.

Divide crab mixture into eight portions and shape each into a flat, round cake about 3 inches across and 1-1/2 inches high. Place onto a baking sheet lined either parchment or wax paper; cover with plastic wrap and refrigerator at least 3 hours or overnight (the cold will firm up the cakes so that they will not break up when fried).

In a large nonstick frying pan over medium heat, heat butter until hot but not smoking (add more butter if needed). Gently lay chilled crab cakes onto bottom of the pan; slowly fry crab cakes approximately 4 minutes per side or until crisp and golden brown, turning once only with a spatula. If the crab cake browns too quickly, reduce heat. The internal temperature should be 150 to 155 degrees F. with an instant read cooking thermometer. Remove from heat, transfer onto a serving platter, and serve hot with the prepared Orange-Dill Sauce.

Makes 4 servings (8 crab cakes) as a main course and 6 servings (12 crab cakes) as an appetizer or starter course (two each per serving).
Orange-Dill Sauce Instructions:
In a medium bowl, combine mayonnaise, orange zest, orange juice, and dill weed. Cover and refrigerate at least one hour. Serve cold.
Recipe Notes
*  If you can't get fresh crab, look for the pasteurized crab usually sold in the refrigerated case of your supermarket or fish store.
**  Check out Making Homemade Bread Crumbs.

I get many readers asking what cooking/meat thermometer that I prefer and use in my cooking and baking. I, personally, use the Thermapen Thermometer. Originally designed for professional use, the Super-Fast Thermapen Thermometer is used by chefs all over the world.  I only endorse a few products, on my web site, that I like and use regularly.
You can learn more or buy yours at: Super-Fast Thermapen Thermometer.
Sponsored Content
Comments and Reviews