Cranberry Sauce with Raspberry Vinegar recipe is an updated twist on the traditional versions of cranberry sauce.  Your family will love this easy to make version.   Cranberry Sauce with Raspberry Vinegar is a perfect accompaniment to your holiday turkey that is bursting with flavor.  This recipe is sure to become your family's classic cranberry sauce.  Very delicious!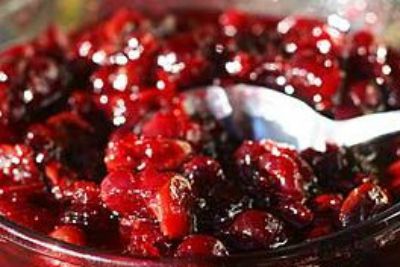 Learn about Cranberry Hints, Tips, and Information and here for more Cranberry Recipes.
Please check out my Thanksgiving Turkey Dinner Menu which includes Cranberry Sauce with Raspberry Vinegar.
Cranberry Sauce With Raspberry Vinegar Recipe:
Keyword:
Cranberry Sauce With Raspberry Vinegar Recipe
Ingredients
1 1/4

cups granulated

sugar

1/2

cup

raspberry vinegar

1/4

cup

water

1

(12-ounce) package

cranberries

(fresh or frozen)*

1

cinnamon

stick

1

tablespoon

orange peel

(zest), thinly sliced
Instructions
In a large saucepan over medium heat, combine sugar, raspberry vinegar, and water; bring to a boil, stirring just until all sugar dissolves.

Add the cranberries, cinnamon stick, and orange peel (zest). Reduce heat to low, cover partially with a lid, and let simmer approximately 10 minutes or until ALL the cranberries burst. Be careful when boilinng, because the sauce can foam up and can spill, so you have to watch it.

NOTE: Cranberries have a lot of natural pectin, the ingredient that makes cooked fruit gel. To release that pectin, you need to cook the berries until they burst and can form a bond with the sugar. Boil the mixture until it is thickened and then do not refrigerate the mixture until it is cooled to room temperature.

Remove from heat and let the sauce cool completely (sauce will thicken as it cools) before refrigerating. Discard cinnamon stick.

NOTE: Can be made up to one week in advance.
Recipe Notes
* Discard any cranberries that are soft, shriveled, withered, or discolored, and remove any stems. They should be shiny and plump and range in color from bright light red to dark red.  One 12-ounce bag equals approximately three cups of whole berries.
More Interesting and Delicious Cranberry Recipes:
Cranberry Relish
Ben Weller, my son-in-law, makes this wonderful family recipe for Thanksgiving and Christmas dinner.  He uses the traditional method of grinding with an old hand-crank grinder.  His mother, Joan Weller, told me (in confidence) that you do not really need to use a food grinder (you can use a food processor).  It was her way of keeping her sons busy and out of the way when she was fixing the holiday dinner.
Cranberry Holiday Spread
This delicious holiday spread is very easy-to-make and is sure to delight your family and friends. Makes a great appetizer to serve before your large Thanksgiving or Christmas dinner.
Cranberry Salsa Dip
This fantastic recipe was shared with me by Carol Reich of Hillsboro, Oregon.  Carol won a Dip Contest on the Satellite Sisters Radio Show with this outstanding and also beautiful-to-look-at recipe.
Cranberry-Jalapeno Granita
This granita would be delicious served during the Thanksgiving and Christmas holidays.  Granitas are as cool and delicious as ice cream, but they are much lighter, more refreshing, and a lot easier to make.
Zucchini Cranberry Bread with Pecans
Here is a very pretty quick bread to make now and then freeze for later use.  During the holidays, you will be very thankful to have a few of these loaves in your freezer to give as gifts and to serve your guests.  This is also a great recipe to use those "large" zucchini that seem to grow overnight!
Comments and Reviews