Try this Pumpkin Empanada recipe this fall.  They are little pastry hand pies filled with a sweet pumpkin filling.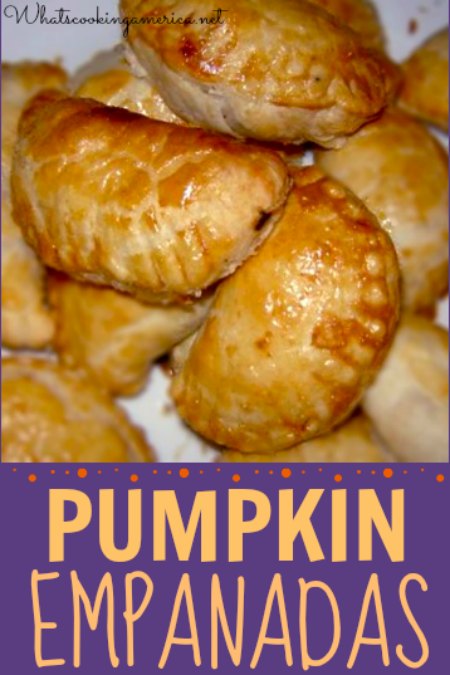 An empanada is a stuffed bread or pastry filled with a variety of meats, cheeses, vegetables or fruits.  The origins of empanadas can trace their roots back to Spain in the 1500's and the Spanish colonizers introduced this dish to many Latin American countries. Empanandas also have strong similarities to Samosas from India which are meat-filled pies.
In the United States, pumpkin pie is the most popular dessert to serve during the Thanksgiving holiday.  However, for most Mexican-American families, pumpkin empanadas are at the top of the dessert list!
This Pumpkin Empanada recipe is courtesy of Cynthia Detterick-Pineda of Andrews, TX.  Per Cynthia, "Pumpkin pie may not be on the menu for a traditional Mexican-style Thanksgiving, but the Pumpkin Empanada most definitely is.  At least they are on the Thanksgiving menus I have grown up with."   As part of a Mexican tradition,  pumpkin empanadas are made both on Thanksgiving and Christmas.  Often they are served during Noche Buena when those re-enacting the travels of Mary and Joseph have stopped at the chosen home to feast.
Mexican Pumpkin Empanada Recipe:
Keyword:
Mexican Pumpkin Empanada Recipe
Servings
:
14
to 16 empanadas
Ingredients
Empanada:
Egg Wash

(made by whisking 1 egg with 1 teaspoon water)

1/2

teaspoon

cinnamon,

ground

1/4

cup granulated

sugar
Pumpkin Filling:
2

tablespoons

butter

1

firmly-packed cup dark

brown sugar

1

cup

pumpkin puree*

1

teaspoon

cinnamon,

ground

1/8

teaspoon

cloves,

ground

Orange zest

(rind) of half an orange, grated
Instructions
Empanada Instructions:
Prepare oven to 425 degrees F. Lightly grease a large baking sheet.

Prepare Pastry Dough; refrigerate.

Prepare Pumpkin Filling; set aside and let cool.

In a small bowl, combine cinnamon and sugar; set aside.

Take the chilled Pastry Dough from the refrigerator and divide it into half. Divide one of the halves into eight (8) pieces. Return the other half of the Pastry Dough to the refrigerator to keep chilled until you are ready for it.

On a floured board, roll each of the eight pieces into a circle about 4 inches across and 1/8-inch thick. Fill each of these circles with a generous tablespoons of the cooled Pumpkin Filling. Fold the circle into a half-moon shape enclosing filling. Using a fork, press down the edges into a crimped border. Not only will this look nice, it will help keep the empanada closed after baking. With a pastry brush, paint the top with the Egg Wash.

Once you have assembled the first eight (8) empanadas and placed them on the prepared baking sheet, remove the other half of the dough from the refrigerator and follow the same above instructions.

Bake approximately 15 minutes or until tops are golden and the edges are lightly browned.

Sprinkle with the cinnamon-sugar immediately after removing from the oven.

The assembled pumpkin-filled Empanadas can be refrigerated for up to 3 days or frozen for up to 1 month before using. If frozen, increase baking time to 20 to 25 minutes. These may also be baked 1 day ahead. Before serving, warm in a 350 degrees for 8 minutes.

Makes 14 to 16 empanadas.
Pastry Dough Instructions:
Place butter and vegetable shortening or lard in freezer for 15 minutes. When ready to use, remove from freezer and cut both into small pieces.

In the bowl of a food processor fit with the cutting blade, combine flour and salt by pulsing 3 to 4 times.

Add butter and pulse 5 to 6 times until texture looks mealy and it is blended uniformly.

Add cold vegetable shortening or lard and pulse another 3 to 4 times. Remove lid of food processor and pour in the ice water and egg. Replace lid and pulse 5 times. Stop to scrape down the sides and process for another 5 pulses. The dough should hold together when clinched in your fist.

Place mixture in a large zip-top bag, squeeze together until it forms a ball, press into a rounded disk, and then refrigerate for 30 minutes.
Pumpkin Filling Instructions:
In a small saucepan over medium heat, melt the butter; stir in the brown sugar. Let this heat for a few minutes until the brown sugar is dissolved into the butter. Stir in the pumpkin and the spices. Continue to stir over medium heat for about 3 to 5 minutes, or long enough that the pumpkin begins to stiffen and hold its shape. Test this by picking up a small amount in a spoon. Remove from heat and stir in the orange peel.

Allow the Pumpkin Filling to cool completely in the refrigerator before continuing to assembling your empanadas. A hot or warm filling will make working with your dough very difficult.
Recipe Notes
* If you choose to use canned pumpkin, make sure it is pumpkin puree and not pumpkin pie filling.
* To get the fresh cooked pumpkin to same consistency of a store bought canned pumpkin puree, use a food processor to make a smooth puree. Then pour it in a sieve (or cheesecloth or coffee filter) placed in a deep bowl.  Stir with a spoon until all the liquid is sieved completely and you get some rich thick Pumpkin Puree.

Historic References:
Wikipedia- Empanada
"Historia de la empanada criolla" (PDF). Dra. Susana Barberis. Retrieved 8 July 2010.
Clifford A. Wright (1999), A Mediterranean Feast, William Morrow, New York (p. 573)
Comments and Reviews