Roasted Beet Bread Pudding was an interesting experiment using roasted beets.  I had an over-abundance of beets to use this year that I had roasted in my oven.  Now, what to do with all these roasted beets?  When I came upon this recipe, I just had to try it and, and I just could not just make the recipe as it was written, but had to experiment!
Many beets are sold in bunches with the tops still attached, while others are sold with the tops removed.  Look for beets that are firm, round, with a slender tap root (the large main root), a rich, color, and smooth over most of the surface.  If beets are bunched, you can judge their freshness fairly accurately by the condition of the tops.  Badly wilted or decayed tops indicate a lack of freshness, but the roots may be satisfactory if they are firm.  Avoid elongated beets with round, scaly areas around the top surface – these will be tough, fibrous, and strong-flavored. Also avoid wilted, flabby beets — they have been exposed to the air too long.
My husband really likes this Bread Pudding and I hope you will also.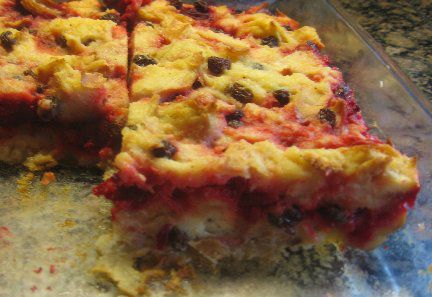 Roasted Beet Bread Pudding Recipe:
Keyword:
Roasted Beet Bread Pudding Recipe
Servings
:
10
to 12 servings
Ingredients
1

loaf

French bread

or rye bread (approximately 14 to 16 ounces), cut into 1/4-inch thick slices (I used French Bread)

12

ounces

roasted beets,

peeled

4

cups

milk

1 1/2

cups

raisins

4

eggs,

lightly beaten

1 1/2

cups granulated

sugar

1

teaspoon

pure vanilla extract

Zest

of 1 lemon, finely grated

Salt

and freshly-ground black pepper, to taste

3

tablespoons

butter

(for the baking pan)

Sour cream

or light cream (for garnish)
Instructions
Let the rye bread or French bread slices dry uncovered overnight or lightly toast them and let dry at room temperature for 30 minutes.

Coarsely grate the roasted beets; set aside.

Tear or cut French bread into 1-inch pieces (about 6 to 7 cups); place in a large bowl with the milk and raisins; let bread pieces soak for 30 minutes.

In a separate bowl, whisk the eggs, sugar, vanilla extract, lemon zest, salt, and pepper together. Pour egg mixture over the soaking bread/milk mixture.

Crush the bread mixture with your hands until well mixed. Let the mixture sit for 1 hour, stirring occasionally.

Preheat oven to 350 degrees F.  Position oven rack in center of oven.

When ready to bake, generously butter a 13x9-inch baking pan or dish. Coat the bottom and the sides of the pan well with the butter.

Spread 1/2 of the bread pudding mixture into prepared pan or dish. Cover the top evenly with the grated beets. Then spread the remaining bread pudding mixture over the beets.


Bake, uncovered, approximately 40 to 50 minutes, until set in the center, and the edges start getting a bit brown and pull away from the edge of the pan.

Remove from oven and let cool on a wire rack for 10 minutes before cutting into squares.

To serve, cut into squares and put into individual serving dishes.

Serve with dollops of sour cream or pour some cream over the top. NOTE: Best fresh and eaten the day it is made.
Source:  I adapted this recipe idea for Roasted Beet Bread Pudding from the cookbook, All Around The World Cookbook, by Sheila Lukins.
Comments and Reviews