Low Fat Recipe – Low Calorie Recipe – Gluten Free
Chocolate Torte is a recipe that is low carbohydrate and gluten free torte that will satisfy your chocolate craving . Now you can have your cake and eat it too – even on a diet! This recipe is really quick and simple to make. I created this recipe because I wanted a low carbohydrate chocolate dessert for myself that is still delicious and can be served to everyone even though it's healthier – Nobody has to know! It is really good so be sure to keep your portion size in check.
This recipe can also be made in advance and kept in the freezer for when friends stop by for coffee. You can also divide up the mix and bake it in smaller individual sized cake pans or tins so everyone has their own personal torte. It is a great alternative dessert for wanting something gluten free. It is also a great Valentine's Day torte, I like to serve it with fresh (or frozen) raspberries on top. Go crazy, and try using semi-sweet, bitter-sweet, white chocolate or a blend of chocolates to find the right chocolate level for your tastebuds. Which ever you choose it is delightful decadent and addicting. Eat it hot from the oven and enjoy the gooey lava cake texture or let it cool and it has more of a brownie texture. This may very well become your "go-to" Special dessert.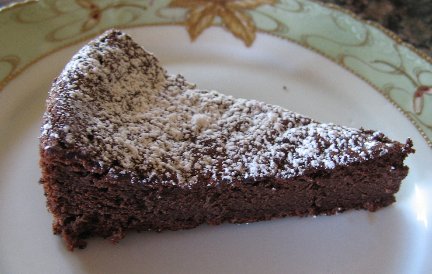 For more great Low Fat Recipes, Low Calorie Recipes, Low Carbohydrate Recipes, and Diabetic Recipes, check out my Diet Recipe Index. Also check out my Nutritional Chart for fat grams, fiber grams, carbohydrate grams, and calories for all your favorite foods.
Perfect Flourless Chocolate Torte Recipe:
Keyword:
Perfect Flourless Chocolate Cake Recipe
Servings
:
12
to 16 servings
Ingredients
7 1/4

ounces

dark chocolate 

(65% to 70% cocoa), room temperature and chopped into pieces

1/2

cup

butter,

cut into pieces

6

large

eggs,

room temperature and separated

1/3

cup granulated

sugar

1/3

cup

Splenda

1

teaspoon

pure vanilla extract*

1

teaspoon

powdered sugar

(confectioners' sugar), for garnish
Instructions
Preheat oven to 375 degrees F.

In a large metal bowl set over a pan of hot, not simmering, water (bottom of the bowl should not touch the water), combine the chocolate and butter and let stand, stirring occasionally, until smooth and melted. Learn different techniques for How To Melt Chocolate.

In a medium-size bowl, combine the 6 egg yolks, sugar, and Splenda. Add the melted chocolate/butter mixture and vanilla extract and stir to combine. Be sure to add the beaten eggs to the chocolate mixture and not the chocolate to the eggs. This will insure a moist airy texture.

In a large bowl, whip the 6 egg whites until firm. Add 1/3 of the whites to the chocolate mixture and stir to lighten the batter. Gently fold in the remaining egg whites until just blended and no streaks remain. Finish by using a rubber spatula to ensure that the heavier mixture at the bottom is incorporated.

Scrape the batter into a non-stick 10 springform pan and smooth top with the spatula.

Bake approximately 20 minutes or until just set (do not overcook). Remove from oven and let cool. Cake will collapse some while cooling.

To Unmold: Run a thin metal spatula around the side of the cake and release the sides of the springform pan. The chocolate cake will store up to 2 weeks refrigerated. Do not freeze because it changes the texture.

When ready to serve, bring to room temperature. Cut into narrow wedges with a thin sharp knife that has been dipped in hot water. Dust with sifted powdered sugar before serving.
Recipe Notes
*  I sometimes substitute a coffee liqueur for the vanilla extract.  Be creative!
Comments and Reviews