Eggel Breakfast Sandwich is quick and easy to pull together for a large group, tastes great, and can have many variations to please everyone.  Also a great hearty and healthy breakfast or lunch for your family during your busy mornings and afternoons.  I have also made these sandwiches for a light dinner.
Eggel Breakfast Sandwich makes a great "walk-around breakfast" when we are out camping.
You ask, where does this name come from?  Egg + Bagel = Eggel.  Not very original, but the name works.  As breakfast is the most important meal of the day – start your day this easy Eggel Breakfast way.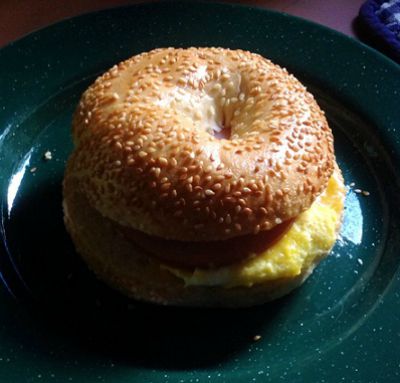 Eggels Breakfast Sandwich Recipe:
Keyword:
Eggels Breakfast Sandwich Recipe
Instructions
Preheat oven to 350 degrees F.

In a medium-size bowl, crack the eggs and whisk together with the cream of tartar. Learn how to prepare and cook perfect Scrambled Eggs.

The American Egg Board describes well-beaten eggs as "frothy and evenly colored." This generally takes about 20 to 35 seconds of beating (do not over beat). You want to get them to a uniform color and texture with minimal amounts egg white showing. A fork works as well as a wire whisk but requires a slight bit more time and more energy. Use a bowl that is deep enough to support vigorous whisking. Do NOT add salt yet, as the salt will cause the eggs to toughen.

In a large frying pan, over medium-low heat, heat olive oil or butter. Add the whisked eggs and cook the scrambled eggs, remove from heat, and divide in 6 portions. Salt and pepper to taste and set aside.

Do not stir immediately. Wait until the first hint of setting begins. Using a silicone spatula or a flat wooden spoon, push eggs toward center while tilting skillet to distribute runny parts. Some people like really soft scrambled eggs and other people like really dry scrambled eggs. Just keep gently stirring the eggs until they look like what you desire.

Lay out six (6- by 6-inch squares) of aluminum foil.

Place bottom halves of cut bagels onto each alumium foil square. Place a slice of cheese on each bagel (so that it covers the bagel hole). Next add 1/6 portion of scrambled egg on top of cheese. Next place ham (or meat of choice) on top of the scrambled egg. Place top half of the bagel over the ham slice.

Quickly wrap the filled bagel by pulling the aluminum foil corners over the bagel, sealing it tightly. Repeat for the remaining bagels. Place the foil-wrapped bagels in the pre-heated oven and heat for 15 minutes.

Remove from oven with a hot pad and serve.

Makes 6 Eggel Sandwiches.
Recipe Notes
* If desired, you could substitute English Muffins.
Comments and Reviews