Mille Feuille Crepe Cake or 20-Layer Crepe Cake
What is a Mille Feuille Crepe Cake or 20-Layer Crepe Cake?  It is a decadent and elegant classic French no-bake cake consisting of 20 layers of paper thin crepes, each separated with a brush of French pastry cream.  The word mille feuille means "a thousand sheets, layers, or leaves," implying the many layers of crepes.  This cake tastes delicious and has great texture.  It does not take much effort to make this cake – just a little time and patience.  It does take a while to make each crepe, but the end result is worth it!
Mille Crepe Cake or 20-Layer Crepe Cake is the signature dessert at Lady Mendl's Tea Salon in New York.  An absolutely charming establishment tucked away inside New York City's Inn at Irving Place.  As the actual recipe for Lady Mendl's 20-Layer Crepe Cake is a trademark secret, this is Ellen Easton's version of this delicious 20-layer cake.
Recipe and photos by Ellen Easton 2020 – All Rights Reserved.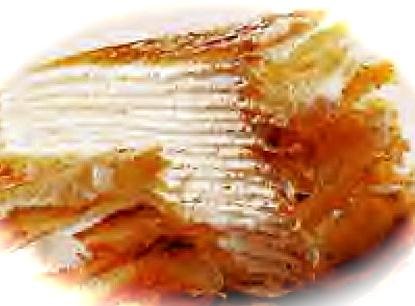 Check out more of Ellen Easton's Tea Travels™ articles and recipes.
Learn about the History of English High Tea and more delicious Afternoon Tea Recipes.
20-layer Crepe Cake Recipe:
Keyword:
20-layer Crepe Cake Recipe
Ingredients
Pastry Creme Filling:
1

egg

1

tablespoon all-purpose

flour

2

tablespoons granulated

sugar

1

tablespoons

cornstarch

1

cup

milk

1

teaspoon

pure vanilla extract

1

teaspoon

hot waster

2

tablespoons

heavy cream,

whipped
Instructions
The day before making and assembling the cake, make the Crepe Batter and the Pastry Creme Filling (see recipes below); refrigerate overnight.

Remove the prepared Crepe Batter from the refrigerator and bring to room temperature:

Line baking sheets with parchment paper.

Using a nonstick or lightly-oiled crepe pan over medium-low heat.

Evenly distribute approximately 3 tablespoons Crepe Batter; swirl to cover the surface of the pan. Cook approximately 1 minute or just until the bottom of the crepe becomes lightly browned.

Using your clean fingers, gently and carefully turn the crepe over and continue cooking the other side of the crepe for no longer than 5 seconds. Remove the cooked crepe onto a prepared baking sheet (do not stack the crepes on top of each other).

Repeat this process until you have 20 perfect crepes. NOTE: You might need to prepare a few practice crepes in the beginning.

Remove the prepared Pastry Creme Filling from the refrigerator:

Whip the 2 cups of heavy cream with the 1 tablespoon sugar. Gently fold the whipped cream into the prepared chilled and thickened Pastry Creme Filling.

Assembly of 20-Layer Crepe Cake:

Place one (1) prepared crepe on a large cake plate.

With a small spatula or wide blade knife, completely cover the crepe with a thin layer of the pastry cream mixture (approximately 1/4 cup).

Cover with another dry crepe and repeat covering with the Pastry Creme until you have reached 20 layers.

The 20th crepe will be the last or top layer.

Refrigerate the prepared cake for a minimum of 2 hours to let the pastry cream become firm. Allow to stand at room temperature for 15 to 30 minutes before serving. Dust with powdered (confectioners' sugar).

When ready to serve, slice into individual servings. Garnish the plate with fresh berries.

Makes one (1) 20-Layer Cake.
Crepe Batter Instructions:
In a small pan, melt the butter until lightly browned; remove from heat and set aside.

In a separate, small pan, warm the milk until steaming; remove from heat and set aside to allow to cool slightly.

In a large bowl using your electric mixer at a low speed, mix together the eggs, flour, sugar, and salt. Slowly add in the warm milk and browned butter. Pour the batter into a tightly-sealed container to refrigerate for several hours or overnight.
Pastry Creme Filling Instructions:
In a small bowl, add egg, flour, sugar, and cornstarch; beat until smooth.

In a saucepan over low heat, bring milk almost to a boil (simmer). Immediately remove from heat and slowly whisk the milk into the egg mixture. Return all ingredients to the saucepan, while constantly stirring, for about 5 minutes, until thickened and just comes to a boil.

Remove from the heat. Add vanilla extract and hot water; stir until dissolved into the mixture. Set aside to cool until firm.

When the Pastry Creme has cooled, fold in the whipped cream.

Refrigerate mixture until thick (best if refrigerated overnight).
---
TEA TRAVELS™ – Wishing You Happy TEA TRAVELS!™  Tea is the luxury everyone can afford!™ and Good $ense for $uccess are the trademarked property of Ellen Easton/ RED WAGON PRESS
Ellen Easton, author of Afternoon Tea~Tips, Terms and Traditions (RED WAGON PRESS), a lifestyle and etiquette industry leader, keynote speaker and product spokesperson, is a hospitality, design, and retail consultant whose clients have included The Waldorf=Astoria and Plaza Hotels.  Easton's family traces their tea roots to the early 1800s, when ancestors first introduced tea plants from India and China to the Colony of Ceylon, thus building one of the largest and best cultivated teas estates on the island.

Purchase Ellen Easton's Tea Books:
Each 5 x 7 book is $20 postpaid Continental USA only.  Wholesale and fundraising accounts welcome.  Include name, address, zip code, and phone number for shipping.  Check or MO order payable to:  RED WAGON PRESS, 45 East 89th Street, STE. 20A, New York, NY 10128-1256.  All inquires to teatravels@aol.com
AFTERNOON TEA…TIPS,TERMS and TRADITIONS
72 pages of how to's, 27 photos, history, etiquette and FAQ about afternoon tea, serving styles and more. "Tea is the luxury everyone can afford!™"

TEA TRAVELS™ – FOR THE HOLIDAYS
64 pages, 21 color photos. A complete holiday menu includes 25 easy to prepare recipes; theme teas, decorating & gift ideas; invitation template and secret sources.
Comments and Reviews