Dark Chocolate Mousse with Bourbon Vanilla Chantilly Whipped Creme Recipe
I can not think of a better way to finish off the meal then digging my spoon into a decadent Dark Chocolate Mousse topped with Bourbon Vanilla Chantilly Whipped Creme. I know this dark chocolate mousse will make me rise up from the table and start a joyful dance!  Ellen Easton has provided the recipe for this elegant mousse as part of her Spring Celebration luncheon menu.
Chocolate mousse is a popular dessert and well loved in the country of France.  In every restaurant in France, whether it is an gourmet Michelin starred eatery or a corner cafe, you will find Mousse au Chocolat on the menu which translates to "Chocolate Foam".
Check out more of Ellen Easton's Tea Travels™ articles and recipes.
Learn about the History of English High Tea and more delicious Afternoon Tea Recipes.
Recipe and Photo by Ellen Easton © 2020- All Rights Reserved
History of Chocolate Mousse:
The term Mousse in French means "foam."  In French cooking, preparing a mousse means to incorporate air bubbles to give the dish a light and airy texture.  A mousse can be sweet, flavored with chocolate, coffee, caramel or pureed fruits.  Alternatively, a mousse can be a savory dish if it is cooked with meat, fish, cheese or vegetables.
The Spanish originally introduced chocolate in France during the 17th Century.  When French chefs began preparing mousse in the 18th century they mainly focused on savory mousse dishes which featured fish or vegetables.  It was not until the early 1900's that a famous French post-impressionist artist, Henri de Toulouse Lautrec came up with the idea of mixing chocolate into a mousse dessert.  Toulouse Lautrec also happened to be known for his expert culinary skills, named the dessert "Mayonnaise au Chocolat", which eventually became known through the years as Mousse au Chocolat.
1820: Mousse au Chocolat described in culinary encyclopedia, Le Cuisinier Royal ou L'art de Faire la Cuisine (the royal cook, or the art of cooking).by Alexandre Viard, a chef to Louis XVI and Napoleon,
1857: The term Mousse au Chocolat was published in a French language dictionary.
1892: First written record of Chocolate Mousse in the United States comes from a Food Exposition held at Madison Square Garden in New York City.
1897: First published recipe of Chocolate Mousse in the United States was found in The Boston Daily Globe in the "Housekeeper's Column."  The recipe resembles more of a traditional pudding than a proper French mousse which incorporates egg whites to make light and airy:
Chocolate Mousse
Take four strips of chocolate, 1 quarts of milk, 6 eggs and 1 tablespoon of cornstarch, dissolve the chocolate in a little warm milk, put the quart of milk on to boil and stir in the chocolate gradually.  Set the saucepan where it will cook slowly.  Beat the eggs well, mix in the cornstarch and add to the milk and chocolate.  Sweeten to taste and boil gently until smooth and thick, stirring until done.  Flavor with vanilla and pour into a glass dish.  Serve cold with sweetened whipped cream heaped upon it.
Dark Chocolate Mousse Recipe
Keyword:
Dark Chocolate Mousse Recipe
Ingredients
Dark Chocolate Mousse:
16

ounces bittersweet

chocolate,

finely chopped

2

tablespoons

unsalted butter

1

cup granulated

sugar

6

large

eggs,

separated

1

teaspoon

Madagascar Bourbon Vanilla Extract

(or substitute with pure vanilla extract)

1

tablespoon of

of chocolate liqueur or coffee/expresso

or coffee/expresso (optional)
Whipped Creme:
1

cup

heavy whipping cream

1

tablespoon granulated

sugar

1

teaspoon

Madagascar Bourbon Vanilla Extract

(or substitute with pure vanilla extract)
Instructions
Dark Chocolate Mousse Instructions:
Using a double boiler, or a heatproof bowl over a pot of simmering water (do not to let the bottom of the bowl touch the water) over medium-high heat, add the chopped chocolate, butter, and sugar. Note: To avoid the chocolate from seizing and turning into a stiff, thick mass, do not stir the mixture. It should take about 10 minutes for the chocolate to melt. When the chocolate has melted, remove the bowl from the pot of hot water. Add the egg yolks, vanilla extract, and optional chocolate liqueur or coffee/expresso to the chocolate mixture and stir together until well blended. The texture of the mixture will be dense and paste-like. Set aside.

In a separate medium-sized bowl, add the egg whites and whip on high speed with an electric mixer until stiff, soft peaks form. Using a rubber spatula gently fold 1/3 of the egg whites into the chocolate mixture until completely blended. Carefully add the remaining egg whites by gently folding them into the chocolate mixture. Be certain to blend all of the egg whites into the chocolate mixture until a pudding consistency.

Pour the chocolate mixture into the serving bowl of your choice. Cover tightly with plastic wrap. Refrigerate for 12 hours until firm and chilled. (This recipe is even better when prepared a day in advance.)

One hour before serving prepare whipped crème (see recipes below). Place on top of chocolate mixture. Using a carrot scraper, add shaved chocolate to decorate the top.
Whipped Creme Instructions:
In a chilled, medium-sized bowl, beat whipping cream, sugar and vanilla with an electric mixer on high speed until stiff peaks form.

Variation - Make Spiced Whipped Creme by adding 1 teaspoon each of orange extract and orange zest and 1/2 teaspoon of ground cinnamon
---
TEA TRAVELS™ – Wishing You Happy TEA TRAVELS!™  Tea is the luxury everyone can afford!™ and Good $ense for $uccess are the trademarked property of Ellen Easton/ RED WAGON PRESS
Ellen Easton, author of Afternoon Tea~Tips, Terms and Traditions (RED WAGON PRESS), a lifestyle and etiquette industry leader, keynote speaker and product spokesperson, is a hospitality, design, and retail consultant whose clients have included The Waldorf=Astoria, Plaza Hotels, and Bergdorf Goodman.  Easton's family traces their tea roots to the early 1800s, when ancestors first introduced tea plants from India and China to the Colony of Ceylon, thus building one of the largest and best cultivated tea estates on the island.

Purchase Ellen Easton's Tea Books:
Each 5 x 7 book is $20 postpaid Continental USA only.  Wholesale and fundraising accounts welcome.  Include name, address, zip code, and phone number for shipping.  All Sales Final. Check or MO order payable to:  RED WAGON PRESS, 45 East 89th Street, STE. 20A, New York, NY 10128-1256.  All inquires to teatravels@aol.com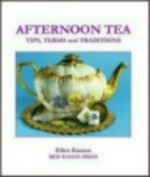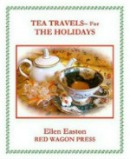 AFTERNOON TEA…TIPS, TERMS and TRADITIONS
72 pages of how to's, 27 photos, history, etiquette and FAQ about afternoon tea, serving styles and more.
TEA TRAVELS™ – FOR THE HOLIDAYS
64 pages, 21 color photos. A complete holiday menu includes 25 easy to prepare recipes; theme teas, decorating & gift ideas; invitation template and secret sources.
History Sources:
Comments and Reviews