Springtime Celebration Luncheon Menu
Recipe and Photos by Ellen Easton © 2020- All Rights Reserved
Ellen Easton shares with us her Springtime Celebration Luncheon menu, including recipes and photos of place settings.  A lovely three course meal featuring a soup entree, fish entree and finishing off with desserts and tea.  Hosting a luncheon is a great excuse to get dressed up and have friends over for delightful conversation and catch up on the latest news and happenings.
This Springtime Celebration luncheon menu features foods and colors that welcome in early spring where the weather can still be a little wet and chilly yet signs of greenery and flowers are starting to peek out all around us.
Check out more of Ellen Easton's Tea Travels™ articles and recipes.
Learn about the History of English High Tea and more delicious Afternoon Tea Recipes.
1st Course: Soup Course
Roasted, Salted Cashew Nuts
Fennel Olive Bread with Rose Shaped Butter
White and Yellow Corn Chowder with Rosemary Croutons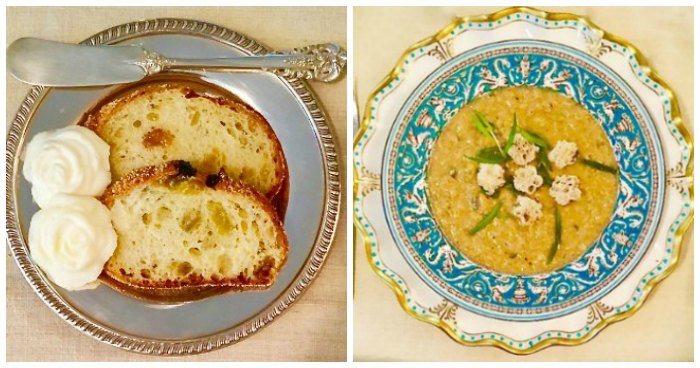 Place Setting for Soup Course
2nd Course: Main Fish Course
Colossal Shrimp with Quinoa Pesto Salad
A bed of greens topped with quinoa and arranged with roasted asparagus, endives, marinated beets, red bell pepper flowers, tomatoes and hearts of palm sprinkled will grated dill coddled egg yolk.  Shrimp and mandarin Orange slices are nestled into the quinoa and served with Reva Paul's Vinaigrette
 Place setting for main fish course
3rd Course: Dessert Course
Dark Chocolate Mousse with Bourbon Vanilla Chantilly Creme
Reva Paul's Pink Rose Gold Almonds, White Chocolate Mints & Scalloped Sugar Cubes
Laduree's Meringue Rose Petal & Coconut Kisses
Lemon, Orange Blossom, Pistachio and Rose Macarons
Place Setting for Dessert Course
---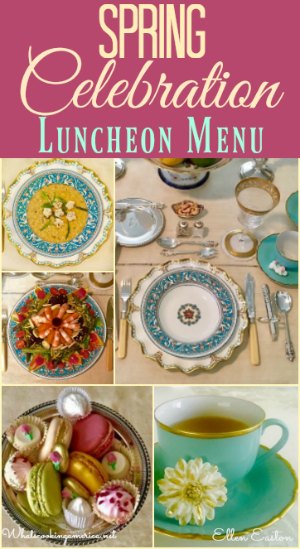 TEA TRAVELS™ – Wishing You Happy TEA TRAVELS!™  Tea is the luxury everyone can afford!™ and Good $ense for $uccess are the trademarked property of Ellen Easton/ RED WAGON PRESS
Ellen Easton, author of Afternoon Tea~Tips, Terms and Traditions (RED WAGON PRESS), a lifestyle and etiquette industry leader, keynote speaker and product spokesperson, is a hospitality, design, and retail consultant whose clients have included The Waldorf=Astoria, Plaza Hotels, and Bergdorf Goodman.  Easton's family traces their tea roots to the early 1800s, when ancestors first introduced tea plants from India and China to the Colony of Ceylon, thus building one of the largest and best cultivated tea estates on the island.

Purchase Ellen Easton's Tea Books:
Each 5 x 7 book is $20 postpaid Continental USA only.  Wholesale and fundraising accounts welcome.  Include name, address, zip code, and phone number for shipping.  All Sales Final. Check or MO order payable to:  RED WAGON PRESS, 45 East 89th Street, STE. 20A, New York, NY 10128-1256.  All inquires to teatravels@aol.com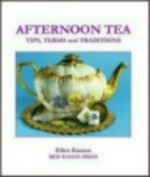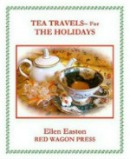 AFTERNOON TEA…TIPS, TERMS and TRADITIONS
72 pages of how to's, 27 photos, history, etiquette and FAQ about afternoon tea, serving styles and more.
TEA TRAVELS™ – FOR THE HOLIDAYS
64 pages, 21 color photos.  A complete holiday menu includes 25 easy to prepare recipes; theme teas, decorating and gift ideas; invitation template and secret sources.
Comments and Reviews