Egg Salad Tea Sandwiches Recipe
Ellen Easton shares with us how to make these charming egg salad tea sandwiches.  The colored egg white shavings add a delightful garnishment for these Spring themed tea sandwiches.  Your guests will be enchanted with these bite-sized savories at your next afternoon tea.   Serve these dainty tea sandwiches for an Easter or Spring themed afternoon tea.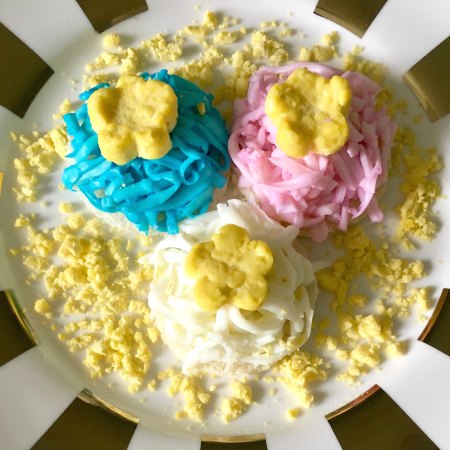 Article and Photos by Ellen Easton 2020© All Rights Reserved
Check out more of Ellen Easton's Tea Travels™ articles and recipes.
Also, enjoy Ellen's Tea Infused Marbled Eggs, and Learn how to make Hand Decorated Easter Eggs.
Egg Salad Tea Sandwiches Recipe: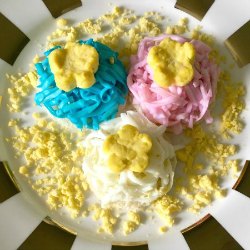 Egg Salad Tea Sandwiches Recipe
Servings
:
6
tea sandwiches
Ingredients
6 slices thin white bread
2 Tablespoons mayonnaise
Grated colored egg whites

(see recipe below)
6 hard-boiled egg yolks
Salt and pepper



Equipment: Round or flower shape cookie cutters in large and smaller sizes
Instructions
Preparing Colored Egg Whites:

2 options are provided on how to cook the eggs.




Option 1: Cooking in an Egg Coddler

6 large eggs

FDA food colors of your choice

Equipment:

4 egg coddlers

wax paper

Separate the egg whites from the egg yolks into separate bowls. Stir the contents of each bowl. Place the egg whites into an egg coddler (about 3 egg whites per coddler), and then place the egg yolks into a separate egg coddler (about 3 egg yolks per coddler).

To the egg white coddlers only, add one drop at a time of food coloring until the desired color appears and stir to blend. Place the lids on the coddlers filled with egg whites and egg yolks then set the filled egg coddlers into a medium-sized saucepan. Cover with cold water. Set the saucepan over medium heat and bring the water to a boil. Once the water starts boiling, set the timer for 12 minutes to cook the eggs. When the time has completed, remove the saucepan from the heat and carefully remove the egg coddlers from the hot pan with silicone mitts.

Place the egg coddlers into a second pan filled with cold water and allow the eggs to cool down. Once the eggs have cooled, use a flat edge knife to run the blade gently around the edges to remove the egg whites and yolks onto wax paper on a flat surface. Set aside the cooked egg yolks to use later.

Use the larger holes of a hand-held grater to grate the colored egg whites. Set the grated egg whites separated by colors into individual bowls and set aside.




Note: As another decorative option, hard-boiled egg whites can be cut into 1/2 inch slices. Then use cookie cutters to make shapes out of the egg whites.

Option 2: Hard Boiling Eggs

6 large eggs
See instructions for Perfect Hard Boiled Eggs
1/2 cup water
1 teaspoon white vinegar
10-20 drops of FDA food color
Equipment:
qty 9 (1 cup sized) small glass bowls
paper towels




Directions for egg coloring solution: In a medium-sized saucepan over high heat, bring water to a boil and remove from heat. While the water is boiling, lay out some newspaper, paper towels, butcher paper or aluminum foil to protect the surface you will be working on to dye and decorate the eggs. Add 1/2 cup boiling water to each individual bowl. Then add 1 teaspoon vinegar per bowl and food coloring drops. Add one drop at a time of food coloring (10-20 drops) until the desired color level is achieved in each different bowl. After the egg yolks have been colored, remaining egg dye colors can be used to make hand-dyed and decorated Easter eggs or discarded.

Peel the shells off the cooled hard boiled eggs. Slice the eggs in half then remove and reserve the egg yolks.

Use the larger holes of a hand-held grater to grate the egg whites onto wax paper. Separate the grated egg whites into 2-3 small bowls. Add one tablespoon of selected egg coloring solution to each separate bowl.

Gently toss the grated egg whites until the desired color is reached. Add more egg coloring if needed. Transfer each batch of colored egg whites into a small clean bowl that is lined with paper towels for draining off the excess color.

Assembling Open-faced Tea Sandwiches:

Use a large circle shaped cookie cutter (or another shape of choice) to cut out a shape in a slice of bread.

Spread a thin layer of mayonnaise on the shaped bread. Next top the slice of bread with the colored, grated egg whites of your choice.

Place the cooked egg yolks in a medium-sized bowl and mash up with a fork. (As an alternative you can grate the cooked egg yolks into a bowl.) Select a small shaped cookie cutter and spoon a heaping teaspoon of egg yolk into the shape and press down. Layer the pressed egg yolk shape on top of the colored, grated egg whites. Note: You will have leftover egg yolks that can be discarded or mashed up with some mayonnaise and mustard for a snack to spread on crackers or celery.

Sprinkle some salt and pepper on top of each sandwich.

To serve, place open-faced tea sandwiches on a platter. For garnishment options watercress, arugula or cooked egg yolk crumbles can be placed around edges of platter.

Optional garnishments to the egg salad may include: minced olives, fresh dill or caraway seeds sprinkled on top of the sandwiches.
---
TEA TRAVELS™ – Wishing You Happy TEA TRAVELS!™  Tea is the luxury everyone can afford!™ and Good $ense for $uccess are the trademarked property of Ellen Easton/ RED WAGON PRESS
Ellen Easton, author of Afternoon Tea~Tips, Terms and Traditions (RED WAGON PRESS), a lifestyle and etiquette industry leader, keynote speaker and product spokesperson, is a hospitality, design, and retail consultant whose clients have included The Waldorf=Astoria, Plaza Hotels, and Bergdorf Goodman.  Easton's family traces their tea roots to the early 1800s, when ancestors first introduced tea plants from India and China to the Colony of Ceylon, thus building one of the largest and best-cultivated tea estates on the island.

Purchase Ellen Easton's Tea Books:
Each 5 x 7 book is $20 postpaid Continental USA only.  Wholesale and fundraising accounts welcome.  Include name, address, zip code, and phone number for shipping.  All Sales Final. Check or MO order payable to:  RED WAGON PRESS, 45 East 89th Street, STE. 20A, New York, NY 10128-1256.  All inquiries to teatravels@aol.com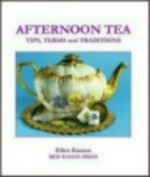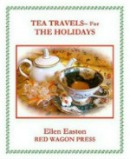 AFTERNOON TEA…TIPS, TERMS and TRADITIONS
72 pages of how to's, 27 photos, history, etiquette and FAQ about afternoon tea, serving styles and more.
TEA TRAVELS™ – FOR THE HOLIDAYS
64 pages, 21 color photos. A complete holiday menu includes 25 easy to prepare recipes; theme teas, decorating & gift ideas; invitation template and secret sources.
Comments and Reviews