Decorative Holiday Afternoon Tea Sandwiches
Afternoon tea sandwiches are a perfect complement to the holiday season. Whether you are having a full afternoon tea, a buffet or just trimming the tree decorative shapes will add a festive flair.
Article and Photos by Ellen Easton 2020© All Rights Reserved
Check out more of Ellen Easton's Tea Travels™ articles and recipes.
Also, enjoy Ellen's Tea Infused Marbled Eggs, and Learn how to make Hand Decorated Easter Eggs.
I love the versatility of cookie cutters. It is so very easy to create fun shapes by using various sizes. The choices are limitless. Remember the basic principles apply to the breads to remove the crusts. To thin the bread use a rolling pin or in a pinch, a can. To keep the bread from sticking to the cookie-cutter spray the inside walls with a thin coat of non-flavored cooking or vegetable oil. Working on wax paper will help when cutting out
your shapes. 1-2-3 you are ready to begin.
A star shape tree is a serving for one person. Prepare by using star-shaped cutters of five graduating sizes. Next prepare five different fillings. If you wish to apply finely chopped greens to the edges of each sandwich it will enhance the design of the tree.
Afternoon Tea Sandwich Shapes~ Gingerbread Man, Holly Leaf, Snowflake
A few suggested fillings: Gingerbread Man with Cinnamon Cream Cheese, Holly Leaf with Turkey, Arugula and Cranberry Mayonnaise, Snowflake with Cucumber and Mint.
To color the bread use FDA food colors lightly brushed on top. Be careful to not saturate the bread or it will become soggy.
Have fun looking for many other ornamental shapes to make your holiday extra special.
---
TEA TRAVELS™ – Wishing You Happy TEA TRAVELS!™  Tea is the luxury everyone can afford!™ and Good $ense for $uccess are the trademarked property of Ellen Easton/ RED WAGON PRESS
Ellen Easton, author of Afternoon Tea~Tips, Terms and Traditions (RED WAGON PRESS), a lifestyle and etiquette industry leader, keynote speaker and product spokesperson, is a hospitality, design, and retail consultant whose clients have included The Waldorf=Astoria, Plaza Hotels, and Bergdorf Goodman.  Easton's family traces their tea roots to the early 1800s, when ancestors first introduced tea plants from India and China to the Colony of Ceylon, thus building one of the largest and best-cultivated tea estates on the island.

Purchase Ellen Easton's Tea Books:
Each 5 x 7 book is $20 postpaid Continental USA only.  Wholesale and fundraising accounts welcome.  Include name, address, zip code, and phone number for shipping.  All Sales Final. Check or MO order payable to:  RED WAGON PRESS, 45 East 89th Street, STE. 20A, New York, NY 10128-1256.  All inquiries to teatravels@aol.com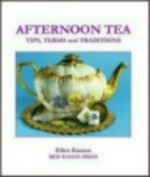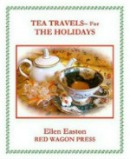 AFTERNOON TEA…TIPS, TERMS and TRADITIONS
72 pages of how to's, 27 photos, history, etiquette and FAQ about afternoon tea, serving styles and more.
TEA TRAVELS™ – FOR THE HOLIDAYS
64 pages, 21 color photos. A complete holiday menu includes 25 easy to prepare recipes; theme teas, decorating & gift ideas; invitation template and secret sources.
Comments and Reviews