Tea Travels™…Lady Mendl's Tea Salon
Article and Photos by Ellen Easton ©2020 – All Rights Reserved
Check out more of Ellen Easton's Tea Travels™ articles and recipes.
Learn about the History of English High Tea and more delicious Afternoon Tea and High Tea Recipes.

Lady Mendl's Tea Salon
The Inn at Irving Place
56 Irving Place
New York, NY 10003
(212) 533-4600
website: Lady Mendl's Tea Salon
As of 2014, the Lady Mendl's menu, tea service, and decor has changed under new management.
Any minute, one expects Sherlock Homes to pop into Lady Mendl's tea salon to ask Edith Wharton a question.  An absolutely charming establishment tucked away inside New York City's Inn at Irving Place.  Located in the heart of the Gramercy Park historical district, when one ascends the front staircase, one enters a splendid 1800s townhouse replicating a world gone by.  The atmosphere is the closest one can experience afternoon tea in a public venue as if one were in one's own home.
The Inn has several tea parlours in various sizes, accommodating from a small party of ten to larger groups of fifty, each maintains a working fireplace and private restroom facilities.
The tables are individually set with crisp white linens, lovingly collected antique porcelain, silver and crystal patterns.  A small bouquet of graceful flowers adorns the tops of all surfaces.
The attention to the table's detail is noticed with renowned sugar artist Reva Paul's hand decorated rose sugar cube on the side of each teacup, as well as tea enhancers of hand cut candied ginger, milk, honey, and lemon slices.
The wait staff is both knowledgeable and seamlessly attentive to your every need without being intrusive.
Lady Mendl's five-course seasonal menu follows the traditions of an English tea, but often with an added modern surprise.  Implementing French, Russian, and English serving styles, each course is served separately.
The first course – the chef surprise of the day, can vary from a mini quiche to a non-traditional mixed salad.
The second course – an assortment of seasonal crustless tea sandwiches, served twice, consist of smoked salmon with dill cream cheese on pumpernickel bread, thinly sliced cucumber with mint cre fraiche on brioche, classic egg salad on rye bread and smoked turkey with cranberry on seven grain bread.
The third course – freshly baked warm scones (one plain and one with currents) with Devonshire cream and preserves.
The fourth course – is what has fast become Lady Mendl's signature, a tissue paper thin, Twenty-Layer Crepe Cake filled with French pastry cream.
The fifth course – ends with an assortment of tea cookies and a chocolate dipped strawberry.
All tea service includes freshly steeped, estate grade, loose-leaf tea served decanted at tableside.
Special events are often held to mark the opening of film, as was the case with Marie-Antoinette.  A French theme menu, with tea pairings, was served:
Check out the full menu: Afternoon Tea a la Francis
Tea classes and lectures, by Ellen Easton, are held by appointment, for those who wish to learn the proper etiquette, serving and history of afternoon tea.
Comedienne Fran Capo, The Guinness Book of World Records' fastest talking female, achieved on an episode on her show called "Fran's World" – Fran's attempt at refinement.
It's no wonder Lady Mendl's has been named one of America's favorite tearooms.  Whether one is celebrating a special occasion, a new engagement, or just one who wishes to have a relaxing afternoon, from individuals to international celebrities, all are welcome.
---
Noted Guests:
---
TEA TRAVELS™ – Wishing You Happy TEA TRAVELS!™  Tea is the luxury everyone can afford!™ and Good $ense for $uccess are the trademarked property of Ellen Easton/ RED WAGON PRESS
Ellen Easton, author of Afternoon Tea~Tips, Terms and Traditions (RED WAGON PRESS), a lifestyle and etiquette industry leader, keynote speaker and product spokesperson, is a hospitality, design, and retail consultant whose clients have included The Waldorf=Astoria, Plaza Hotels, and Bergdorf Goodman.  Easton's family traces their tea roots to the early 1800s, when ancestors first introduced tea plants from India and China to the Colony of Ceylon, thus building one of the largest and best cultivated tea estates on the island.

Purchase Ellen Easton's Tea Books:
Each 5 x 7 book is $20 postpaid Continental USA only.  Wholesale and fundraising accounts welcome.  Include name, address, zip code, and phone number for shipping.  All Sales Final. Check or MO order payable to:  RED WAGON PRESS, 45 East 89th Street, STE. 20A, New York, NY 10128-1256.  All inquires to teatravels@aol.com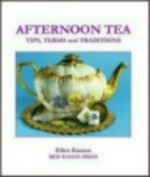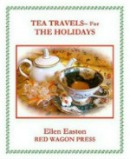 AFTERNOON TEA…TIPS, TERMS and TRADITIONS
72 pages of how to's, 27 photos, history, etiquette and FAQ about afternoon tea, serving styles and more.
TEA TRAVELS™ – FOR THE HOLIDAYS
64 pages, 21 color photos. A complete holiday menu includes 25 easy to prepare recipes; theme teas, decorating & gift ideas; invitation template and secret sources.
Comments and Reviews