Maple Tea Recipe and Maple Treats
Maple Tea is very easy to make as it is made with maple syrup rather than granulated sugar.  Capture the natural flavor of the maple syrup in the superior quality tea.  Serve this delicious tea at your afternoon tea party and bring the taste of Vermont to your party.  Give this delicious tea a try!
Sources:  Autumn Leave Tea – Photo By Ellen Easton 2020.  Leaf and Pumpkin Sugar Cubes by Reva Paul 2020 – All Rights Reserved.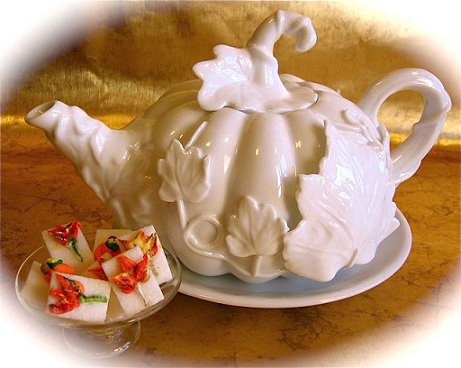 Maple Tea Recipe and Maple Treats:
Keyword:
Maple Tea Recipe
Servings
:
3
to 4 servings
Ingredients
4

ounces

Assam 

or Darjeeling black tea*

1

tablespoon

maple sugar
Instructions
In a bowl or jar, mix together the black tea of your choice and the maple sugar.

Store in an airtight, dark container, away from any light until ready to use.

Preheat a teapot or "hot the pot" by rinsing it out with hot water. By insulating the teapot, it keeps the tea hot during the brewing process.

Bring the fresh cold water to a full rolling boil. Remove from the heat quickly as to not allow the oxygen to escape from the water. Water that has been reheated gives tea a flat taste. Only boiling water can extract the full flavor and benefit from the leaves.

Use one teaspoonful of tea or one tea bag per cup (about 5 or 6 ounces) of water.

Pour boiling water over the tea. Steep for 5 minutes or the recommended brewing time as per the instructions of your blend. Do not judge the strength of your tea by its color. It takes time for the leaves to unfold and release their flavor. If you prefer your tea stronger, do not steep longer as it will only turn the tea bitter; simply add more leaves before brewing. If you prefer your tea less strong, add hot water after the brewing period. Tea must be brewed to the full time to extract the complex flavors from the leaves.

As to not burn the leaves on delicate white and green teas allow the water to cool before pouring over the leaves.

Always decant/strain the tea before serving to prevent the leaves from stewing in the pot.

Follow the same rules as for hot tea, but use 50% more tea to allow for melting ice cubes.

Tea may be frozen in ice cube trays and used for iced tea. Tea cubes, when made from the same blend of tea, help to keep the tea from diluting.

Allow the tea to cool. Pour over ice into a tall glass. Garnish, as desired.
Recipe Notes
* Any good black tea blend, of your choice, may be substituted.
---
TEA TRAVELS™ – Wishing You Happy TEA TRAVELS!™  Tea is the luxury everyone can afford!™ and Good $ense for $uccess are the trademarked property of Ellen Easton/ RED WAGON PRESS
Ellen Easton, author of Afternoon Tea~Tips, Terms and Traditions (RED WAGON PRESS), a lifestyle and etiquette industry leader, keynote speaker and product spokesperson, is a hospitality, design, and retail consultant whose clients have included The Waldorf=Astoria and Plaza Hotels.  Easton's family traces their tea roots to the early 1800s, when ancestors first introduced tea plants from India and China to the Colony of Ceylon, thus building one of the largest and best cultivated teas estates on the island.

Purchase Ellen Easton's Tea Books:
Each 5 x 7 book is $20 postpaid Continental USA only.  Wholesale and fundraising accounts welcome.  Include name, address, zip code, and phone number for shipping.  Check or MO order payable to:  RED WAGON PRESS, 45 East 89th Street, STE. 20A, New York, NY 10128-1256.  All inquires to teatravels@aol.com
AFTERNOON TEA…TIPS,TERMS and TRADITIONS
72 pages of how to's, 27 photos, history, etiquette and FAQ about afternoon tea, serving styles and more. "Tea is the luxury everyone can afford!™"

TEA TRAVELS™ – FOR THE HOLIDAYS
64 pages, 21 color photos. A complete holiday menu includes 25 easy to prepare recipes; theme teas, decorating & gift ideas; invitation template and secret sources.
Comments and Reviews