Tea Travels™ – Metropolitan Museum of Arts Treasures of Tea
Article and Photos by Ellen Easton ©2020 – All Rights Reserved
 *Photos By The Metropolitan Museum of Art© – All Rights Reserved
Check out more of Ellen Easton's Tea Travels™ articles and recipes.
Learn about the History of English High Tea and more delicious Afternoon Tea Recipes.
The Metropolitan Museum of Art, located at 1000 Fifth Avenue, nestled in the heart of New York City's Central Park's Upper East Side is a treasure trove for any tea lover.  As there are literally over eighty-thousand tea related objects of decorative art, silver, porcelain, furniture, sculpture, paintings, and photography, one could literally spend an entire day or more exploring the artistic wonders that the museum has to offer.  What is especially exciting is to discover the contribution that America made to the world of tea, both in tea equipage, history, and on canvas.
In the newly 2012 renovated American Wing Galleries for Paintings, Sculpture, and Decorative Arts, the covered or barrel-vaulted ceilings, skylights, oak floors, and limestone trim bring a new life with contemporary homage to the traditional Beaux-Arts design that now showcase the second floor galleries.
The display of the magisterial collections of The Anthony W. and Lulu C. Wang Galleries of Eighteenth-Century American Art devoted to paintings and architecture, furniture, silver, and other decorative arts and the Joan Whitney Payson Galleries thematic groupings, in a broadly chronological order, of paintings and sculpture of the 19th and early 20th centuries flow freely to the Mezzanine.
As noted by the museum, "The Mezzanine originally opened in 1988.  The Henry R. Luce Center for the Study of American Art is the American Wing's visible-storage facility for works that are not on view in the galleries because of space limitations or other considerations.  The center is completely accessible to the public, even though it is the actual working storage facility used by the American Wing's curatorial staff.  Virtually the only objects that cannot be seen either here or in the galleries are those on temporary loan to other institutions, those currently undergoing conservation treatments, and light-sensitive works on paper and textiles, which can be seen by appointment."
Within forty-five floor-to-ceiling glass cases, objects are arranged by material or type (paintings, sculpture, furniture, and woodwork, glass, ceramics, silver, and metalwork) and, within those categories, by date and form.  Visible storage allows visitors to examine multiple versions of a form and to understand how it has evolved; for example, pieces of American silver include exquisite tea wares by Louis Comfort Tiffany and Paul Revere, Jr.
Along one side of the entrance corridor are some of the center's computer stations, which contain individual in-depth records for all American Wing objects. Indeed, these digital portals can be used as a starting point for exploring what you might want to see not only in the Luce Center but also throughout the American Wing.
If you are interested in American silver, a search for "silver teapot" provides images and locations for all such teapots in the collection and can be the basis for a self-directed tour.  Additionally, there are areas to sit and rest in the center, with wireless connectivity throughout, so you can use your own device to access the Museum's online resources.
Regardless of how many times has one seen the images of Mary Cassatt's, "Lady at the Tea Table" and "The Cup of Tea" or William McGregor Paxton's, "Tea Leaves" recreated on stationery, book covers, or the like, nothing can compare to seeing the originals.  The dimensional texture of the brush strokes, combined with the vibrant colors, bring the paintings to life as if one is joining an old friend for tea.
Whether one views a 1700s Federal period room set for tea, a classical rounded silver teapot, or the whimsy of a porcelain honey pot, the collections hold something for every taste level.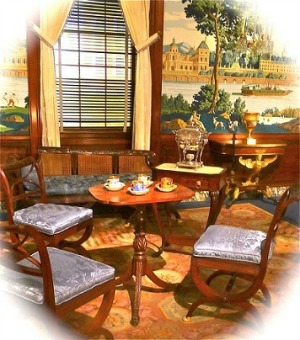 Hammered Silver Tea Set
When the day is done, a most befitting close to end one's tea journey would be to sit looking out into Central Park in one of the museums cafes or restaurants and partake in an afternoon tea.
WISHING YOU HAPPY TEA TRAVELS™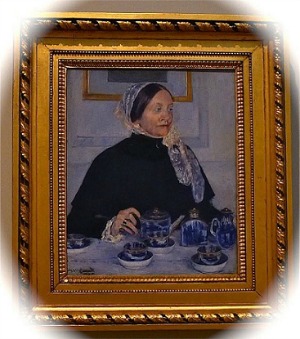 *Lady at the Tea Table
Mary Cassatt (1844–1926)
1883–1885 Oil on canvas
This work shows Mary Dickinson Riddle, Cassatt's mother's first cousin, presiding at tea, a daily ritual among upper-middle-class women on both sides of the Atlantic.  Mrs. Riddle's hand rests on the handle of a teapot, part of a gilded blue-and-white Canton porcelain service that her daughter had presented to the artist's family.  Painted in response to the gift, the portrait demonstrates Cassatt's mastery of Impressionism in its sketch-like finish, the casual handling of anatomy, and the sitter's indifference to the viewer.
As Mrs. Riddle's daughter disliked the portrait, Cassatt kept it until Louisine Havemeyer persuaded her to give it to The Metropolitan Museum of Art.
*The Cup of Tea
Mary Cassatt (1844–1926)
1880–1881 Oil on canvas
Taking afternoon tea was a social ritual for many upper-middle-class women.  Committed to portraying the ordinary events of everyday life, the artist made that ritual the subject of a series of works painted around 1880, when she had been living abroad for the better part of a decade.  Her model for this canvas was her sister, Lydia, who had moved to Paris, along with their parents, in 1877 and often posed for her.  Cassatt's embrace of French Impressionism is signaled by her scintillating brushwork, high-keyed palette, and emphasis on contrasting complementary colors.  Cassatt showed the painting to critical acclaim in the 1881 Impressionist exhibition.
*Tea Leaves
William McGregor Paxton (American, Baltimore, Maryland 1869–1941 Boston, Massachusetts)
1909 Oil on canvas
*Tea Strainer
Andrew Ellicott Warner (1786–1870Mid-Atlantic, Baltimore, Maryland, United States
1845 American Silver
Tea Urn
Paul Revere Jr.
(American, Boston, Massachusetts 1734–1818)
1791 Silver, ivory
The urn is recorded in Revere's ledgers, where on April 20, 1791, a debit is charged to Mrs. Hannah Rowe for a silver tea urn weighing 111 ounces.  It is the earliest and the largest of the three known tea or coffee urns by Revere.
Round Tea Table
1760–1790 Mahogany
Mid-Atlantic, Philadelphia, Pennsylvania, United States
One of the finest carved Philadelphia circular tea tables, this example has exceptionally high knees and, on the pillar, an unusually flattened ball.  The top is a finely figured board with a delicate, crisply carved rim; the fluting is narrow; the small-scale, naturalistic carving is discreetly placed.  Such refined carving could only have been done by someone fully trained in a rigid London apprenticeship system, and Philadelphia in the 1760s was a magnet for just such talented and ambitious craftsmen.
---
TEA TRAVELS™ – Wishing You Happy TEA TRAVELS!™  Tea is the luxury everyone can afford!™ and Good $ense for $uccess are the trademarked property of Ellen Easton/ RED WAGON PRESS
Ellen Easton, author of Afternoon Tea~Tips, Terms and Traditions (RED WAGON PRESS), a lifestyle and etiquette industry leader, keynote speaker and product spokesperson, is a hospitality, design, and retail consultant whose clients have included The Waldorf=Astoria, Plaza Hotels, and Bergdorf Goodman.  Easton's family traces their tea roots to the early 1800s, when ancestors first introduced tea plants from India and China to the Colony of Ceylon, thus building one of the largest and best cultivated tea estates on the island.

Purchase Ellen Easton's Tea Books:
Each 5 x 7 book is $20 postpaid Continental USA only.  Wholesale and fundraising accounts welcome.  Include name, address, zip code, and phone number for shipping.  All Sales Final. Check or MO order payable to:  RED WAGON PRESS, 45 East 89th Street, STE. 20A, New York, NY 10128-1256.  All inquires to teatravels@aol.com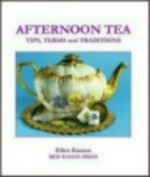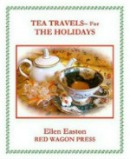 AFTERNOON TEA…TIPS, TERMS and TRADITIONS
72 pages of how to's, 27 photos, history, etiquette and FAQ about afternoon tea, serving styles and more.
TEA TRAVELS™ – FOR THE HOLIDAYS
64 pages, 21 color photos. A complete holiday menu includes 25 easy to prepare recipes; theme teas, decorating & gift ideas; invitation template and secret sources.
Comments and Reviews