Savory Noodle Kugel Pudding Recipe
Ellen Easton shares with us her family recipe for a Savory Noodle Kugel Pudding.  Kugel, also pronounced as koogle or keegal in Eastern European countries, is a baked noodle pudding recipe that is a traditional casserole side dish to serve for the weekly Jewish Sabbath meals and special holidays.  Alternatively, kugel can be made with potatoes instead of egg noodles.  The noodle kugel pudding results are creamy and cheesy.
For Ellen's Passover Dinner Menu, she features her family kugel recipe as a comforting starchy side dish to accompany her Holiday Brisket Roast.  Foods to warm the heart and feed the soul.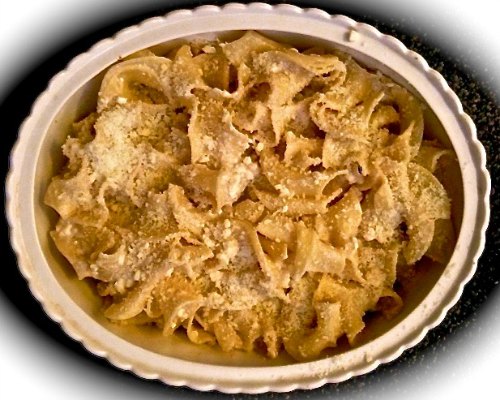 Recipe and Photo By Reva Paul and Ellen Easton ©2020 – All Rights Reserved
Check out more of Ellen Easton's Tea Travels™ articles and recipes.
Learn about the History of English High Tea and more delicious Afternoon Tea Recipes.
Savory Noodle Kugel Pudding Recipe:
Keyword:
Savory Noodle Kugel Pudding Recipe
Ingredients
1

small

onion,

minced

2

cloves of

garlic,

minced

1

small

shallot,

minced

1

(12-ounce) package extra-wide

egg noddles

(or no yoke noodles)

1

tablespoon of unsalted,

sweet butter

1

cup

cottage cheese,

2% milk, large curd

1/4

cup

ricotta cheese

1

cup

sour cream

or non fat plain Greek Yogurt

1/4

cup

raisins

(optional)

2

tablespoons

Worcestershire sauce

1

tablespoon ground

cinnamon

1/4

teaspoon of

salt

2

tablespoons

Romano-Parmesan cheese,

grated
Instructions
Preheat oven to 350 degrees F.

In a food processor mince the onion, garlic, and shallot together. Set aside.

In a large sauce pan over high heat, add the egg noodles and cover noodles with at least an inch of water. Bring the water to a boil and continue to let boil until the noodles are soft. Pour the noodles into a collander to let the water drain out. Return the noodles to the sauce pan.

Add half of the minced onion, garlic and shallot mixture to the noodles. Next add the butter, cottage cheese, ricotta cheese, sour cream, raisins (optional if you want to add a little sweetness), Lea and Perrin's sauce, cinnamon, and salt. Stir ingredients until well mixed together.

Taste the noodle mixture. If needed, add in the other half of the onion, garlic ,and shallot mixture. Note: The texture should be creamy but not wet. Place noodle mixture in a casserole dish. Sprinkle the grated Romano-Parmesan cheese on top.

Bake in a preheated 350 degree F. oven for 15 to 20 minutes until heated all the way through. Remove and serve.

Note: This may be made a day in advance and baked the next day. Individual servings may also be baked in ramekins.

Seasonings may be adjusted up or down for personal taste.
---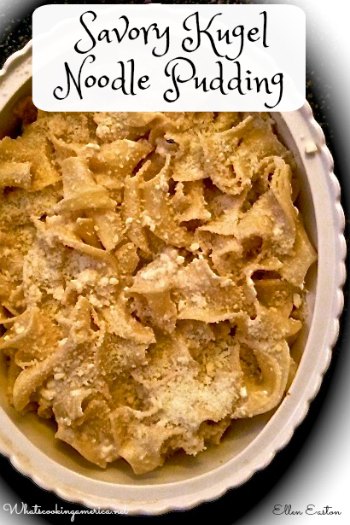 TEA TRAVELS™ – Wishing You Happy TEA TRAVELS!™  Tea is the luxury everyone can afford!™ and Good $ense for $uccess are the trademarked property of Ellen Easton/ RED WAGON PRESS
Ellen Easton, author of Afternoon Tea~Tips, Terms and Traditions (RED WAGON PRESS), a lifestyle and etiquette industry leader, keynote speaker and product spokesperson, is a hospitality, design, and retail consultant whose clients have included The Waldorf=Astoria, Plaza Hotels, and Bergdorf Goodman.  Easton's family traces their tea roots to the early 1800s, when ancestors first introduced tea plants from India and China to the Colony of Ceylon, thus building one of the largest and best cultivated tea estates on the island.

Purchase Ellen Easton's Tea Books:
Each 5 x 7 book is $20 postpaid Continental USA only.  Wholesale and fundraising accounts welcome.  Include name, address, zip code, and phone number for shipping.  All Sales Final. Check or MO order payable to:  RED WAGON PRESS, 45 East 89th Street, STE. 20A, New York, NY 10128-1256.  All inquires to teatravels@aol.com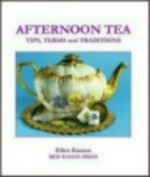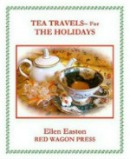 AFTERNOON TEA…TIPS, TERMS and TRADITIONS
72 pages of how to's, 27 photos, history, etiquette and FAQ about afternoon tea, serving styles and more.
TEA TRAVELS™ – FOR THE HOLIDAYS
64 pages, 21 color photos. A complete holiday menu includes 25 easy to prepare recipes; theme teas, decorating & gift ideas; invitation template and secret sources.
Comments and Reviews