Memphis-Style Smoked Spareribs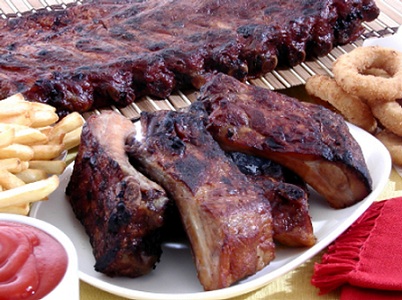 Learn how to make these absolutely incredible Memphis-Style Smoked Spareribs. A guaranteed crowd-pleaser, perfect for a Summer cook out with your family.
Memphis-Style Smoked Spareribs Recipe:
Keyword:
Memphis-Style Smoked Spareribs Recipe
Ingredients
6

racks

pork ribs

(4 to 5 pound racks pork baby back ribs or 6 to 8 pounds pork spareribs)
Dry Rub:
1/4

cup

paprika

1/4

cup firmly-packed

dark brown sugar

2

tablespoons

pepper

1

tablespoon

salt

1

tablespoon

celery salt

2

teaspoons

dry mustard

2

teaspoons

garlic powder

1

teaspoon

cayenne pepper

2

teaspoons

cumin
Instructions
Prepare the ingredients for the Dry Rub Seasoning and the Basting Sauce; set aside.
To prepare the ribs:
Wash the ribs and pat dry with a paper towel.  Place the ribs bone-side down. Optionally, you may remove the rib tips from along the base of the rack, as they are cartilaginous and easily cut through.  Remove the membrane from the underside of each rack of ribs.  You can use your fingers for removing, but you may find it easier to use a paper towel for a better grip.

Generously rub the ribs on both sides with the Dry Rub Mixture. Wrap the ribs in plastic wrap and then in aluminum foil and place in refrigerator overnight to let the rub soak into the meat. This will give the rub plenty of time to work. Remove the ribs from the refrigerator about 1 hours before cooking.
To prepare the smoker:
Soak your wood chips in water for about an hour. Place a drip pan in the center of your smoker with plenty of water. A charcoal chimney is ideal for getting your coals started. Once the coals are white-hot, spread them out and cover with a generous amount of your wood chips.
To smoke the ribs:
 Cover the grill or smoker rack with aluminum foil before placing the ribs onto it, and then another loose piece on top of the ribs. Place the ribs in the smoker, over the drip pan, and be sure to close the smoker. After 30 minutes, begin applying basting sauce (recipe above), and repeat every 20 to 30 minutes. NOTE: You will likely need to replenish the coals and wood chips from time to time as needed.

Pork ribs should be cooked low and slow. For maximum flavor you will need to keep a temperature of approximately 250 degrees F. Figure 1 hour of smoking per pound of ribs. One (1) full rack of ribs can be smoked in about 4 hours. To judge the doneness of the ribs, watch for the meat to shrink, exposing the bones at the ends of the rack. At an average temperature of 250 degrees F., your ribs should require approximately 4 to 5 hours on a traditional, medium-sized smoker. Ribs are done when they are tender enough to easily pull the meat from the bones and the internal temperature registers 180 to 200 degrees F. on your instant-read meat thermometer. Some people like their ribs cooked longer.

When done, remove from smoker and let the smoked ribs rest for approximately 10 to 15 minutes before cutting them. If you would like to add barbecue sauce, then brush sauce over the ribs shortly before you remove them from the smoker. Cut down the middle of each strip of meat between each rib bone.
Memphis-Style Smoked Spareribs Tips:
This Rib Tips article, recipe, and photos were shared with me by Eric Turner.
Sometimes called 'side ribs', there are a few names in the pork world that simply stand out above the rest in terms of familiarity and popularity, and 'spareribs' is certainly one of them. They are guest stars at uncounted backyard gatherings and almost synonymous with 'food' in a handful of your classic American towns where barbecue is king!
Would anyone care to know, incidentally, where spareribs get their name? It has been suggested that the extension of the rib cage coming from the back ribs connected to the spine, is unnecessary to the hog and almost like a second set of ribs, thus the designation 'spare' ribs. But consensus has it the name is actually an English alteration of the German term 'rippenspeer', which is their practice of roasting pickled pork ribs on a spit.
OK so that may be where the word 'Spareribs' comes from, but how about the meat itself? It didn't start out vacuum sealed and lying neatly in your supermarket meat counter, I don't think. No actually, spareribs are the section of the pork rib cage between the loin back ribs (near the spine) and the sternum or breast bone. Commercially, sparerib racks contain from 14 to 16 bones, but sometimes if bones are damaged at processing level (before they reach the supermarket), these may be removed before packaging, so a rack in your butcher's meat counter might contain fewer than this. Spareribs is commonly the name given to this entire 'rack' of ribs positioned as I have described, but it is often further portioned by butchers into a couple other inventions, if you will, that are very popular among many shoppers.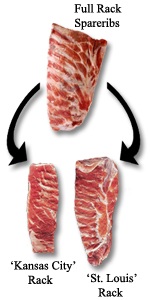 St. Louis Style Ribs – When the rib tips are removed (these lie along the bottom of the rib cage between the ribs and breast bone), and the sparerib rack is then cut roughly in half, it yields 'St. Louis Style' sparerib (the lower portion of the remaining rack but with much of the breast bone and riblets removed) and yields also the remaining portion of the full rack, this half being more user-friendly because of its flatter and more uniform shape.
Kansas City Style Ribs – Additionally, processors and butchers may further trim the St. Louis Style section, completely removing any remaining breast bone, and this portion so trimmed, popularly takes the name 'Kansas City Style' ribs.
Grilling and smoking are by far the most common methods of cooking pork spareribs. It is just a matter of tradition that they go hand in hand with warm weather occasions where these cooking methods are most prevalent. But it is not as though spareribs have never seen the inside of an oven. In fact, the broiler is commonly used also, especially during the colder months when many have put their smokers and grills away for the season. Because the spareribs do not possess the natural tenderness of the loin 'baby' backribs, they can use a little encouragement to make them as tender as they can be. Please refer to my Shoppers' Tip below for a little help with this.
Shopping Tips:
Parboiling Ribs: Whatever cooking method you choose, it is often a good idea to follow the lead of many pork rib afficianados who like to 'parboil' their ribs before the real cooking gets started. This gentle boiling (a high simmer), along with a little salt added to the water, helps to soften up and break down the meat tissue for a great head start to grand tenderness!
A word to the wise though: if you plan to try this boiling-in-water tenderizing method and you are buying a full rack of spareribs, it is a good idea to ask the butcher to open the package and cut the rack one time down the middle, through the bones. Once home, if necessary for fitting in your pot or crock pot for pre-grill boiling, it will now be an easy matter to cut between the bones of either half, producing pieces that are pretty much any size you need. Easy does it, though – this 'parboiling' as some call it, really should be more like simmering than a rolling boil – and usually for not more than 10 or 15 minutes.
Slow Cooing Ribs: It is worth mentioning, however, that many self-proclaimed rib authorities feel this method of tenderizing is kind of like cheating, and that the only 'real' way to achieve true tenderness is by the tried and true method that has become almost a proverb when cooking somewhat tougher meats: "slow cooking over low heat makes for maximum tenderness." But you know, not everyone is headed to Memphis to compete in the annual national barbecue competition or has half a day to stand over a slow cooking smoker, right? So if you're in this category, I recommend parboiling. I have personally had good success with this method and enjoyed outstanding ribs in a relatively short time.
I hope these 'rib típs' will be of use to many of you before snagging your next rack from the butcher's meat counter. Enjoy, and save a slab for me, will ya?

I get many readers asking what cooking/meat thermometer that I prefer and use in my cooking and baking. I, personally, use the Thermapen Thermometer. Originally designed for professional use, the Super-Fast Thermapen Thermometer is used by chefs all over the world.  I only endorse a few products, on my web site, that I like and use regularly.
You can learn more or buy yours at: Super-Fast Thermapen Thermometer.
Sponsored Content
sponsored content
More delicious Pork Recipes using various cuts of pork:
Fireball Whiskey Glazed Baby Back Ribs Recipe
Jalapeno Jerk Baby Back with Pineapple Barbecue Sauce
Pork Spareribs with Apples and Squash
Comments and Reviews