Off to France – Bonjour Paris!
Train, Planes or…. How Many Ways to Travel in Paris
After many modes of travel, I successfully arrived in Paris. Travelling to Paris from London should be a simple affair. It turned into an all-day ordeal. Prior to arriving in London, I had booked a train from London to Paris. Two days before leaving the U.S., I received a notice, from the rail carrier, that the trains in France have declared their strike days for the summer. The strike days included my travel day.
Not fully understanding what this meant, I was scrambling to book alternative transportation. I didn't want to get stuck with no means of travel. It turns out that only one train on the schedule would strike that day, not every train. My booked trip was not in jeopardy. I ended up holding train tickets and plane tickets to Paris on the same day.
I did discover, for future reference, to buy my train tickets from Eurostar next time. Eurorail is a re-seller of train tickets and can only be reached by heroic means while traveling abroad. I did purchase trip insurance, but I have no means of contacting them, and in the end, my train was never cancelled.
Moral of this story, and hopefully a great tip for you; if you are booking your European train travel online be sure you are booking directly with the carrier, Eurostar. This way if you have any issues during your journey, you can walk up to the Eurostar desk and make changes.
Paris On My Mind
I had rented an apartment in Le Marsis the 11th arrondissement. The train system in Paris was a little more confusing than London, but I was able to find the place using Google Maps.
if you haven't read my travel stories before, I can give confident testimony that Google Maps is all you need to travel. Don't spend the money buying city maps, or train map Apps, they are pretty useless. Google Maps has it all. You can even plan your city train travel by choosing the icon for train, vs walking, vs car.

Arriving at the apartment I discovered that directly below it was the location of the smallest cafe in Paris, known as the famousBoot Cafein an old Cordonnerie shop.Most people pass right by in their car, it is the foot wandering few that discover this two-table gem. There are also a few window seats along the street, just pull up a bucket and have a seat.
After settling in, the task to find the first French meal was up next. And the best way to start a meal for the first night in Paris was with a celebration with a Kir Royal with dinner. Kir Royal is a French apéritif traditionally made with crème de cassis, topped off with champagne in a flute glass. It became the go to drink while in France, it was good for breakfast, lunch or dinner.
Just a few steps down from dinner I found the most delectable gelato at a nearby Gelateria called Amorino. They made beautiful all-natural ingredient gelato. Your cone was made-to-order, hand crafted before your eyes. Choose your flavors and watch them transform into a flower petal by petal on the cone. A macaron was then nestled in the center of the frozen bud. This was also a nightly stop for me while in Paris.
Tips for Your Visit to the Eiffel Tower
The Eiffel Tower and Notre Dame cathedral were on the sight-seeing agenda for today. Here I am again faced with conquering my fear of heights. There were two choices, a ticket to the 2nd level or Summit tickets which were 25 euros via the lift. The line at the base of the lift can be long, and the wait is even longer especially if you are visiting in the summer. There are a couple of things you can do to make your visit to the Eiffel tower more enjoyable. The first and most important is to plan ahead.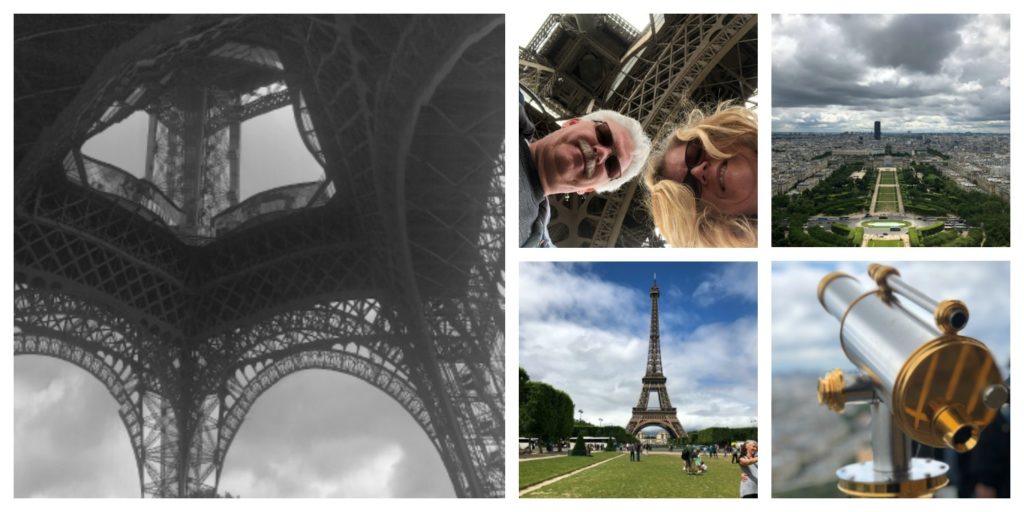 Tours – You can join a tour a skip-the-line tour that with access to 1st, 2ndand or Summit levels. Tour groups are a great way to enjoy the Eiffel Tower if your time is limited. This is a more expensive option but worth it if time is important to you. There are a lot of tours that you can find online by just searching for Eiffel Tower tours.
Advance Purchase Tickets – The best option is to purchase your tickets in advance so you can skip the ticket line. The advance tickets sales do sell out quickly so be sure to hop online and book them as soon as you set the dates for your trip to Paris.
Even if the tickets you want are sold out, remember to be flexible on your visit dates, and which floors. Often you can find another advance ticket option, and then purchase the summit lift upon arrival.
Paris Museum Pass – Purchase the Paris Museum pass before you travel overseas or at the Paris Tourist Office with multiple points of sale throughout the city. For a one-time fee, this pass allows you to choose 2, 4, or 6 days of free entry, without queuing* and as many times as you wish, to over 50 museums and monuments in and around Paris. This will come out considerably less expensive than purchasing tickets individually for each attraction.
Hoof it up! – The other option is to take the stairs. For 10 euros you can walk up the Eiffel Tower at your own pace. The stair platforms look to have a low-grade slope, not to steep but there are several platforms, so be prepared, get a few extra flights of stairs in at home before taking the trek up on foot.
When to Go – When planning your visit to the tower shoot for a time later in the afternoon. This way you can see the tower during the daylight and stay for the light spectacular at sunset and then the twinkling spectacle at dark. The Eiffel tower at night is lovely when it is all lit up. For an extra delight for the eye at night, each hour there is a 5-miniute light show on the tower.
Since I didn't buy tickets in advance my option was to wait in a long, hot line to purchase tickets for the lift. Summit tickets were available, so I bought them in case I had a moment of bravery and wanted to ascend to the top. I ruled out the stair option as it was way too hot to trek up the stairs.
After buying tickets, you then have to wait in the line for the elevator. A lot of lines so be prepared if you don't plan ahead. Once I was on the 2ndlevel, I quickly decided that I could see everything I need to see from here. I wished that I had only purchased the second level tickets, as I skipped the ride to the top. Just not my cup of tea going up that high in a small lift crowded with a bunch of people. Then of course you are stuck on top in line waiting to come back down.
Best Photo of Eifel Tower – After descending from the Eiffel tower, I made my way to the Champ de Mars a short walk from the tower through lovey a lovely garden area. The Champ de Mars is the large greenspace that lays out in front of the Eiffel tower and really has some great views for taking photos of the tower.
This is the location where everyone goes to take great perspective photos such as holding the tower in their hand. Great selfies and formal photos align well here with the Eiffel tower iconically viewed in the background.
The Champ de Mars is located in the seventh arrondissement. If you are taking the metro to get there the nearest stations are La Motte-Picquet–Grenelle, École Militaire, and Champ de Mars-Tour Eiffel.
The Belly of Paris

For my travel in Paris, I had researched the next destination, a lunch at Comptoir de la Gastronomie on Rue Montmartre. Located in the 1st Arrdt. from Paris, close to Saint-Eustache. This restaurant is also a gourmand's dream with specialty store filled carefully selected products and a menu of traditional recipes. An establishment in business since 1894, it is affectionally termed the "Belly of Paris.
For the past 100 years the Comtoir de La Gastronomie has been offering a lunch time tradition for Parisians. Starting around 1PM, here you will find a wonderful shop to purchase French delicacies and specialty sandwiches on fresh baguettes for take away.
The chalkboard outside the door lists the daily lunch specials that included sandwiches made from ham, butter and gherkin, duck breast and mango chutney just a sampling of a few combinations to choose from. Each sandwich comes with a salad and potatoes for under 10 euros.
Having arrived just as the lunch specials ended, feeling a little bummed to have missed the tradition, instead I relaxed at a sidewalk table and ordered from the Classique menu. The options included their specialty, foir gras dishes, duck breast and mash, salads and cheeses, and desserts such as crème brûlée and sorbets. It wasn't as rough and tumble as jostling in line for a lunch take away, but instead a relaxing lunch of fine food.
Notre Dame Cathedral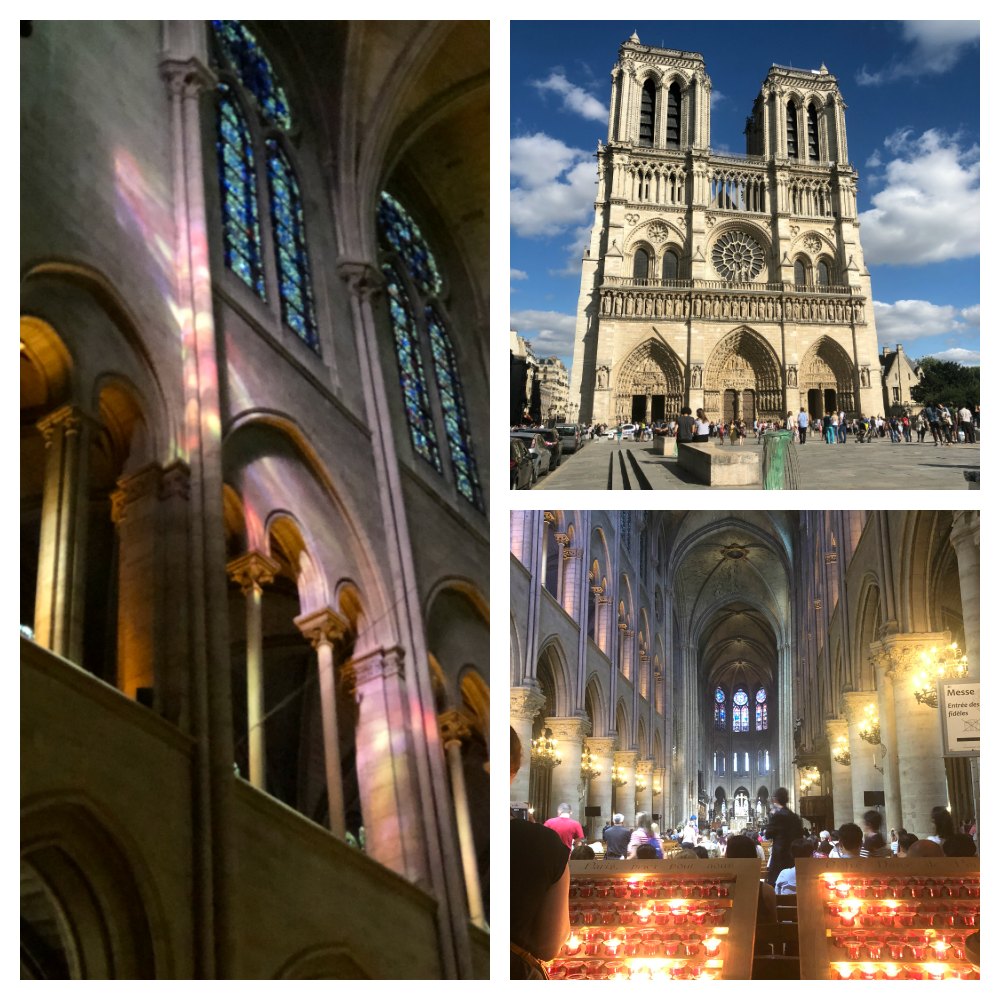 After eating lunch my energy was renewed and I began to map out the 17-minute walk to the Notre Dame Cathedral, located in the fourth arrondissement of Paris.
The streets along the way to the Cathedral were lined with many shops and a lot of shoppers. A car free rambla was on the route and it was a nice change of pace to walk comfortably without the fear of getting hit by one of the many creative Parisian drivers.
Arriving in time for the bells of Notre Dame and beginning of evening mass, the cathedral was full of tourists as well as parishioners. A stroll around the grounds revealed more than just the majestic front towers that Quasimoto peer from, but spires and gargoyles adorned the building on all sides. The Cathedral is known as one of the finest examples of French Gothic architecture.
The early evening light was blooming through the high stained-glass windows reflecting colors of dancing lights along the walls and stone floors. Notre Dame Cathedral was a beautiful piece of architecture both inside and out.
Palace of Versailles
The thing I was most excited for was to visit the Palace of Versailles. I was up early and ready to go on the Journey to the Palace of Versailles unaware of the obstacles that lay ahead.
Hopping on the metro to the first station of transfer, the morning ride went well, until I reached the second station, the first obstacle. Here metro guards, blocked the entrance to the RER C train to Versailles, the train cancelled. They pointed in the direction of another station to get Versailles. I had to take the regional train overland and get off at the Versailles Chantier train station. Overall the detour was not too bad, and about a mile walk through the town of Versailles to the palace.
Excited to rent bikes and picnic in the parc and amongst the gardens of the palace, the first stop before the palace, on the right was a lovely patisserie that served Maison Hervet confections.
A long line of decisive patrons was ahead of me and I needed to make my choices of what to order while standing in the line. A ham and cheese baguette, a raisin cinnamon bread pastry and six macarons, two chocolate, two citron, and two pistachio. The final bill came up to 26 euros!  The macarons were almost three euros each! That blew through the picnic budget before we hit the shops down the street, the cheese shop and then a few more doors down on the opposite side was the Charcuterie.
If you are allured in to the wonderful patisserie, plan a little better than I did and only buy one or two macarons, some bread then head to the cheese and charcutiers' shops for your picnic supplies.
The second obstacle was, the palace was closed due to strike! SAY WHAT? There was no mention of a closure on their web site. I guess this strike thing is pretty random in France and hard to keep ahead of as it just happens with most government entities in France.
We found this out when we stopped at the tourist information agency. Just on the right, before the palace, you will find the agency. Here you can buy palace tickets for a 10% up charge, but you can avoid the lines at the palace. Great tip, right? Yes, if the palace didn't declare Tuesday and Wednesday as strike days.
Not only did they close the palace, but the parc grounds too. The parc is where you rent the bikes and peddle slowly and romantically in the spring breeze through the massive park and find that perfect place for your picnic lunch that you just bought.
What did all this mean? No bikes, no parc, no palace. Well, the gardens were still open, which then became the only possible destination of opportunity.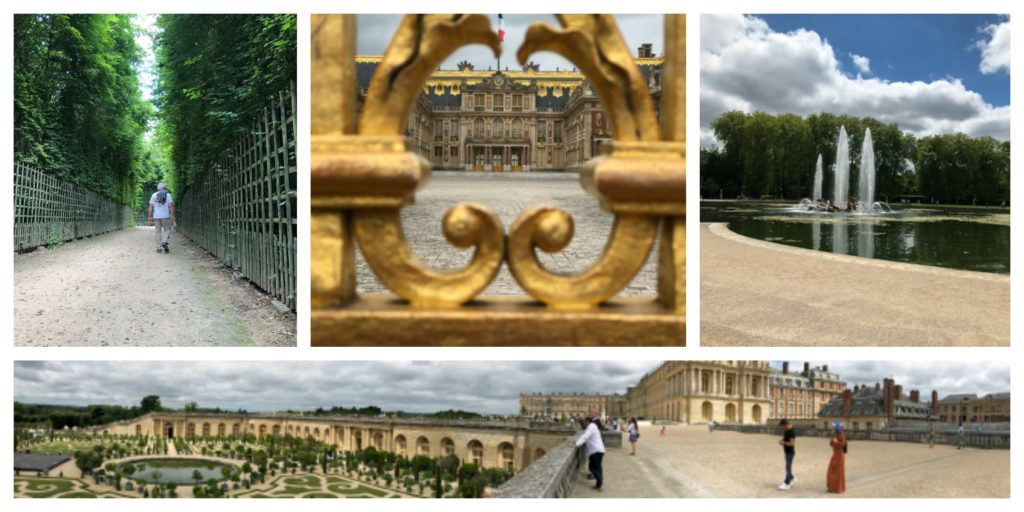 The Palace of Versailles has a beautiful, stunning knot and hedge garden, with courtyards and fountains spouting music and water (sometimes water).  The gardens can be an all-day event by themselves and worth touring. Had I been able to see the palace, it is not likely there would be time for the gardens. My preference would have been to see the palace.
Disneyland Paris (Formally Euro Disney)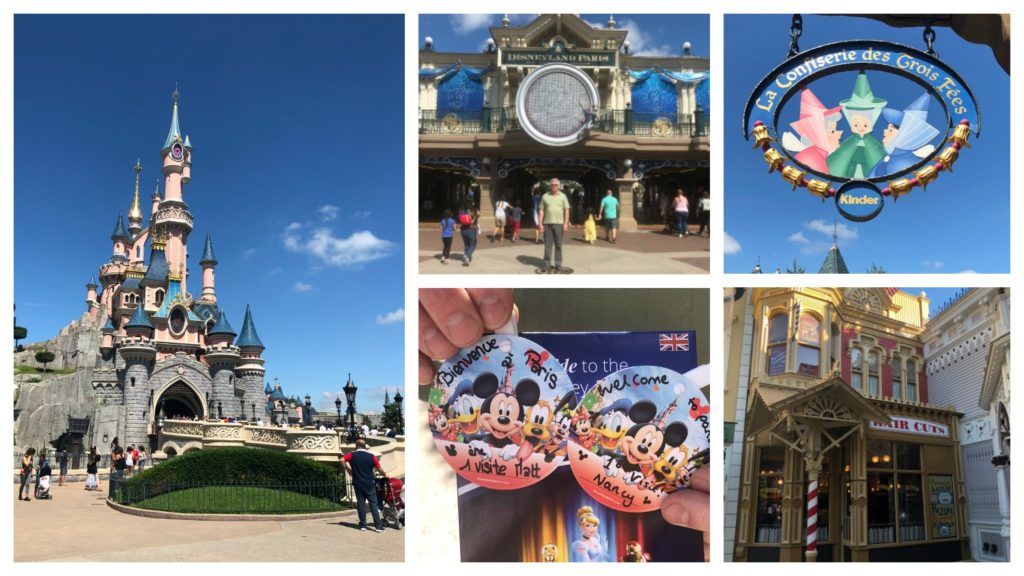 What can I say, Disney is Disney, but to my husband Matt, Disney is an art form, so I rely on Matt to give me the low down for this Paris attraction. There are two parks at Disneyland Paris, Disneyland Park and Disney Studios. Disneyland Park is the more traditional park and has the traditional rides for families with young children. Disney Studios is the park with the faster, more thrilling rides.
Getting to Disneyland Paris
The journey to Disneyland Paris from Paris central was pretty easy. We only had to take two trains, one Metro. The other train, ReR A, goes directly to Disneyland Paris. All you need to do is find out what station nearby where you are staying, you can pick up the RER A from, as Disneyland Paris is the last stop on that line; about 40 minutes outside of Paris.
Which Park to Choose
With one day to spend at Disneyland Paris, we chose Disneyland Parc. We noticed that admission to the Disneyland Parc in Paris was less expensive, (in 2018), than California Disneyland. We paid 99 Euros for two park admission which is around $56 dollars per person. Compare that to the starting price for a single park, single day ticket at Disneyland California that starts at $97 each.
TIP:At Disneyland Paris, tickets could be purchased at the tourist information booth before entering the park with no additional fee. You then could skip the ticket lines. If you do choose to enter and purchase tickets at the park, the ticket kiosks are all inside the entry building, under shade! Very thoughtful.
TIP:Be sure to stop by City Hall and pick up a first-time visitor badge. We had them write, in French, "Welcome to Paris, Matt." These make a fun souvenir if you have a Disney treasure chest at home.
What did Matt Like About Disneyland Paris?
First thing to note is upon entering the park, there are hallways on both sides of main street that by pass main street so you can avoid the crowd upon entry, departure and parade time.
Euro Disney has the "Disneyland feel/ambience" and a lot less of a retail type feel. Compared to Tokyo Disney, where they were pushing the same few souvenir items in every store and kiosk, in every land. It felt more like an opportunity to sell something than an experience.
The grounds at the Disneyland Park were lovely. The landscaping was pretty, lots of shade trees and flowers throughout.
On the left-hand side of main street as you are entering, we discovered a cute barber shop off called Dapper Dan's. Just in case your hair grows rapidly while on vacation, or you just want the experience, you can schedule an old-time, hot-towel, close cut shave and haircut.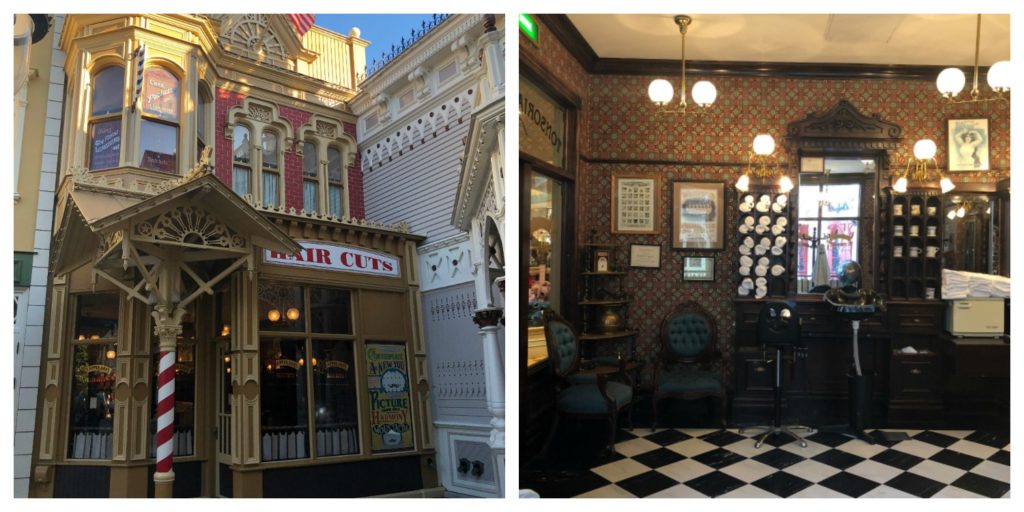 Another plus in Disneyland Park, many of the popular ride lines are under cover, offering shade for most of the long waits. A few others were not, so be sure to bring a hat. My head got fried waiting in line at the Disney Studios Tower of Terror. (Yes, as of this article June 2018, it was still the Hollywood Tower of Terror. That is a plus)
Alcohol is available in Disneyland Park; you can purchase Beer, Ciders, Wine and Champagne. This is a great way to cool off in the shade.
The food selection was pretty good, instead of running into hamburgers and fried food, Euro Disney had baguette sandwiches, ham and cheese and butter, salmon, and vegetarian. Toasted ham and cheese, a bruschetta, that was similar to pizza and Cesar wraps.  Beverage choices included Fanta drinks, in both orange and citron (lemon), as well as mineral and still water.
Another fun activity while walking through the Disneyland Park is attempting to translate the ride names to figure out what they were. (SEE
What Matt Disliked About the Disneyland Park
What we found lacking, include Splash Mountain! Where the heck was it?? How can it be Disneyland without everyone's favorite ride?
It was super hot while we were there. Not that Disneyland Paris can help with the weather, but it seemed more searing there. The sun just zapped our energy while we were there.
Also, missing or difficult to find, were water fountains and bathrooms in the park. It was a challenge to find either of these.
All the restaurants required reservations, similar to Tokyo Disney. If you tired walking up to a restaurant for dinner without a reservation, it was not appreciated. They would then put you on a waiting list even though you could see that there were a ton of empty tables.
Unlike Tokyo, you could still wait for a seat, Tokyo just said no reservation no seating. My suggestion is to get online and ahead. Review the restaurants at the park and make advance reservations for where you would like to eat. NOTE: I don't suggest the Steakhouse in Frontierland. It was expensive and the food wasn't worth of the price.
A big disappointment for us was that the Phantom Mansion and Pirates of the Caribbean ride and restaurant were all closed during our visit. Those were the two rides that Matt was looking forward to the most. Again, not that Paris Disneyland was at fault, it was just bad timing.
Foods to Try in Disneyland Parc – Paris

In the Disneyland Park, the food that you want to try are the crepes, the chocolate dipped meringue mickey ears and the Neapolitan marshmallow chocolate dipped coconut sprinkled mickey ears.
There were many pastries available, little cakes, chocolate pretzels, (which were not pretzels, but a pastry (I should add that to the dis-likes), and Snow Whites Candied Apple, clever.
Interesting restaurants that we did not have reservations for were, Walt's Restaurant, the Pirates of the Caribbean, called Captain Jacks', and Bistro Chez Remy from Ratatouille. 
Au revoir Paris
I have always thought Paris was the go-to destination in France. And upon my arrival I was fine with being there, not overly excited. My husband, Matt, left from Paris to head home. We said our goodbyes on the little street in front of the Boot Café. I was to journey on this next day to meet up with my tour in Burgundy. Instead, I contact my sister who was in Colmar and decided to catch a train from Paris to Colmar and drive to Burgundy with her family. It wasn't until I left Paris, that I discovered the real allure of France is the small villages in the countryside.
I packed quickly, closed up the apartment and found myself on a train heading southeast to Colmar, France. During the journey the train was delayed about 30 minutes, likely to switch tracks. Once we got underway again, and at some point, along the trip, someone, somewhere decided that the train was no longer going to continue on to Colmar. Instead the trip would terminate in Strasborg instead.
I found it amazing that random schedule decisions can be made on the fly like that. At no time did I hear an announcement in English, only French, so I was oblivious to the fact I wasn't on my way to Colmar.
At one point I got this uneasy feeling, thinking maybe I was on the wrong train. I leaned over and asked the passenger across the aisle if she spoke English. Her name was Marie-pierre, she was from Colmar, and on her way home to visit family there. She currently lives in Boston. She let me know of the schedule change and said, "Stay with me when the train stops in Strasborg". We chatted for the remainder of the journey and exchanged business cards with one another along the way.
The train journey came to a halt in Strasborg. I grabbed my bag and followed Marie-pierre as instructed, as we made our way up into the train station, across the tracks, and down the other side, just in time to jump aboard the departing train to Strasborg. I settled into a seat and thanked Marie-pierre for helping me navigate the transfer. I realized at that moment that I had never been asked to show my ticket to anyone during the journey so far. I had no idea if my ticket transferred to this new train. I am still unsure how the train system works in France but thankful for new friends that you can meet along the way.
The train arrived in Colmar, France, Marie-pierre and I said our farewells and I wandered out into the streets of the city. There I found my brother-in-law, Ben, who picked me up at the station. Follow along on my journey as I head to Burgundy. Or step back and read about London.
If you Started on this page also read my articles on:
Food Travels – Alsace & Burgundy
French Recipes to try:
Classic French Macarons – The French macarons cookie is beloved in Parisian tea salons and cities all over France. It is a delight to bite down into a light and crunchy cookie with either ganache, butter cream or jam filling found in the center.
Lyonnaise-Style Onion Soup " Soupe lâ Oignon – This is a classic French Onion Soup recipe. Â The base of the soup is simple as it is made by caramelizing onions until they are deliciously sweet and golden brown.
Authentic French Bread – This Authentic French bread recipe is probably the easiest bread recipe to make. Â French bread is so simple and so good! Â Give it a try.
French Onion Tart– Also known as, Pissaladiere which is a traditional dish in the Alsace region of France located on the eastern border and on the west bank of the upper Rhine adjacent to Germany and Switzerland. Â In Germany, this tart is known as Zwiebelkuchen. Â The tart has similarities to pizza or a savory pie, and it provides a perfect showcase for the caramelized onions.
Bechamel Sauce – " Basic White Sauce Recipe - In France, Bechamel Sauce (bay-shah-mel) is one of the four basic sauces called "Meres" or "Mother" sauces from which all other sauces derive.  Bechamel Sauce is also know as "white sauce" to most cooks.
Beef Burgundy Stew Recipe " Boeuf Bourguignon -Beef Burgundy Stew, also know as Boeuf Bourguignon, is a traditional beef stew recipe served in the Burgundy area of France.  This delightful stew is considered a classic French comfort food. Over time, the recipe evolved from honest peasant fare to haute cuisine.  Today, Beef Burgundy Stew is famous throughout the world.
Burgundy Salad with Poached Egg– A classic French salad from Burgundy, France. This is a perfect lunch salad or served as an appetizer.  Everyone you serve this delightful salad to will want the recipe.
Coq au Vin (Casserole of Chicken in Red Wine) is Julia Child's recipe for this famous chicken dish. Coq au Vin, also known as Rooster in Red Wine, is a French recipe made famous by Child and was featured in her 1961 cookbook, Mastering the Art of French Cooking.
French Palmiers Cookies – (Elephant Ear Cookies) are fantastic and so easy-to-make.  Palmiers are crisp, buttery, sweet, and very elegant. Traditionally Palmier Cookies made from scratch is a time consuming and labor intensive process. Now you can use commercial puff pastry as it makes an almost identical substitute to traditional methods.
Ratatouille – (pronounced rat-uh-TOO-ee) is a very healthy and low fat summer vegetable stew.  It is a great way to use up the abundant roundup of fresh summer vegetables from the garden. The perfection of ratatouille lies in the simplicity of the wholesome and fresh ingredients.
Tarte Flambee– Known as flammekueche in Alsatian and flammkuchen in German, Tarte Flambee is incredibly simple to make. Originally this flat bread was made to test the heat inside the wood-fired ovens.
Comments and Reviews