The French macarons cookie is beloved in Parisian tea salons and cities all over France.  With a variety of color palettes and flavors, macarons are a fashionable cookie for gifting and also popular for baking during holidays and special occasions.  It is a delight to bite down into a light and crunchy cookie with either ganache, butter cream or jam filling found in the center.
Photos by Ellen Easton © 2020- All Rights Reserved
Recipe & History collaboration by Ellen Easton & What's Cooking America ©  2020- All Rights Reserved
Adapted from Laduree
Classic French Macarons Cookie Recipe
Over the last several hundred years, the classic French macarons recipe has not altered.  Macarons are still made with the simple ingredients of almond flour, fine sugar and whipped egg whites gently folded together and baked into a light airy cookie.  Macarons are a very temperamental cookie to bake requiring the ingredients to be measured precisely, the right amount of air is incorporated, the egg whites are not over beaten and the dough is not over mixed.  The resulting cookies are worth the effort to master!  Ellen Easton is sharing this classic recipe and tips for French macarons and featuring as part of the dessert course in her Springtime Celebration luncheon menu.
Check out more of Ellen Easton's Tea Travels™ articles and recipes.
Learn about the History of English High Tea and more delicious Afternoon Tea Recipes.
History of Macarons:
Early macarons were a plain sweet meringue type cookie with no special fillings.  Made from the simple ingredients of almond flour, fine sugar and whipped egg whites folded together and baked into a light airy cookie with a crisp outer shell that melts in your mouth.  The origins of macarons are believed to be found in Italy going back as early as the 8th Century when Arabs brought almonds to Italy.  The name macaron derives from the Italian word "Macarone" which means fine dough.  Legend has is that macarons were later introduced in France during the Renaissance period in the 1600's when Catherine de Medicini married the future King of France.  The nuns of France were the driving force to grow the popularity of macarons all over France.  They baked the cookies not only for nutritional value but also as a source to make revenue (along with other baked goods and honey).  It was not until the mid 20th century, that famed Parisian bakery, Laduree, began making and selling the sandwich-like Parisian style macaron cookies which were two meringue shells stacked together and filled with a ganache.  This style of macaron cookie sandwich is also known in Paris as a Gerbet.
1533:  During the Renaissance period, legend has it, that Italian noblewoman, Catherine de Medici's pastry chefs introduced the macarons to French nobility during the time of her marriage to Henry Duc d'Orleans who later became King Henry II of France in 1547.
1692:  First published recipe for Macaron cookies, in Nouvelle instruction pour les confitures, les liqueurs, et les fruits, states that macarons are a combination of sweet almonds, sugar and egg whites.It instructs to flavor the batter with orange blossom water and cover with icing once baked.
1792:  In the French city of Nancy, the nuns of Les Dames du Saint Sacrement's Convent were forbidden from eating meat. Two of the nuns, Sister Marguerite and Sister Marie-Elisabeth started baking and serving macarons at the convent in order to meet the nutritional values needed for their strict diet.  When the convent was forced to close during the French Revolution, the two sisters began selling the macaron cookies in order to survive and make money.  The sisters became legendary and known as "Les Soeurs Macarons" (The Macarons Sisters).  There is a street in Nancy now named after the sisters in their honor.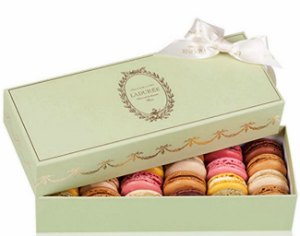 1930:  Famed Parisian tea salon and pastry shop Laduree, opened the first tea salon in Paris upon the wishes of the owners wife to have a fashionable place for woman to meet unescorted and freely discuss "anything and everything" while enjoying tea and sweets.  Pierre Desfontaines, second cousin of Louis Ernest Laduree, came up with the idea of joining two macaron shells with ganauche filling as one of the sweets to offer in the tea salon.  This macaron style cookie has become one of the symbols of Parisian haute couture ever since.
2005:  Macaron Day was created in Paris by la Maison Pierre Herme, which has become globally celebrated each year on March 20th.  Participating bakeries around the world offer customers one free macaron sample and a percentage of macaron sales for the day are donated to a local charity.
2007:  McDonald's fast food chain starting selling a box of 6 macarons at their Paris McCafe locations.  This has resulted in much disdain and outcry from true macaron lovers as they feel the McCafe's version do not come close in comparison to a real macaron.
---
Essential Baking Equipment for Successful Macarons:
Flour Sifter or Fine-Mesh Sieve
Food Processor
Stand Mixer or Hand Mixer
Gel Food Colors
Rubber Spatula
Pastry Bag
3/8 inch round pastry tip or 1/2 inch round pastry tip
Classic French Macarons Cookie Recipe:
Keyword:
Classic French Macarons Cookie Recipe
Servings
:
4
dozen cookies
Ingredients
Besides standard kitchen measuring tools, it is highly recommended to also use a food scale for Macarons to ensure precise measurements of dry ingredients.
Macaron Shell:
2 3/4

cups plus 1 tablespoon (275 grams) fine almond

flour*

2

cups plus 1 tablespoon (250 grams)

powdered sugar

(confectioners' sugar)

Egg whites

from 6 1/2 room temperature large eggs (195 milliliters)**

1

cup plus 1 tablespoon (210 grams) white

sugar

3

drops desired

food coloring
Instructions
Preheat oven to 300 degrees Fahrenheit

Step 1: In a food processor mix the ground almond flour and the confectioners sugar together by lightly pulsing into a fine powder. Do not over blend the mixture or it will become paste. Next, to make sure lumps are removed, sift the dry ingredients through a fine-mexh sieve. If any solid clumps remain in the sieve, break them up by placing back in the food processor, then pass through the sieve again. Repeat this step until all but less than 2 tablespoon of remaining clumps are gone. Discard the remaining clumps.

Note: See Step 4 if you want to incorporate flavor into the batter during the dry ingredients phase.

Note: It's important to incorporate the right amount of air into the pastry dough and evenly distribute the the almond flour and confectioners sugar together. This will help result in a light airy cookie with a smooth texture. For this step you can use a flour sifter or sieve to sift the ingredients by hand or use a food processor to evenly mix, then sieve.

Step 2: In a large electric-stand mixing bowl, whip 6 room temperature egg whites on medium speed (high speed with hand mixer) until soft peaks form (turn off the mixer, pull up on the whisk and look for soft peaks where the tip of the peak curls over). Do not let stiff peaks form. Slowly add a third of the granulated sugar (precisely 83.3 grams). Whip until the sugar has dissolved. In intervals continue to add the sugar by thirds, whipping for one minute each. Until the egg whites are shiny and hold soft peaks once again.

Adding color: After the final portion of sugar is added, this is the best time to add color. Add three drops of gel food coloring of your choice and continue to beat egg whites until they are shiny and hold soft peaks once again.

Notes on eggs: For best egg white results, eggs should be room temperature and at least 3 to 5 days old. Do not use freshly laid eggs. Thin, older egg whites whip more easily into a higher volume than thick, fresh egg whites. Also try to avoid making macarons on a rainy day or a real humid day. Too much humidity in the air will prevent the egg whites from foaming up properly.

Step 3: Use a rubber spatula to carefully fold in the dry ingredients (almond flour/confectioner's sugar mix) into the whipped egg whites,as to not break the air in the egg whites. If the batter is over mixed where the air in the egg whites is broken, the cookies will not rise properly during baking.

Folding technique: Gently scrape the rubber spatula around the edge of the bowl towards you, bring the spatula back up folding the batter in towards the center of the bowl. Rotate the bowl as you repeat this movement. It is recommended to fold between 35 to 40 times until the batter is smooth and shiny.

Step 4: If you want the macaroons to have the basic almond flavor, then the batter is ready, If you want to experiment and add a flavor extract to the batter, add one drop at a time then gently fold into the batter.Do not over mix so the air is not broken batter, or the egg whites will not rise when baking.

Flavor options:  If you add a flavor, you need to remove equal parts of dry ingredients and substitute with flavor replacement during Step 1 to ensure weight measurements do not alter.

Chocolate:  Sift 2 tablespoons of cocoa powder with dry ingredients of almond flour and confectioners sugar mix. Then add brown food color gel to egg white mixture and beat until soft peaks form.

Coffee: Sift 2 teaspoons instant espresso with dry ingredients of almond flour and confectioners sugar mix. Then add brown food color gel to egg white mixture and beat until soft peaks form. Nutella filling would be great choice.

Vanilla Bean: Scrape seeds of one vanilla bean with almond flour and confectioners sugar before blending together and sifting.

Lavender: Add 2 tablespoons dried culinary lavender and the almond flour to the food processor and blend into a fine consistency before adding in the confectioners sugar and sifting. Add 1 drop of purple food color gel to egg white mixture and beat until soft peaks form.

Rose: Add 2 teaspoons of rosewater at the same time as 1 to 2 drops of red food color gel to the egg white mixture and beat until soft peaks form.

Pistachio: Substitute 1/3 pistachio flour in place of the almond flour and sift together before blending and sifting with confectioners sugar. Add 1 to 2 drops of green food color gel to egg white mixture and beat until soft peaks form.

Orange or Lemon: Blend zest from one whole orange or 2 whole lemons with dry ingredients of almond flour and confectioners sugar in food processor before sifting. Then add 1-2 drops of orange or yellow food color gel to egg white mixture and beat until soft peaks form.

Raspberry: Add 2-3 drops of red food color gel to egg white mixture and beat until soft peaks form. Use raspberry preserves for filling.

Step 5: Assemble the pastry bag or a sturdy plastic bag with corner cut off. Insert a 3/8- or 1/2-inch plain tip through hole in pastry bag or plastic bag. Tip: Stand the pastry bag with tip (tip down first) inside a tall glass to hold the pastry bag while the batter is poured in. Fold the open end of the pastry bag over the rim of the glass. Slowly pour the batter into the pastry bag then seal the open end of the pastry bag closed. On a baking sheet lined with parchment paper or silicon baking mat, hold piping tip 1/2 inch above the baking sheet and pipe small macaroon rounds 1.5 inches in diameter. Tilt the tip up sideways to stop the batter flow as soon as you see the batter round spread to 1 1/2 inch diameter. You can create a template to draw on parchment paper to help with making consistent sized batter rounds. Space the macaroon rounds 1 inch apart.

* Try piping a test round of batter on the cookie sheet. If the round of batter does not flatten immediately, place the batter back in a bowl and gently fold a few more times. Place the batter back in the pastry bag and retest another round of batter until the desired consistency is achieved.

To release any air pockets in the rounds of batter, lightly tap the cookie sheet on the counter 2 to 3 times.

Step 6: Place the sheet of cookie rounds on the counter, uncovered for 10 minutes to 1 hour until a thin, dry film forms that does not stick to the touch. This will help prevent the macarons from cracking during the baking process.

Step 7: Bake only one tray at a time. Bake at 300 degrees Fahrenheit for approximately 15 minutes until a smooth shell forms (but the cookies are not browned) and the cookies can be easily peeled from the baking surface. If your oven has hot spots you may need to rotate the cookie sheet in the middle of the baking time. Allow cookies to completely cool down until easily removed from the baking sheet. Place cookies on a plate.

Step 8: Macaron Assembly: With flat side of macaron cookie facing upwards, pipe or add 1 teaspoon dollop of filling onto center of macaron cookie. Lightly place flat side of 2nd cookie on top of filling to make a sandwich and gently press together cookies just until the filling reaches the edges of cookies. (This may take some practice to find the right amount of filling)

Refrigerate the assembled macaroons for a minimum of 12 hours before serving for the best flavor and a crisp but chewy cookie tasting experience.

Storage: If you plan to keep the macarons for more than 3 days, you can refrigerate in an air tight container for up to 7 days or freeze for up to 6 months into a sturdy rigid container, separating the layers of cookies with wax paper.
Recipe Notes
* If you are unable to find find almond flour, you can substitute with sliced, blanched almonds (make sure there are no skins) and grind yourself into a fine flour in the food processor.  Use the pulse button until almonds are finely ground.  Many people also prefer to run their store bought almond flour through the food processor to ensure a fine consistency before blending with the confectioners sugar.
** Make sure to use large eggs to keep the egg white measurement as similar as possible.  Small or extra large eggs, could alter the outcome of the cookies.
---
TEA TRAVELS™ – Wishing You Happy TEA TRAVELS!™ 
Tea is the luxury everyone can afford!™ and Good $ense for $uccess are the trademarked property of Ellen Easton/ RED WAGON PRESS
Ellen Easton, author of Afternoon Tea~Tips, Terms and Traditions (RED WAGON PRESS), a lifestyle and etiquette industry leader, keynote speaker and product spokesperson, is a hospitality, design, and retail consultant whose clients have included The Waldorf=Astoria, Plaza Hotels, and Bergdorf Goodman.  Easton's family traces their tea roots to the early 1800s, when ancestors first introduced tea plants from India and China to the Colony of Ceylon, thus building one of the largest and best cultivated tea estates on the island.
Purchase Ellen Easton's Tea Books:
Each 5 x 7 book is $20 postpaid Continental USA only.  Wholesale and fundraising accounts welcome.  Include name, address, zip code, and phone number for shipping.  All Sales Final. Check or MO order payable to:  RED WAGON PRESS, 45 East 89th Street, STE. 20A, New York, NY 10128-1256.  All inquires to teatravels@aol.com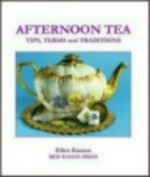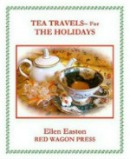 AFTERNOON TEA…TIPS, TERMS and TRADITIONS
72 pages of how to's, 27 photos, history, etiquette and FAQ about afternoon tea, serving styles and more.
TEA TRAVELS™ – FOR THE HOLIDAYS
64 pages, 21 color photos.  A complete holiday menu includes 25 easy to prepare recipes; theme teas, decorating & gift ideas; invitation template and secret sources.
History Sources:
The Oxford Companion to Sugar and Sweets, author Sidney Mintz, 2015, published by Oxford University Press
Luxos.com, A Brief History of Laduree: Exclusive Interview, David Holder talks about the history of this remarkable success story.
Wikipedia, Macaron
BudgetTravel, Paris: Macarons at McDonalds? article by Meg Zimbeck, 10/03/2012
Comments and Reviews