France, Alsace & Burgundy

Colmar, France
We had a lovely evening in Colmar as the city was celebrating "Fête de la Musique", World Music Day, the biggest street party in France.
Colmar was abuzz with the preparations as we wandered the streets in early afternoon to find a place to eat our "Linner" (lunch and dinner).  It was very difficult to get in sync with meal schedule in France.  Here, like many European countries, dinner starts so late at night.  We walked through Colmar in search of a recommended restaurant and I realized that France isn't all about Paris!  Although Colmar was my first city to wander in the Alsace region, it was the most beautiful I had seen in France so far.  I know that many people go to France to see Paris, but how many are lucky enough to wander off the beaten path and out into the country to see the village gems that dot the countryside.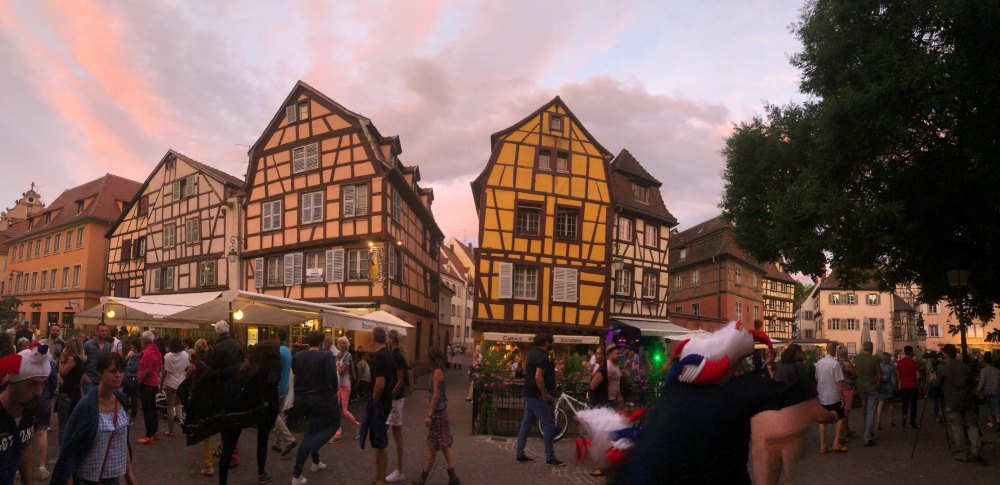 I admired the town as the late afternoon sun strung a golden glow across the canals lined with buildings that carry a strong Germanic influence. The Alcasce region, in eastern France, has streets lined with colorful, half-timbered homes. They have flower boxes spilling over with vibrant blooms.  I swear birds were chirping and music was playing from somewhere, we had arrived in a fairytale!  I was waiting for Belle from Disney's Beauty and the Beast to come out to draw water from one of the many village wells and break out in song.  Absolutely beautiful place!
Road Trip Through Alsace
We made our way along the route de vin from Colmar on our way to Burgundy. We passed through several small villages including a quaint one that we stopped at called Riquewihr. Riquewhir, a small medieval town surrounded by a high stone wall, and is right in the heart of the Alsatian vineyards. You enter through a 13th century defensive gate to a village of multi-colored, half-timbered house built right up next to one another. Every few streets you will find a courtyard with a city well with ornate iron-work holding the buckets that were embellished with flowers. Riquewihr is considered among one of the most Beautiful Villages in France and the heart of the vineyards.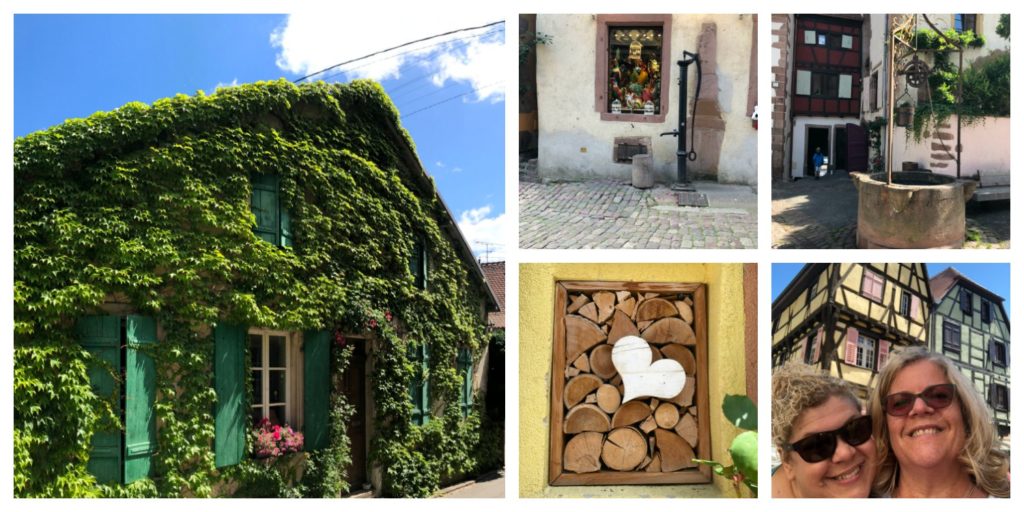 We stopped here for petite dejunier and meandered through the town. Every corner we turned was a photo opportunity. Every street has a variety of shops and homes that wander up, down, around and through the village. I was transported to another place and time in Riquewihr and did not want to leave. I wanted to explore every corner and every shop.
In Riquewihr I found the village's Nougaterie. I was drawn in by the stacks of colorful nougat on tables and in the display window. I fell in love with the soft chewy nougat candies. They were colorful, flavorful, soft like a marshmallow, sweet like a Bit-O-Honey with delicious melt-in-your-mouth flavors and nutty textures. This is something that I will be trying to make when I return home.
Having wandered the streets, snapped photos and sampled sweets, we had to leave Riquewihr. It was disappointing, but I had faith there was another delightful place to discover. Having spent a considerable time in the village, we veered off the route de vin and headed for the highway to make some time. We were expected at the welcome party for our Culinary Adventure Group in Meursault at 5:30pm.
Meursault, France
Our next stop was the town of Meursault. Meursault was elegant, stately and small. Every corner has a beautiful Maison, and winery. The land around the town, and homes and along the hillsides is sown with vineyards, growing some of the finest grapes in all of France. We truly arrived in a place where you could feel the history of wine seeping up from the soil.
We found our house in town, an old winery converted into an Airbnb. It was lovely with stone floors, brick walls, a steep wooden staircase leading up to bright provincial bedrooms with a large courtyard out back. The house was an unexpected dream location to enjoy our dive into Burgundy.
After settling in we met up with our tour hosts, Chef François and his wife Lisa DeMelouge they run the tour company, Pistou and Pastis. We joined them for their inaugural Culinary Adventurist Tour, "Burgundy By Bacchus".  Chef François cooks fabulous French cuisine and enjoys it. He has an intense culinary flair and a hearty rich smile that showed great love and excitement for French cuisine. Chef François and Lisa planned every detail of our culinary and wine adventure and they were exicited to share their love of France, food and wine with us.
For months leading up to our tour, Chef was telling us stories of pirates and wine flowing freely all day. He described in detail the taste of a properly cooked escargot and a fresh flaky croissant splintering when you bite into them in the early morning. His stories had us primed to start our culinary journey in Meursault.
Chef François and Lisa opened our tour with an evening cocktail party among the vines of Meursault. The evening was filled with a plethora of French foods, a magnum of Burgundy wine and good company to whet our appetites for the days ahead.
Beaune, France – The Wine Capital of the World
The Burgundy By Bacchus group made our way to the town of Beaune for our first outing to the morning market. The city was bustling with shoppers, and the center streets of Beaune were filled with vendor stalls, selling everything including antiques, house wares, and, of course, food.
We spent the morning wandering the streets admiring all the fruits, vegetables, cheeses, meats, pates, nuts, beef, poultry, and eggs. We stopped to enjoy some fresh made crepes.
We shopped for a few hours, sampling our way through the mustards from Dijon, the honey from the nearby fields and we picked several items for our vineyard picnic coming up on Monday.
With our shopping bags in hand and the morning in full swing, we headed across the street to the cave cellars of Marché aux Vins located in the former 15thcentury Cordeliers Church. The building was purchased and restored in 1977 and the Marché aux Vins is situated in exactly the same spot where the Franciscans used to cultivate white vines to produce their altar wine for mass.
Lunching with The Pirate of Volnay
After spending midmorning wandering through the Marché aux Vins cellars and tasting a variety of local wine, lunch was in order, and much needed. Chef François was excited to take us all to his favorite local establishment, the Pavillion François Gaunouxthat, which he lovingly dubbed, "The Pirate Restaurant". It was located at the Domaine François Gaunoux in Volnay right off the road and nestled amongst the vineyards. Drive carefull it would be easy to pass by this understated road house.
We sat at an outdoor table below the waving jolly roger flag. The proprietor propped a chalkboard menu up in front of our table and Chef François began to expertly order many classic French dishes for our meal. This was a great introduction to regional and traditional cuisine of France. The selections included Beouf Bourgeone, Coco Vin, lamb, escargot, cheese and breads, and of course more wine and a finisher of Mark.
We dined on a variety of rotating plates for several lazy hours in the warm breeze of the roadside café along the vineyards of Volnay. I began to think of my tour theme, as the "Wine Daze" of my life.
French Cooking Class
Our next day brought The Culinary Adventurists together, once again, for an early breakfast of flaky croissants and flutes of Kir Royal topped off with a refreshing Pastis aperitif. Pastis is an anise-flavored drink, that is refreshing and is similar to Absinth in flavor and presentation. Lisa explains about how Pastis is made, and how to prepare and drink the French beverage.
Flutes of Pastis in hand the realization of, "Here we are in France" about to learn how to make traditional French food. We are excited and ready to get our cook on.  Chef François and Lisa's Meursault home had a lovely kitchen with plenty of room for us all to get comfortable and learn about our menu for lunch.  We looked over the recipes and talked about the tradition of each dish and how we would go about preparing them. We set our Pastis aperitif down long enough to slip on our aprons and were ready to start cooking.
On the menu for today:
Eggs poached in Beaujolais, a classic French dish known as Oeufs Pôchés à la Beaujolaise.
Put simply the dish is poached eggs in wine! Beaujolais wine is a fruity red wine from the Gamay grape. It comes from the Beaujolais region of France which is considered an extension of the Burgundy but actually more toward the Lyon region.
Now this was especially exciting for me as I love poached eggs. I have always poached my eggs straight up, in water with a splash of vinegar, but NOW I could poach them in anything. Something so simple can be so decadent and flavorful, the color of the egg whites vibrant with the color of the Beaujolais wine surrounding the dark yellow yolks was beautiful when I broke the egg open.
Bresse Chicken in Cream Sauce Before starting we butchered the lovely Bresse chicken in the kitchen, taking off the feathered head, and bright blue feet before it became as familiar as the chickens that you would buy in the store, although this chicken is not something you would ever find in your local store. You would need to travel to France to find one fresh on your plate.
We learned about Bresse chicken called the poulet de Bresse. They are raised only from white chickens of the Bresse breed and raised within a legally defined area in the historic region of Bresse, a former French province. Considered to be the best quality table chicken in the world, the Bresse chickens have a regimented process to prepare them for market. They are kept free range for at least four months. Then they are exclusively fed cereals and dairy products for 35 days, which is low in protein so that the birds will forage for insects. Before slaughter the chickens are fattened with an intense diet of corn and milk for two weeks. The Bresse chicken can be recognized in the market by their intact, distinct slate-blue legs, and feathered head, a traditional  sign of authenticity.
Mere Blanc's Potato Pancakes are potato crepes that are simple, fluffy and filled with rich cream and egg whites. They are a perfect accompaniment for our lunch. "La Mere Blanc" is known as one of the infamous Meres Lyonnaises, she learned to cook by instinct and taste. Her dishes were simple, fresh foods in a style that reflected all Burgundy had to offer. She was awarded her first Michelin star in 1929 and second by 1931. 

A simple Apple Tart for dessert finished off our menu. A 5-ingredient tart made with thinly sliced apples layered in a overlapping spirals of cinnamon, sugar and butter. The tart, made with puff pasty, cooks up crisp and buttery and melts in your mouth. I was in charge of the tart, and after the apple peeling and slicing group activity, I carefully laid the apple slices into an "asthetic spiral", sprinkled it with cinnamon, sugar and daps of butter.

Of course our cooking class included wine, and chopping, and frying and baking, and it came down to learning the most basic and important things about French cooking.
Keep it simple
Use the freshest of ingredients
Spend time preparing and savoring the moments with your senses.
French cooking can be easy to learn.
We cooked for a couple of hours, building a delicious lunch that we were all looking forward to settling down with. Before we knew it, we were gathering up the plates and platters of food and paraded out to the patio amongst the vineyards. We sat to enjoy our morning's work, with of course more wine, laughter and complimentary ooohs and ahhhh at every bite.
This is where I began to wonder why we never drank any water with our meals? Lisa, our host, explained to me, in France, that water is only consumed by the "weak" or "Ill". Everything you eat, or drink contains water, so why would you wash your palate away by drinking water.  I have read that the French are some of the healthiest people, so there must be some truth to their take on water. I do wonder why water is so important in the States? Is it a marketing ploy for us to buy bottled water? I must ponder this more.
After another boundless afternoon meal with a long flowing tap of some of the world's finest wines, we headed off to our respective "little mansions on the vineyard" for a much-needed break in our day of feasting. We rested, enjoyed our Meursault home and napped quietly in the warm afternoon. It was another relaxing moment amidst our "Wine Daze" of our culinary tour.
A Walk in The Clouds
Our heads clearing a bit, our stomachs content, we met up again later in the summer evening to take a digestive walk to ponder everything we have seen and consumed so far. We drove to a small village outside of Beaune called Vosne-Romanée.
By happenstance, we decided this was the place to walk. We strolled through the village and up a side road into the vineyards to watch the sun wane in the sky. Neatly trimmed and adorned with a corner cross, we wandered up to the wall of the vineyard and read the sign. I started out unsure of pronunciation, "Rooooome Cont…" , Lisa turned, bright-eyed and shouted, Romnee Conti!!, We all moved in close to the stone engraved sign and read carefully, Romanee Conti. Here we were, walking along the roads that meandered through one of the most expensive and revered vineyards in the world, Romanée Conti.
It was a lovely evening, like the movie, A Walk in The Clouds, everything was romantic and serene as one imagines an evening walk in the vineyards of the Burgundy region.
Saving The Best for Last
Where do I start? The good company and friends we have made? The unbelievable amount of wine, GOOD WINE, that we have consumed? The food, oh the food that we have smelled, cooked, and tasted.
What a great journey! Today was the culmination of this journey with an exclusive visit to the Remoissenet Pere et Fils winery in Beaune, France.  We met our wine guide, Sommelier, Pascal Wagner from Wagner OneoLogics,
Pascal was our wine guide for our last day of our tour. Pascal weaves the story of Burgundy through, experiences and lore to pull you through his world of wine. He is very knowledgeable about wine and and has a flair for fun. He was the first local that I got to know on our journey, and he fit every idea that I had of what a local Frenchman would be like, except no beret. He is full of fragmented thoughts and words that knit together an experience that is coming at you a mile a minute and then falls neatly in your lap in a nicely wrapped box with a bow.
At first you think, "Oh my, this one is full of wine, coffee, and cigarettes, how will I ever keep up. Pascal soon finds his way into your smile and before you know it, you are long and fast friends. I believe he recalls vividly every moment, and every word of every conversation with everyone that he has ever met. He is that kind of guy.
Pascal arranged a private barrel tasting for us to the Remoissenet Pere et Fils winery, which doesn't have a public tasting room. His good friend, and the cellar manager, Pascal, (now we have two Pascals to keep track of) graciously opened the cellars to us.
"The Pascals", personally walked us to each barrel of the finest wines in Burgundy. Pascal, speaking French, explained the location, and terra of the grapes that were grown to produce each barrel we were tasting. Pascal, our sommelier translated word for word, I think. I lost track of the number of barrels we visited on our journey into the belly of the cellar. Deeper into the dark reaches we walked, stopped,  and patted barrels of Grand Cru one would only dream of owning. For example our final barrel was a Batard Montrachet Grand Cru, 2017 of which there is just one barrel. It was a white wine that would cost near a $1,000 to buy per bottle. We were very privileged that Pascal shared this treat with us.
The wines here at Remoissenet Pere et Fils are treasured. Only the finest quality grapes are purchased from the vineyards so only small lots of the best wines are produced. Some palates had 5 barrels, some had 20 and a few had only 1 or 2 barrels produced that year. After each barrel tasting, any remaining wine in our glass was returned to the barrel from which it came. Nothing was to be wasted. Pascal explained, the wine is rare and expensive, and now we our all adding a bit of our soul back into the barrel as an offering of our time with the wine. The thought that I would travel in every bottle coveted by it's owner sealed the deal of how special this day was. (Don't worry, the continued fermenting process took care of any germs.)
Our group found its way a bit mole-eyed, giggling and stumbling up the cellar stairs back to the light of day where we made a valient attempt to pose for a group photo. The moment was over. We were released back into Pascal's hands, and car, as we raced off through the countryside the conversation and laughter never halting as we headed up a hillside through winding roads to an overlook park where our picnic would be.
A Farewell Picnic to Remember
What could possibly top this morning of wine tasting? A lovely picnic in a park that overlooks the Burgundy valley, and vineyards that produced the wine we were just tasting. It was a rare view in France. Pascal explained that France is a small country and to find a location with a sweeping grand view is much harder than it is in larger countries where people are more spread out. I think we take our views for granted, not realizing that everyone has access to panoramic views.
We unpacked the cars and Chef François and Lisa began setting up the spread consisting of a culmination of French delicacies that included; a green bean, potato and tomato salad, bowls of olives, delicious, hearty baguette breads, fresh melon and raspberries, a salad of delicate lettuce leaf known as lambs ears lettuce in the states? Cold Roast Pork with Arugula and Peaches, and baked garlic. There were platters of pâté, meats and cheeses and several desserts to finish off the meal with.
Pascal, our Sommelier, brought six different wines for us to learn about. Each bottle came with a lesson, a story and a toast. We sat on the bluff in the light breeze of summer nibbling for hours, laughing, drinking, and enjoying music. Pascal is also a musician. He and his band mate, Stephen, and our group photographer, brought their guitars and shared his second passion with us, The Blues. They sang us a few original songs as we dreamily sat back and listened in the glow of the sun and wine.
We took a break from eating and all trekked to the overlook and stood with our glasses of sparking wine and looked out over the vast green afghan of vineyards below.
As we looked out over the land, Pascal explained that the secret to the beauty and taste of French wine in Burgundy is the land. We held our glasses up in a toast to the land admired the view and the memories of the last few days. I don't think I could have dreamed up a more idealic moment in time to close out our journey in France.
The Long Journey Home Begins
Today as I write, I am gliding through the countryside of France heading to Paris on the TVG Leisure train which I am spending time thinking of the fantastic opportunity that we had to join the Pistou and Pastis Burgundy By Bachuss tour with Chef Francois and Lisa. If you want an insider experience of France be sure to join them on one of their next Culinary Adventures.
Articles About London and France:
Everything I Learned About Burgundy Wine
French Recipes to try:
Classic French Macarons – The French macarons cookie is beloved in Parisian tea salons and cities all over France. It is a delight to bite down into a light and crunchy cookie with either ganache, butter cream or jam filling found in the center.
Lyonnaise-Style Onion Soup " Soupe lâ Oignon – This is a classic French Onion Soup recipe. Â The base of the soup is simple as it is made by caramelizing onions until they are deliciously sweet and golden brown.
Authentic French Bread – This Authentic French bread recipe is probably the easiest bread recipe to make. Â French bread is so simple and so good! Â Give it a try.
French Onion Tart– Also known as, Pissaladiere which is a traditional dish in the Alsace region of France located on the eastern border and on the west bank of the upper Rhine adjacent to Germany and Switzerland. Â In Germany, this tart is known as Zwiebelkuchen. Â The tart has similarities to pizza or a savory pie, and it provides a perfect showcase for the caramelized onions.
Bechamel Sauce – " Basic White Sauce Recipe - In France, Bechamel Sauce (bay-shah-mel) is one of the four basic sauces called "Meres" or "Mother" sauces from which all other sauces derive.  Bechamel Sauce is also know as "white sauce" to most cooks.
Beef Burgundy Stew Recipe " Boeuf Bourguignon -Beef Burgundy Stew, also know as Boeuf Bourguignon, is a traditional beef stew recipe served in the Burgundy area of France.  This delightful stew is considered a classic French comfort food. Over time, the recipe evolved from honest peasant fare to haute cuisine.  Today, Beef Burgundy Stew is famous throughout the world.
Burgundy Salad with Poached Egg– A classic French salad from Burgundy, France. This is a perfect lunch salad or served as an appetizer.  Everyone you serve this delightful salad to will want the recipe.
Coq au Vin (Casserole of Chicken in Red Wine) is Julia Child's recipe for this famous chicken dish. Coq au Vin, also known as Rooster in Red Wine, is a French recipe made famous by Child and was featured in her 1961 cookbook, Mastering the Art of French Cooking.
French Palmiers Cookies – (Elephant Ear Cookies) are fantastic and so easy-to-make.  Palmiers are crisp, buttery, sweet, and very elegant. Traditionally Palmier Cookies made from scratch is a time consuming and labor intensive process. Now you can use commercial puff pastry as it makes an almost identical substitute to traditional methods.
Ratatouille – (pronounced rat-uh-TOO-ee) is a very healthy and low fat summer vegetable stew.  It is a great way to use up the abundant roundup of fresh summer vegetables from the garden. The perfection of ratatouille lies in the simplicity of the wholesome and fresh ingredients.
Tarte Flambee– Known as flammekueche in Alsatian and flammkuchen in German, Tarte Flambee is incredibly simple to make. Originally this flat bread was made to test the heat inside the wood-fired ovens.
Comments and Reviews