Grilled Chocolate Bananas are a wonderful simple dessert to serve at the end of a barbecue.  These grilled bananas are basically another version of the famous Smores.
They are an especially great dessert if children are at the party. Waiting is always the hardest part for them, so keep them busy helping make these grilled chocolate bananas.  They are an easy-to-make dessert that your children will love helping you make.  This dessert is like enjoying a camping trip but never leaving home.  Better yet, try making them on you next camping trip.  With just a little planning and some good weather, making these bananas out camping will turn out to be a summer tradition.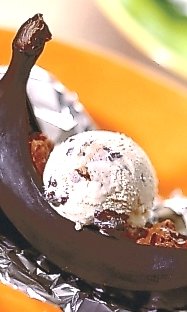 Grilled Chocolate Banana Recipe:
Keyword:
Grilled Chocolate Banana Recipe
Instructions
Using a sharp knife, make a slitalong most of the length of the unpeeled banana skin and almost through the bananas.

Push chocolate chips and marshmallows into the slits; push the banana skins closed. Wrap each banana tightly in aluminum foil.

Place the banana packets on the grill rack and cook for 10 minutes, turning the packets after 5 minutes. Remove from the grill. Carefully open the banana packets and remove the cooked bananas from the aluminum foil. NOTE: You can serve in the aluminum foil.

If desired, serve with either whipped cream or ice cream. Serve with a teaspoon, to scoop out the cooked banana flesh covered in melted chocolate.
Source:  Photo from Nestles Canada web site.
Comments and Reviews