This comprehensive mango recipe collection for mango lovers includes some of our family favorites. Mangos will make for a refreshing addition to your summer menu. Learn to use this versatile fruit in salads, soups, salsas, and more with this mango recipe collection.
Fresh Fruit Salad
This is my favorite fresh fruit salad. My mother-in-law, Gertrude Zemp, taught me to make this when I was a young bride. It is very refreshing and also low in calories. I use whatever fresh fruit is in season when making this salad. The banana dressing is very light and compliments the fruit. You will never want to make a "yucky" canned fruit salad again!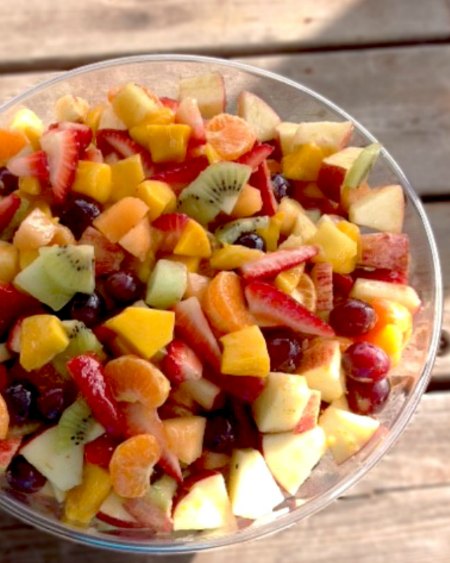 Fresh Fruit Salad with 1-2-3 Fruit Dressing
This is very refreshing and delicious fruit salad. I use whatever fresh fruit is in season when making this salad. The 1-2-3 Fruit Dressing is from an old Betty Crocker Cookbook. The combination of citrus fruits in the dressing gives the salad a wonderful delicious flavor! Sometimes the older recipes are the best recipes!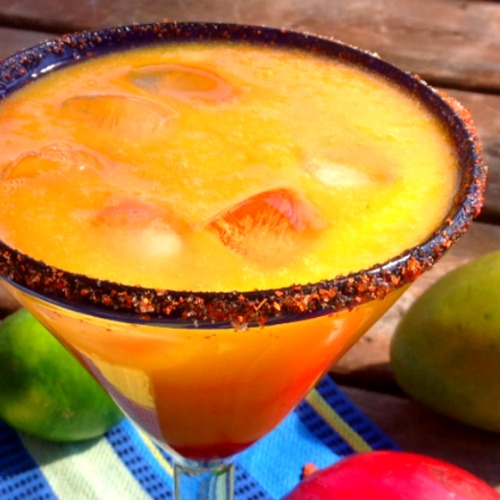 Fresh Mango Margarita
A Fresh Mango Margarita is especially refreshing on a hot day or when you want to enjoy some spicy Mexican cooking. I actually fell in love with mango margaritas served at a Hawaiian Restaurant in Portland, Oregon called the Bamboo Grove Hawaiian Grille.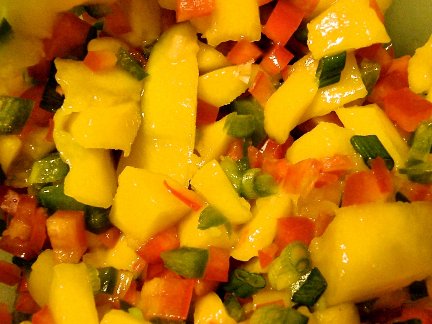 Fresh Mango Salsa
This recipe might let you see just how versatile a salsa can be. Mango salsa goes wonderfully with fish and chicken dishes, as well as a being a unique dip. The sweetness of the Mango is not overpowering, and the peppers and onions bring out a bright new taste that I hope will be a nice surprise for you.
Goat Cheese Medallions with Mango-Pepper Salsa
I created this recipe for a gourmet dinner group that I belong to. The hostess asked me to prepare a starter dish using mango. The combination of the hot goat cheese and the cold salsa makes a delightful dish to tease the palates and start the meal off.
Mango and Black Bean Salsa
A wonderful salsa recipe. Also excellent with seafood and fish. It is most popular use is as a chip dip, but also used as a sauce on meats.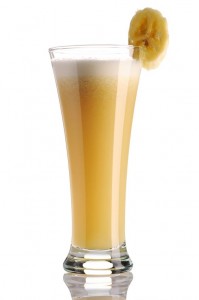 Mango Banana-Cream Smoothie
This super food smoothie has loads of vitamin C and is low in calories and cholesterol. Go ahead, enjoy this rich and creamy dessert smoothie without an ounce of guilt.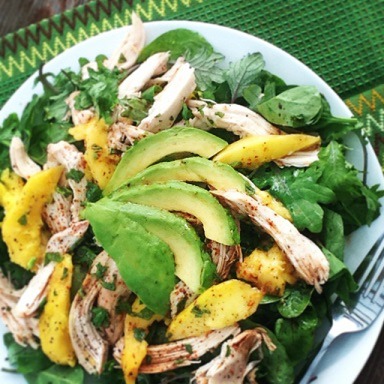 Mango, Chicken, and Avocado Salad
Enjoy this symphony of flavors combining fresh seasonal mango with cool creamy avocados in this chicken salad. Makes a perfect light dinner salad to enjoy in spring or early summer. I just drizzled some olive oil, balsamic vinegar and a little sprinkling of chile powder over the top to add an extra zing that complimented the fresh produce.
Mango Custard – Quick and Easy Mango Custard
Mangos are in season and our local Asian grocery stores have some beautiful boxes on sale. This is an easy custard that really highlights the mango flavor.
Mango Lassi
Mango Lassi is a traditional South Asian non-alcoholic beverage. In fact it is one of the most popular beverages in Northern India. Mango Lassi is also a favorite at Indian restaurants. This drink is a cross between a smoothie and a milk shake.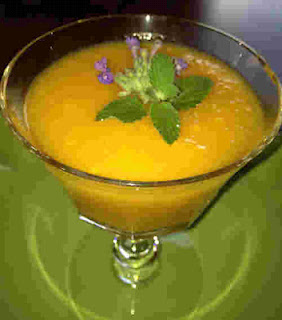 Mango Melon Soup – Mango Melon Smoothie
This outstanding recipe is from Debbie Reynolds of Rocky Mountain Lodge & Cabins of Cascade, Colorado. Debbie says, "This recipe has become a huge hit with my guests. They always rave over it, eat every bite, and are amazed to have soup for breakfast. I serve three courses for breakfast, and a fruit dish is always my first course. If you love mangos, you'll love this recipe."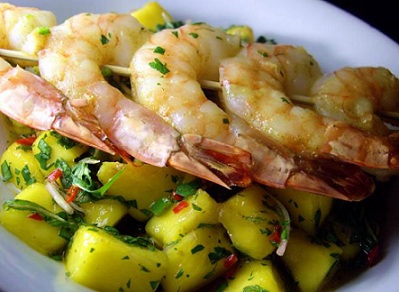 Mango Salad with Grilled Shrimp
This recipe is from the Mnemba Island Lodge and was featured in the May 2001 issues of Gourmet Magazine.  This wonderful tasting salad is so easy to make and looks beautiful also!  This is a definite make-again dish.  This makes an excellent starter course, and is equally great as a light luncheon dish.  If you want to impress guests, this one is the dish to make!
Mango with Sticky Rice
A very sweet treat you'll absolutely love! In Northern Thailand and Northeastern Thailand, sticky rice is a staple. This Thai dish takes some time to prepare but it's worth the wait!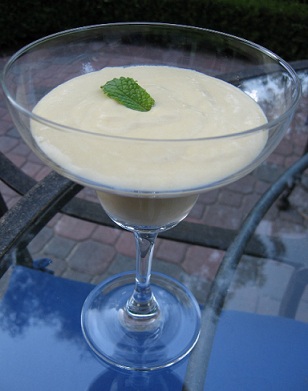 Mango Zabaglione – Food Processor Method
I love Zabaglione, but using the normal method of whisking the egg yolks in a bowl over simmering water can be tricky. If you are not careful, you will end up with scrambled eggs! For me, making it in the food processor is much easier. I use whole eggs instead of just the yolks and more cream to give it stability.
Mexican Mango Atole
Since I love mangoes, and because they are readily available during the summer months, I decided to make this very delicious and fulfilling Mango Atole. There are hundreds of varieties of Atole. The beauty of this drink is that you can use whatever happens to be plentiful and local (whatever grows in the region you live).
Comments and Reviews