Learn about watermelons and the Egyptian-style of roasting watermelon seeds in this Watermelon Recipe Collection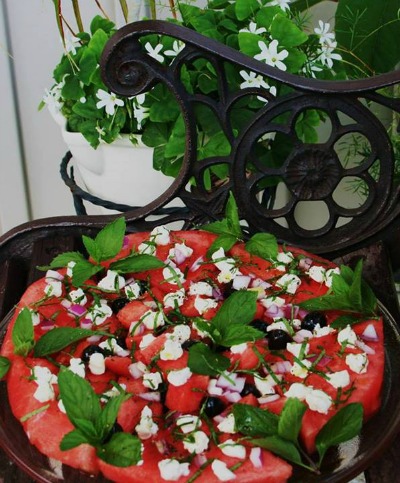 Here's a delightful Egyptian Watermelon summer salad shared with What's Cooking America by Chef Maha Basoom.  Maha specializes in Egyptian cooking and teaches cooking classes on Egyptian cuisine all over North America and Europe.  Not only it is full of healthy juices, but it's super delicious, tasty, and inexpensive.  Most barbecues go hand in hand with the cool crunch of a big juicy watermelon.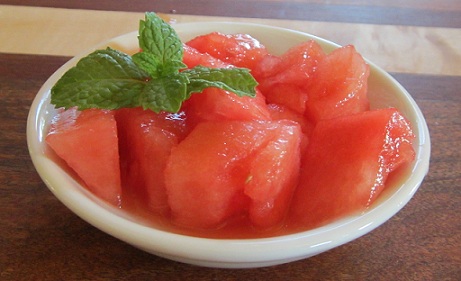 Mint Julep Watermelon
I created this interesting and delicious watermelon recipe because I had some Mint Julep Simple Syrup in my refrigerator and a watermelon that needed to be used.  My thoughts were "What could be better than this eat it and drink it recipe."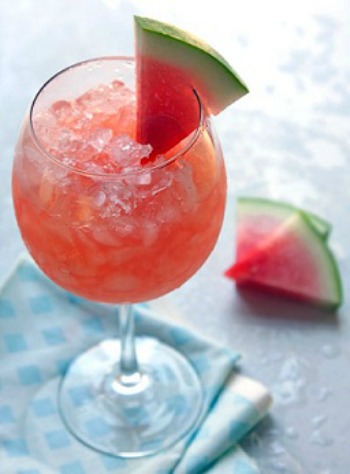 The Merchant's Wife Cocktail – Watermelon Cocktail
This cocktail is by Chef Jeff Mahn from Stella Rosa Pizza Bar, in Santa Monica, California.  Mahn says that the drink was named for a 1918 painting by Russian artist Boris Kustodiev that depicts a buxom woman sitting on a sun-soaked balcony to enjoy her lavish breakfast – which includes a watermelon as curvy and lush as she is.
Tomato Watermelon Salad with Prosciutto
This recipe is from Chef David Burke, executive chef at David Burke & Donatella in New York City.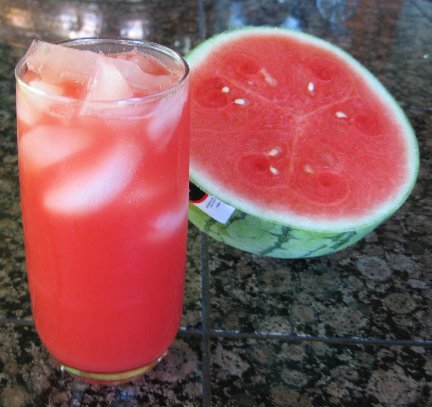 Watermelon Aqua Fresca
Enjoy the essence of the sweet summer strawberries in this refreshing drink.  Fresh fruit drinks are very popular all over Mexico and are served from large barrel-shaped glass containers.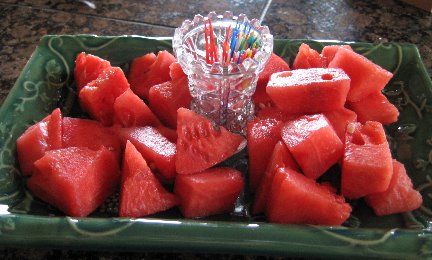 Watermelon Cubes with Aged Balsamic Vinegar
This appetizer recipe is by Rick Tramonto, Amuse-Bouche: Little Bites That Delight Before the Meal Begins, Random House, October 2002.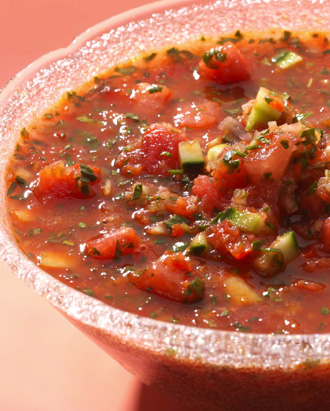 Watermelon Gazpacho Soup
This recipe is from Eating Well Magazine.  The delicate flavors of cucumber and watermelon go hand in hand to create a sweet-and-savory chilled soup, perfect as a first course on a hot night.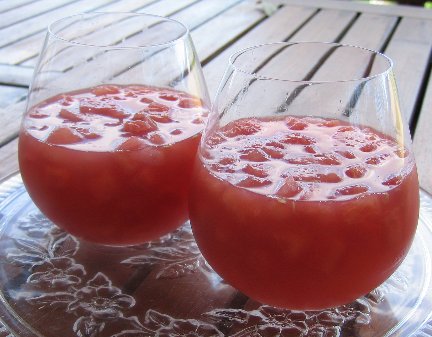 Watermelon in Rose-Lime Syrup
I adapted this wonderful refreshing dessert/drink from the blog called As Dear As Salt by Richa of New Jersey.  A very refreshing and cooling summer drink or dessert.  My husband likes to add some gin to his glass.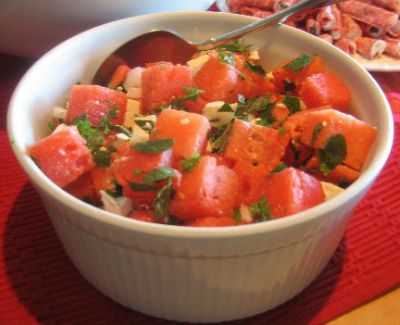 Watermelon Salad with Mint Leaves
Recipe from Paula Deen ofPaula's Home Cooking television show.  This is a very beautiful salad and also delicious!

Watermelon Sorbet
Very refreshing on a hot summer day!
Comments and Reviews