How can you be sure your shampoo that claims to have all natural ingredients does not also contain some synthetic chemicals?  Or that your hand lotion actually does contain the vitamin it claims?
Learn How to Read Cosmetic Labels – The logical response should be, "Read the ingredient label on the back of the product."  Logical, if you happen to be a chemist or a cosmetic scientist.  Perplexing, if you are the average cosmetic consumer.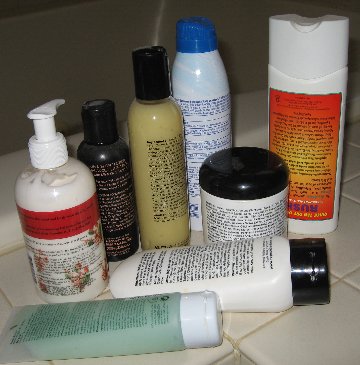 A quick glance at the back of the cosmetic label is all it takes to see that the ingredients are written in the language of chemistry.  Unless you chemical terms for the ingredients, you may never be able to check the claims against the contents.
What are Cosmetics?
The Food, Drug, and Cosmetic Act (FD&C Act) defines cosmetics by their intended use, as "articles intended to be rubbed, poured, sprinkled, or sprayed on, introduced into, or otherwise applied to the human body…for cleansing, beautifying, promoting attractiveness, or altering the appearance" [FD&C Act, sec. 201(i)].  Among the products included in this definition are skin moisturizers, perfumes, lipsticks, fingernail polishes, eye and facial makeup preparations, shampoos, permanent waves, hair colors, toothpastes, and deodorants, as well as any material intended for use as a component of a cosmetic product.
Federal regulations require ingredients to be listed on product labels in descending order by quantity.  Consumers can check the ingredient listing to identify ingredients they wish to avoid.  Based on the amount used, an ingredient such as water is usually found at the beginning of the product's ingredient listing while color additives and and fragrances, used in small amounts, are normally seen at the end of the ingredient listing.
Cosmetic ingredient declaration regulations apply only to retail products intended for home use.  Products used exclusively by beauticians in beauty salons and labeled "For Professional Use Only," and cosmetic samples, such as those distributed free at hotels and department stores, are not required to include the ingredient declaration.  However, these products must state the distributor, list the content's quantity, and include all necessary warning statements.
How to decode cosmetic labels:
As we are learn more about our skin, the public is becoming more ingredient conscious.  Understanding what substances make up a product can be helpful.  If you have a known allergy, your dermatologist or allergist can help you determine other related ingredients.  It will also help you to understand what makes a product greasy, irritating, acne-flaring, drying and hopefully those that are effective, too!  This is not meant to be a complete list of every ingredient used in the industry, but will attempt to cover the most popular individual ingredients and categories that have gained recognition as of late.  Use this as a handy reference by which to gain information as you learn more about your skin through our site.  This list shall be continually expanded.
Aloe Vera Butter (Cocos Nucifera Oil / Aloe Barbadensis Leaf Extract) – A soft solid butter produced by extracting aloe vera in a fatty fraction of coconut, which is completely oil miscible.  Aloe Butter melts on contact with the skin.  It aids in rapid hydration of dry skin caused by eczema, psoriasis, rosacea, sunburn, wind burn, and general chapping.
Aloe Vera Gel (Aloe barbadensis) – The properties of the aloe plant are well known for their soothing and healing qualities.  Aloe Vera is said to encourage skin rejuvenation, healing of wounds, reducing scarring, and treatment of sunburn.  Regenerating and healing agent (penetrates skin stimulating the immune system and increasing blood circulation), anti-inflammatory effects, anti-aging effects (increases collagen synthesis & skin elasticity).
Aloe Vera Oil (Aloe baradensis miller) – Unique beauty oil that penetrates easily.  All natural aloe vera oil is light and delicate.  It is excellent for normal to oily skins, yet mild enough for sensitive skins.  Aloe Vera oil has recognized healing and restorative properties, and is widely utilized in many high-end lotion, cream, and gel products.  Aloe Vera is also a great skin moisturizer that helps to keep skin supple by bringing oxygen to the cells, and therefore increasing the synthesis and strength of skin tissue.
Apricot Kernel Oil (Prunus armeniaca) – Apricot kernel oil comes from the large pits of apricots that yield up to 45% oil.  The apricot tree is cultivated throughout the Northern Hemisphere.  Apricot kernel oil has 30% unsaturated essential fatty acid content.  The oil is similar in weight to human sebum.  Extremely nourishing to the skin and excellent around the eyes and neck.  Apricot kernel oil is an emollient.  According to the AMA's committee on Cutaneous Health does help make the skin feel softer and smoother, reduce roughness, cracking and irritation.  And may possibly retard the fine wrinkles of aging.  A perfect all around oil, it can be used for mature skin because of it's high Vitamin A content.  It is particularly helpful for dehydrated, delicate, mature and sensitive skin, and it helps to sooth inflammation.
Avocado Oil (Persea americana) – Avocado oil is made from the pulp of the avocado fruit.  It is a rich, heavy but penetrating oil that is full of nutritive and therapeutic components.  Avocado oil contains more than 20% essential unsaturated fatty acids.  It contains vitamins A, C, D and E, proteins, beta-carotene, lecithin, fatty acids and the "youth mineral" potassium.  Avocado oil is high in unsaponifiables (sterolins) which are reputed to be beneficial in reducing age spots, healing scars and moisturizing the upper layers of the skin.  Excellent for dry or mature skins, or people suffering from eczema or psoriasis, and is very useful when treating sun or climate damaged skin that is dehydrated and undernourished as it is said to help with regenerating the skin and softening the tissue.
Beeswax (Apis mellifera) – Beeswax comes from the honeycomb of virgin bees.  Bees process honey form the nectar and then convert it into wax.  Ten pounds of honey produces one pound of wax.  It has a honey like fragrance.  Used as an emulsifier to soften and protect the skin.  Emulsifiers keep the skin care product from separating.
Beta-glucan – A polysaccharide, meaning it is a sugar (such as starch and cellulose) that can be derived from yeast.  It has some antioxidant properties and is a strong anti-inflammatory agent.  There is one study that suggests this substance can have some revitalizing effects on aging skin.  Among 150 female volunteers, aged 35 to 60, those given a cosmetic preparation containing yeast beta-glucan were said to have significantly reduced number, depth and length of wrinkles, compared with controls.  Dryness and elasticity of skin were also improved.  Further research is needed to confirm or refute these findings.
Botopical™ – A Botox-like active ingredient for a skin relaxing effect.  An anise extract rich in mineral salts, reduces the phenomena of microtensing and visibly smoothes expression lines.  It relaxes the features while at the same time conversing the natural mobility of the face.
Candelilla Wax – A vegetable wax of Mexican origin.  It is derived from a wild growing herbaceous plant of the family "Euphorbia Ceriphera" The wax is obtained by boiling the plant and skimming the wax from the top.  In experiments, it was found it to be a superior replacement for beeswax.  With Candelilla, you use less than beeswax, in products such as lotion bars lip balms, solid perfumes.  It has excellent glide and it's color is that of natural beeswax, a light golden yellow. Great for vegan applications.
Castor USP (Ricinus communis) Castor oil is extracted from the sees of the castor plant.  Commonly used commercially in 50% of lipsticks in the United States. Creates a protective barrier on the skin and is soothing.  Castor oil is part alcohol and part oil.  It is mainly composed of ricinoleic acid (87%), a fatty acid with an unusual molecular structure.  Also known as Palm Christi Oil.
Ceramide 3 / Ceramide III / Lacto-Ceramide – Ceramide III is a potent anti-aging & regenerating ingredient.  Using ceramide replenishes the loss of own skin-produced ceramides; therefore, recovering the barrier function and minimizing skin irritations.  Lacto-Ceramide nourishes skin with milk lipids which are also a potent moisturizer.
Coconut Oil (Cocos nucifera) – A very rich emollient used to smooth and protect the skin in all seasons.  Coconut oil will not only bring temporary relief to the skin, but it will aid in healing and repairing.  It will have lasting benefits, unlike most lotions. It can help bring back a youthful appearance.  The coconut oil will aid in removing the outer layer of dead skin cells, making the skin smoother.  The skin will become more evenly textured with a healthy "shine".  The coconut oil will penetrate into the deeper layers of the skin and strengthen the underlying tissues.  Helps prevent premature aging and wrinkling of the skin.  Helps protect against skin cancer and other blemishes.
Coenzyme Q10 (CoQ10) – Potent antioxidant with effective anti-aging & anti-wrinkle properties, reinforces collagen & elastin production of connective tissue, potent moisturizer (liposomes penetrate into skin preventing water-loss).  When applied topically, it can provide extra protection for your skin and produce a dramatic anti-wrinkle effect.
Colours, Liquid –  FD&C colours are approved for use in food, drugs and cosmetics.  D&C colours are approved for use in drugs and cosmetics.
Cornstarch (Zea mays) – Used as an abrasive, adsorbent and to increase the viscosity in aqueous products.  Can be used in emulsions to improve the feel or decrease greasiness.  Widely used food starch product.  Food Grade.
Cucumber – Known for its astringent and soothing properties it is an ingredient often found in facial creams, lotions, and cleansers.  It can also be used as an anti-inflammatory agent (slices placed over puffy eyes can reduce swelling).
Cucumber Extract (Cucumis sativus extract) – An extract with anti-inflammatory actions and skin tightening properties.
Cucumber juice – A juice with moisture binding, soothing and tightening properties.
Emu Oil – Emu Oil is one of nature's natural oils with unique qualities that can replenish and maintain the skin's natural moistness and suppleness.  It is one of nature's own natural skin care treatments with no harmful additives.  It is an effective skin conditioner.  It will condition, soothe, moisturize and protect any skin type from dryness and moisture loss.  Perfect for age treatment aid that helps restore a younger-looking skin appearance.  Softens harsh facial expression lines and is very effective for use around the eyes.  Restores rough, chapped and dry skin to a soft, smooth and more youthful appearance.  It does not leave a heavy oily film on the skin.  It has deep penetrating qualities for long-lasting effects.
Emulsifying Wax (Emulsifying Wax NF) – A product that is used as a binder in toiletries made with oil and water to bind (emulsify) the oil and water together and keep them from separating.
There are several products on the market now being sold under the common name of emulsifying wax or as "ewax", but unless these products meet the NF (National Formulary) specifications they cannot be listed as Emulsifying Wax NF in your ingredient declaration.  Those products being sold as "emulsifying wax" could be anything, but most likely they're blends of a fatty alcohol(s) and some ethoxylated fatty alcohol.  Sometimes these materials could be blended with other emulsifiers.  Some common waxy substances that are used to emulsify water and oils include: Cetyl Alcohol (and) Stearyl Alcohol (and) Ceteareth-20, Cetearyl Alcohol (and) Ceteareth-20, Stearyl Alcohol (and) Ceteareth-20, Cetearyl Alcohol (and) Polysorbate 60, Cetearyl Alcohol (and) Steareth-30 (and) Ceteth-20.  So be sure to determine what it is exactly you are using.
Estrovone (Iris Florentina Extract) – A new, all natural, active ingredient obtained from the Iris to combat the harmful effects of hormonal deficiencies on the skin.  It slows the rate of skin aging that accelerates at the time of menopause.
Germall Plus – This preservative is highly effective in inhibiting the growth of gram-positive and gram-negative bacteria, yeasts, and molds.  One of the newer preservatives, Germall Plus Liquid is water soluble and works wonderfully with virtually all Oil and Water emulsions.  This preservative is highly effective in inhibiting the growth of bacteria, yeasts, fungus and molds even at very low concentrations, making it extremely cost effective.  Also, it contains no parabens.  Liquid Germall Plus can be used when you have more water than oil, and when you have oil than water.
Glycerin, Vegetable – Vegetable Glycerin is obtained by adding alkalies to fats and fixed oils.  Glycerin is a soothing, humectant, which draws moisture from the air to the skin.  Glycerin is an emollient, which makes the skin feel softer and smoother, reduce rough feeling, cracking and irritation.  Glycerin has a high hydrophilic (water) factor and a low lipophilic (fat) factor. Non-toxic, non-irritating and non-allergenic.   A valuable cosmetic ingredient as a solvent, humectant and emollient.
Grapeseed Oil (Vitis vinifera)  – Especially good for people with problem skin, as it almost never causes any adverse reactions for those with delicate skin.  Grapeseed oil has regenerative and restructuring virtues, which allow better control of skin moisturization.  Grapeseed is especially useful for skin types that do not absorb oils too well, and it does not leave a greasy feeling.  Wonderful for those with skin sensitivities, because of its natural non-allergenic properties.  Very beneficial for skin that is dehydrated and under nourished.  It is said to help with regeneration of the skin and softening of the tissue.  Ideal in lotions and other skin preparations for oily skin.  A light carrier/base oil used widely in aromatherapy, massage and cosmetics.  A rich and economical source of linoleic acid (Omega 6).
Hazelnut Oil (Corylus avellana) – Hazelnut oil is known for its astringent qualities and because of this, it is best used for those who have oily skin but do want to abstain from using oils.  It penetrates the skin easily.  It has some vitamin E content.  Cold pressed hazelnut oil is a wonderful light, penetrating oil that is slightly astringent making it a good oil for acne prone skin.  It is high in the essential fatty acids and is soothing and healing to dry irritated skin.  Studies have shown that it can filter sunrays and is therefore commonly used in sun care products.
Hemp Seed Oil (Cannabis sativa) – Hemp oil is known as "Nature's Most Perfectly Balanced Oil."  It contains 81% of the hard to find polyunsaturated Essential Fatty Acids (EFAs).  Aside from their unmatched nutritional value, these oils have the ability to enter directly into the lipid layers of dry skin cells and replenish the oils missing due to sun exposure, poor nutrition or other abuse.  THE EFAs, vitamins, and enzymes are easily absorbed by the skin and contribute moisturizing qualities to cosmetics and soap.  Dermatologists claim that EFAs replenish dry skin, preventing cell loss and causing younger looking skin.  Hemp seed oil has been used to soothe and heal dry skin and minor burns.  
Hyaluronic Acid (HA) (Sodium Hyaluronate) – Hyaluronic acid is the most effective humectant available and has been scientifically proven to stimulate new cell growth.  The only way to treat and prevent fine lines and wrinkles is to restore your body's natural compounds that are lost as we age.  Hyaluronic Acid is a naturally occurring substance in the body that binds to water to lubricate and hydrate tissue.  The loss of skin elasticity that comes with aging is the result of decreasing HA levels in the body.
Hydrosols Flower Waters – (distillate water) – Flower waters also known as hydrosols, hydroflorates or distillates are products from steam distilling plant materials.  They are wonderful and inexpensive as a facial splash, as a deodorant, an air freshener, in the spa, great for dry skin, as a compress, during massage or therapy sessions, and in your culinary creations.  They are moisturizing, fragrant, cooling and contain similar properties as essential oils but in much less concentration.
Lanolin – Also known as wool fat, or wool wax.  It is a product of the oil glands of sheep and is used in many cosmetic skin care products.  It can cause allergic reactions and skin rashes.  It does not have any particular advantages in treating wrinkles.  Lanolin is not very helpful in treating topical skin rashes.
Liquid Silk (Hydrolyzed Silk) – Imparts a wonderfully silky feel to cosmetics, soaps and skin care products.  Plant extract oils and phospholipids make this silky serum a must have for dry skin.  Apply it under or over and moisturizer for a "rose petal" feel to the skin.  Make-up goes on smooth and skin looks radiant.  Protects all day from moisture loss.
Petroleum Jelly – A colorless-to-amber semi-solid mixture of hydrocarbons obtained from petroleum and used in lubricants and medicinal ointments.  Many over-the-counter salves, ointments, and cosmetics have petroleum jelly as a base.
Provitamin B5 (Panthenol) – Participates in the release of energy from carbohydrates, fats and protein, aids in the utilization of vitamins; improves the body's resistance to stress; helps in cell building & the development of the central nervous system.  On the skin it acts as a penetrating moisturizer and smoothes..
Rose Water (Rosa damascena) – Rose Water is the byproduct of producing rose essential oil.  It is a wonderful toner for all skin types, and makes a practical and suitable body splash, anti-anxiety spray, deodorant, room freshener, and for one of those days when we feel sensual.  This is an aphrodisiac with embedded roots dating back thousands of years.  Flower waters also known as hydrosols, hydroflorates or distillates are products from steam distilling plant materials.  They are moisturizing, fragrant, cooling and contain similar properties as essential oils but in much less concentration.  These floral waters make a wonderful scented base in your cream and lotion recipes and we strongly suggest their use in lieu of essential oils for people with sensitive skin.  It has skin softening, toning, soothing and healing properties.  Was used during Victorian times to soothe the skin.  Can be used as is on the skin, mixed with glycerin or to replace all or part of the water in formulations.  A skin conditioning agent used in skin fresheners, moisturizers, body care products, masks, cleansers and more.
Shea Butter (Butyrospermum Parkii Fruit) – A product of the Shea Karite tree which grows in West Africa.  Shea butter is revered in Africa for its almost mystical skin-nourishing properties.  More popularly known in the West as Shea butter, this yellow-white to ivory-colored paste has been used by African healers for thousands of years to alleviate maladies of the skin and scalp.  Traditional uses of shea butter include: treatments for dry skin, blemishes, skin discoloration, scars and wrinkles, a relaxer for stiff muscles, as an aid for pain from swelling and arthritis, even as a sun screen.  The high content of fatty acids and vitamins A, E, and F make it a rich and powerful moisturizer.
Shea Oil (Butyrospermum parkii) – Is obtained by cold pressing of the fruits (seeds) of the karite tree followed by a full refining process.  During the pressing of the butter, a liquid fraction appears as SHEA OIL which offers an exceptional skin feel.  Shea is well known to assist coetaneous dryness, dermatitis and dermatoses, eczema, solar erythema and burns.
Skin Flow C – A fine particle-sized modified wheat starch that is aluminum-free, hydrophobic (water-repellent), has free-flowing properties and imparts a soft and velvety feel.  It will improve the aesthetics of skin care products, and it removes greasiness of creams, ointments and lotions.
Stearic Acid – Emulsifying and thickening property.
Tartaric Acid (white crystalline dicarboxylic acid) – A type of glycolic acid (fruit acid) derived from grapes.  Improves skins texture and tone.
Titanium Dioxide – Titanium Dioxide is an inorganic natural material, which functions as a sunblock to both UVA and UVB rays.  A non-chemical, common agent used in sunscreen a product that works by physically blocking the sun.  It may be used alone or in combination with other agents.  It is available as normal and micronized form.
Water (Aqua) – De-ionized water.
Vegetable Glycerin (Glycerine, Glycerol) – Glycerin is obtained by adding alkalies to fats and fixed oils.  Glycerin is a soothing, humectant, which draws moisture from the air to the skin.  Glycerin is an emollient, which makes the skin feel softer and smoother, reduce rough feeling, cracking and irritation.  Non-toxic – non-irritating – non-allergenic.
Virgin Coconut (Cocos nucifera) oil is the premium of Coconut Oils with a fresh coconut odor like you just cracked it open.  Virgin coconut oil is cold-pressed, pure, natural and unrefined.  It is an excellent cooking oil that enhances the flavor of many foods and bakery items, such as biscuits, cookies, pastry, etc.  It is fabulous in protein shakes, broiling, salads and popcorns.  It is also one of the safest most effective natural body moisturizers available.  Use it for aromatherapy in soap, body/massage oil, and shampoo moisturizer adding sheen and preventing dry hairs, or a nail and cuticle treatment.
Vitamin A (Beta Carotene) – Helps maintain smooth, soft disease-free skin; helps protect the mucous membranes of the mouth, nose, throat lungs, which helps reduce our susceptibility to infections; protects against air pollutants and contaminants; helps improve eye sight and counteracts night-blindness; aids in bone and teeth formation; improves skin elasticity, moisture content and suppleness; and helps reverse the signs of photo-aging.  A lack of vitamin A can cause skin to become dry and hardened.
Vitamin A derivatives (Retinoids: retinol, retinyl palmitate, retinyl linoleate, retinyl acetate) – Vitamin A derivatives such as Retin-A can help prevent and reverse sun damage.  They have exfoliating and skin strengthening properties.  They are used clinically in the treatment of severe cystic acne, psoriasis, and other disorders of keratinization.
Vitamin C (Ascorbic Acid) – Vitamin C is essential for healthy teeth, gums Bones; helps heal wounds, scar tissue, Fractures; prevents scurvy; builds resistance to infection; aids in the prevention treatment of the common cold; gives strength to blood vessels; aids in the absorption of iron.  It is required for the synthesis of collagen, the intercellular cement which holds tissues together.  It is also one of the major antioxidant nutrients.  It prevents the conversion of nitrates (from tobacco smoke, smog, bacon, lunchmeats, some vegetables) into cancer-causing substances. Moreover, Vitamin C has been shown to help slow the production of hyperpigmentation (age spots ) while providing some UV protection.
Vitamin E (Tocopherol Acetate) – The Vitamin E family is well known for its antioxidant capabilities.  Antioxidants protect vital cell structures by neutralizing molecules called "free radicals".  Free radicals are unstable molecules produced from sources like air pollution, radiation, and peroxides.
Wheat Germ Oil  (Triticum vulgare) – A natural preservative. Very high in Vitamin E and also contains Vitamin A and D. It supports the skins natural process of regeneration; aids muscle and lymph function and is particularly valuable for treating dry, aging skin.  Good for stretch marks and scar tissue, and for dry rough skin.  It leaves the skin very smooth while nourishing and helping heal the skin.  This ultra rich, unrefined Wheat Germ oil is a great ingredient high in natural source Vitamin E, A, D, proteins, Lecithin, and Squalene.  Wheat germ has been applied externally for numerous irritations including roughness of the skin, cracking, chaffing and many crafters of cosmetics use it successfully to help reverse the effects of wrinkling.
Witch Hazel (Hamamelis virginiana) – Made from the leaves and twigs a common wild scrub found in the woods. Witch hazel was used by the Native Americans.  In the 1840's, a Oneida Medicine man introduced it to a patent medicine entrepreneur.  It has a long history of traditional and alternative medicine uses.  Also used in the treatment of hemorrhoids, burns and fevers.  Known to be soothing skin freshener, used as a local anesthetic, astringent, pore tightening and anti-inflammatory.  Relieves itching, and soothes skin irritations.  Witch hazel also is good for stings. The active ingredients are tannins.  Witch Hazel is a strong anti-oxidant, great for mature skins, anti-inflammatory, anti-bacterial, anti-fungal.  Pure witch hazel reduces redness, rashes, itching, swelling, and scaling of skin.  Especially recommended for acne, mature, or damaged skin.  Heals cracked or blistered skin and is extremely good for soothing eczema and psoriasis.  An anti-inflammatory, scar preventative, and is an effective wound wash and antiseptic.  Works well on bug bits and stings.
Xanthan Gum – Thickening agent.
---
Sources:
Essential Wholesale, Cosmetic Ingredient Information.
U. S. Food and Drug Administration, Center for Food Safety and Applied Nutrition, Office of Cosmetics and Colors, July 8, 2002 – Is It a Cosmetic, a Drug, or Both? (or Is It Soap?).
U. S. Food and Drug Administration, Center for Food Safety and Applied Nutrition, Office of Cosmetics Fact Sheet
Comments and Reviews