Ethel's Guidelines For Making Herb Vinegar

Copyright 2001 by Alleta Huston – All rights reserved.
The following are the guidelines that I have perfected over the last 18 years of teaching and making herb-flavored vinegar.  The method used is for a mild delicate flavored vinegar that is pleasing to the eye, as well as delicious used in cooking.  Ethel was my gardening Grandmother's name.  She is the one that inspired me to grow plants and do crafts.  I loved her very much.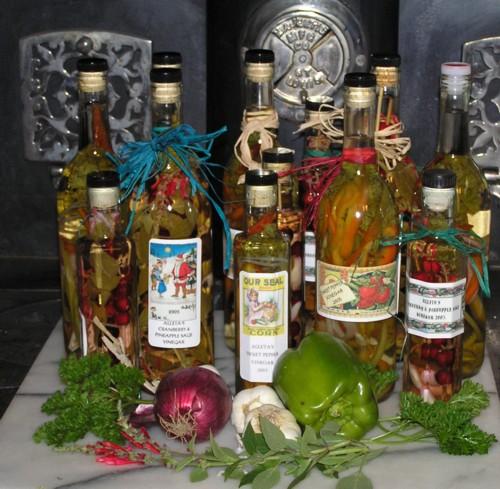 VINEGAR:
Use a good quality vinegar.  Either white wine vinegar (my favorite), red wine vinegar, rice wine vinegar, or apple cider vinegar (not apple cider flavored distilled vinegar).  Save the distilled vinegar for washing windows.  Be sure vinegar is at least 5% acidity.

TOOLS:
Bamboo skewers (long and short), plastic funnel, and plastic measuring spoons.  Never use any metal utensils or bowls for marinating or preparing any vinegar.
Important:
Never use any metal utensils of any kind to prepare or store vinegar.  This includes the stoppers as well.
Never use ground herbs or spices as this will make the vinegar cloudy.
Never store in a sunny window as this will also make the vinegar cloudy eventually.

HERBS AND SPICES:
Fresh herbs should be gently washed and patted dry with a paper towel.  Treat any fruits (blueberries, raspberries, etc.) the same.  One teaspoon of dried herbs can be substituted for one tablespoon of fresh herbs for flavor, use some fresh parsley or cilantro for artistic effects.
FAVORITE COMBINATIONS:
Rosemary in everything
Parsley, Sage, Rosemary and Thyme
Tarragon and Garlic
Dill, Garlic and dried red peppers
Basil, Garlic, and dried red peppers
Opal Basil with white wine vinegar turns it pink
Pineapple Sage blossoms with white wine vinegar turns it reddish
Pineapple Sage, ginger, cranberries, and garlic
Pineapple Sage, spearmint, and lemon thyme
Lemon thyme and sage
GARLIC –  should be peeled, rinsed and dried.  Be careful pushing the garlic on the skewers they are very sharp (I like to string the garlic cloves on bamboo skewers, lengthwise, insert into bottle gently holding and pushing the clove closest to the opening as you push the skewer down into the bottle, repeat action until the entire skewer is inside).  If using elephant garlic cut into small pieces and do as for regular garlic.
GREEN ONIONS – should be washed, patted dry and the stems cut to bottle length before inserted.  Leaving the "root" end on is optional.  I like the looks with it on and use it this way quite often. RED OR WHITE ONIONS can be peeled, sliced in rings and added in small amount to most combinations (they can be overpowering).
PEPPERS – should have the top and seeds removed, washed, patted dry and cut into strips that will fit through the bottle top.  NOTE: Be sure to wear rubber gloves when working with any hot peppers.
For a recycled 1.5 liter wine bottle, I use 3 or 4 Anaheim peppers, 2 sweet red peppers, 1 sweet green pepper, and 1 or 2 Jalapeno peppers.  Garlic is optional. Fill with white wine vinegar and use until it looks "bad," about 4 months.
DRIED PEPPERS should be cut down one side lengthwise to prevent floating.
SPICES should be used whole, never ground or powdered.  Test any mustard seed you use, some will make the vinegar cloudy.
FAVORITES: Juniper Berries, bay leaves, allspice, cloves, coriander seed, cumin seed, peppercorns (all types).

READY, SET, GO:
Take the prepared bottle, add all the spices first.
Next put in garlic skewer (garlic can be dropped in bottom without skewer).
Add fresh herbs, leaving the parsley for last (it's great for holding down any floating spices).  To arrange the fresh herbs, use a long bamboo skewer as a tool.
Finish by adding your favorite vinegar. Fill to 1/2 inch of the top and push stopper in 1/2 way.
Let set 24 hours and then refill again (the herbs and spices will soak up some of the vinegar).
It is now ready and can be used right away. The flavor will become stronger as it sits.After using, refill with vinegar right away and most will last 6 to 8 months. Plant material must remain covered with vinegar.
Now that I have made it, what can I do with it?
Herb vinegar can be used in cooking in equal amounts where wine, fruit juice, plain vinegar, lemon, or lime juice is called for.
Add it to bottled barbecue sauce.
Use it in a homemade mustard recipe.
Make a basting brush by tying 3 or 4 six-inch pieces of rosemary together at the top with cotton string. Yum!
Use it in your favorite vinaigrette dressing ( one part vinegar to two or three parts olive oil, salt and pepper to taste) or marinade.
---
Questions and Answers on Making Herb Vinegar:
Question:
I've seen some recipes for herb vinegars that suggest heating the wine vinegar first, but I noticed you did not do that.  Would you please comment as to why you don't and if heating is an acceptable way to make.
Answer:
I've seen the heat method also, but I fashioned my vinegar after an article I read in the Herb Companion several years ago.  The author addressed the heat method and felt that heating the vinegar weakened the acidity and wilted the fresh herbs, sometimes leaving it cloudy, just as it does if it's set in a sunny window. Also, it's usually a longer process. If you are planning on using the heat method, I'd suggest following the directions you have for it very carefully. If I were using this method I would use only dried herbs in the final bottle.  There are several methods for making flavored vinegar all of them seem to work.  The important thing is to be sure you use non-reactive utensils and bottle tops.  So have fun and experiment.  Thanks for checking out the website.
Question:
Can I tie my herbs together with sting before I put them in the bottle?
Answer:
I don't think it's a good idea.  The vinegar could leach something out of the string or rot it over time.  You could try tying them with a chive spike, but remember what ever you make has to slide through the bottle opening.  If you are concerned about the herbs floating to the top, push some sprigs of  parsley in last to hold everything down.

Question:
Where can I buy my vinegar wholesale?
Answer:
I buy mine at Costco or at wholesale grocery stores. Ask your local grocer to order a case of vinegar for you if you are planning on making lots of bottles.
---
Recipes Using Homemade Vinegar:
Chive Blossom Vinegar
Pick blossoms, leaving 4 or 5 inches of stem.
Rinse with water and gently pat dry.  Remove some of the blossoms from the stems and put into the bottle (add ones with stems, blossom end up).
Fill jar with white wine vinegar and cap. Add more vinegar in 24 hours. The blossoms with eventually turn the vinegar a beautiful pink, they will lose most of their color, the vinegar will have a subtle garlic flavor.
This will last about 3 months. Wonderful in salad dressings.
Spiced Prawns McKenzie

In a non-reactive pan add the following:
1/4 cup of pickling salt
4 cups water
3 cups of vinegar (2 cups white wine vinegar and 1 cup red and green pepper vinegar (it gives it a little bite)
1 garlic clove peeled and smashed
2 tablespoons of pickling spice, tied in cheese cloth
2 to 4 pounds medium prawns
Bring ingredients to a boil over high heat.  Add thawed raw prawns with shells on; bring back to a boil and cook 2 to 3 minutes or until they are pink (this is the tricky part you don't want to over cook them).  Remove from heat, transfer prawns with slotted spoon to glass bowl, and cover with some of the liquid.  Refrigerate until ready to serve.
Arrange on platter with lemon wedges and cocktail sauce.  This recipe can be cut in half for smaller batches.
Red Meat Marinade
1/4 cup herb vinegar
1/4 lemon juice
1/4 cup soy sauce
1/8 cup Worcestershire Sauce
1/ 4 cup olive oil
2 tablespoons dry mustard
1/2 teaspoon salt
1/4 tablespoon pepper
1 teaspoon dried parsley or 1 tablespoon fresh parsley
1 to 2 peeled, crushed garlic cloves
In a small non-reactive mixing bowl, combine vinegar, lemon juice, soy sauce, and Worcestershire sauce.  Whisk in olive oil, mustard, salt, pepper, and parsley; add garlic.  Pour over meat that has been placed in a glass dish or resealable plastic storage bag; marinate at least 2 hours to overnight in refrigerator.
Remove meat, discard used marinade, and use and cook as desired.  NOTE: Any unused marinade can be stored in an airtight container up to 7 days in the refrigerator.

Lemon Thyme Vinegar Pie
1/2 cup butter, softened (do not use margarine)
1 1/4 cups granulated sugar
2 tablespoons lemon thyme rice vinegar
3 eggs, beaten
1 teaspoon vanilla extract
1/2 cup raisins
1/2 cup pecan pieces
1 (8-inch) unbaked pie shell
Preheat oven to 350 degrees F.  In a medium bowl, cream sugar and butter until fluffy.  Add vinegar, eggs and vanilla extract; beat until well blended.  Sprinkle pecans and raisins in bottom of pie shell (spread evenly).  Carefully pour cream mixture over the pecans and raisins.
Bake 30 to 45 minutes or until knife blade inserted in the center comes out clean.  Remove from oven and cool slightly on rack.  This is best served warm.  Can be heated 15 seconds on the microwave before serving.
Makes 8 servings.
Everybody's Salad Dressing
1/2 cup herb vinegar (your favorite)
1/2 cup granulated sugar
1 teaspoon salt
1 teaspoon celery seed (optional)
1 teaspoon dry mustard
1 teaspoon paprika
1 teaspoon grated lemon zest (peel)
1 cup olive oil or canola oil
In a medium bowl or food processor, whisk together herb vinegar, sugar, honey, salt, celery seed, dry mustard, and lemon zest.  Add oil in a thin stream, whisking until emulsified.  Note: By gradually whisking or blending the oil into the vinegar, you create an emulsion (a mixture of two liquids that usually don't combine smoothly).
Store, covered, in the refrigerator. Serve at room temperature.
Comments and Reviews