This Huguenot Torte or Ozark Pudding is Charleston, South Carolina's most famous dessert.  Almost all restaurants in the area serve this wonderfully delicious apple and nut torte.  The recipe is neither Huguenot or a torte – it is kind of like a pecan pie without a crust and resembling a apple crisp.  A southern confection that you can easily master at home with a few apples, pecans, flour and sugar.
Ozark Pudding was a favorite dessert of President Harry Truman, a recipe by his wife, Bess Truman, having been widely published in the 1950s, including it being her contribution to the Congressional Club Cookbook.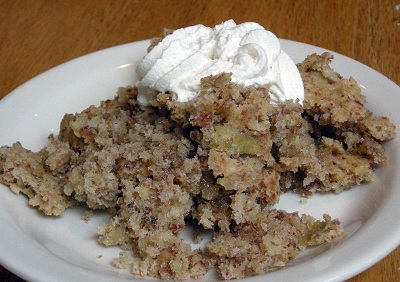 Huguenot Torte History:
It is generally thought that this modern dessert was adapted from the classic Ozark Pudding (which is more of a cake than a pudding) that originated in northwest Arkansas and southwest Missouri.  The Ozark Pudding was a favorite of the Huguenot community of Charleston and was made in homes and taverns. According to culinary historian John Martin Taylor in an article in the Rock Hill Herald newspaper, by John Egerton (author of Southern Foods), published on August 30, 1988:
The torte descends from a more recent Midwestern dessert called Ozark pudding.  Huguenot torte first showed up in print in 1950 in Charleston Receipts, a successful community cookbook in which the torte recipe was attributed to Evelyn Anderson Florance (then Mrs. Cornelius Huguenin).
In the 1980s, Taylor tracked her down in a nursing home and discovered that she had eaten Ozark pudding at a church dinner in Galveston, Texas, in the 1930s.  Around 1942, after working with the recipe to get it the way she liked, she renamed it Huguenot torte after Huguenot Tavern, a Charleston restaurant where she made desserts.  The tavern became known for this torte.
This pudding was given the name HuguenotTorte to reflect the Huguenot's love of this dessert and their heritage.  The name stuck in Charleston, and it continues to be called that to this day, even though the dessert is neither a torte nor is it of Huguenot origin.
History of Huguenots:  Forty-five Huguenots, Protestant French immigrants, arrived in the new province of Carolina on April 30, 1680, from London.  King Charles II had subsidized the voyage so that the Huguenot people might establish an British territory with the crops and industries that had long been French monopolies.  The group included grape growers, wine makers, brick makers, weaver, businessmen, and at least one goldsmith.  They also arrived with orders that the settlement be renamed "Charles Town."
Huguenot Torte Recipe - Ozark Pudding Recipe:
Keyword:
Huguenot Torte History, Huguenot Torte Recipe, Ozark Pudding Recipe
Ingredients
2

 eggs

1/4

cup

sugar,

granulated

2

teaspoons

pure vanilla extract

1

teaspoon

lemon juice

(freshly-squeezed)

1/4

cup

flour,

all-purpose

1/2

teaspoon

nutmeg

(freshly-grated)

2

teaspoons

baking powder

1/4

teaspoon

salt

1 1/2

cups

pecans,

chopped and toasted (divided)*

1

cup

apples

(tart, such as Granny Smith apples) peeled and chopped

Whipped cream,

prepared
Instructions
Preheat oven to 325 degrees F. Butter a 9 x 9-inch baking dish.

In a large bowl, beat eggs until very frothy and lemon colored. Add sugar, vanilla extract, lemon juice, flour, nutmeg, baking powder, and salt; stir until well combined. Fold in 1 cup toasted pecans and the apples.

Pour batter into the prepared baking dish. Bake 30 to 35 minutes or until the top is brown and crusty; remove from oven.

Serve warm or at room temperature.

To serve, scoop up into serving bowls (keeping crusty part on top) and garnish with whipped cream and chopped pecans.
Recipe Notes
* To toast pecans, spread shelled, whole pecans in a shallow pan and toast in a 275 degree F. oven for approximately 20 to 30 minutes.
Source:  Photo from the Road Food web site.
Comments and Reviews