Lamington Cake is an Australian dessert of little cubes or squares of sponge cake, dipped in chocolate, then rolled in coconut.  The word lamington means layers of beaten gold.
In Victoria (State of Australia) they often add a layer of raspberry or plum jam.  They are served with tea in the afternoon.  Lamingtons are so popular in Australia that the cakes are a favorite means of raising money for school groups, churches, and scouts and girl guides.  These money making adventure are called Lamington Drives.  Lamingtons can be made with homemade cake, leftover cake, or store bought cake.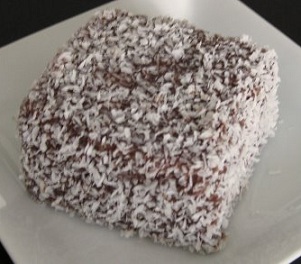 Lamington History:
The cake is named after Charles Wallace Baillie, Lord Lamington, the governor of Queensland from 1895 to 1901.  Lord Lamington was known for wearing a homburg hat that looked like the cakes.  For many years lamingtons were served on state ceremonial occasions in Queensland.  But Baron Lamington himself could by no means abide them.  He invariably referred to them as those bloody poofy woolly biscuits.  Another source recounts the slightly less dramatic circumstance of the baron's cook concocting the dessert as a way to use up stale or slightly burnt sponge cake.
Before 1910, Australian cookbooks describe the Lamington as a whole cake iced in chocolate and coconut.  Bite-sized lamingtons did not appear in cookbooks until a few years later, giving more impetus to the Lady Lamington story over the Lord Lamington one.

According to Janet Clarkson and her blog The Old Foodie:
One possibility is that the lamington is named after a locality, and there are three contenders:  Lamington village (in Scotland), Leamington Spa (Warwickshire), and Lemmington (Northumberland).  There are recipes for Leamington cake and puddings in some late Victorian cookbooks which are layered jam sponge-cake type mixtures, so the lamington could have developed from these.  I hope this does not turn out to be the case, as it would be a very boring explanation.
According to Jackie French in her article titled Another History of Lamington, February 21, 2008:
It appeared that lamingtons were invented in Brisbane around the early 1900s, probably by Amy Shauer who taught cooking at Brisbane central Technical College from 1895 to 1937.  She also wrote three very popular cook books, and developed cookery courses for schools and colleges across Queensland, and was a famous cake maker and cake judge at Shows.
It is likely the first lamingtons were invented in Amy Shauer's cooking class and named after Lady Lamington, who was the school's patroness and extremely interested in education for girls. (One elderly correspondent, who remembered those days well, informed me that Lord Lamington was a pompous ass, and that no one would ever have named a cake after him. But Lady Lamington was much loved.)
In Australian, July 21st was designated as National Lamington Day, and now it is celebrated mainly by charity groups to sell Lamingtons to raise money.
The Scots and the New Zealanders also claim credit.  The Scots say it was a sheep shearer's wife in the village of Lamington who made the cake for a group of traveling sheep shearers.
New Zealanders enjoy Lamingtons just as much as the Australians.  They refer to the cake as leamington or lemmington, which are names of towns.
Lamington Cake Recipe:
Keyword:
Chocolate Frosting Recipe, Lamington Cake History and Recipe
Ingredients
Lamington Cake:
2

cups

flour

(all-purpose)

2

teaspoons

baking powder

1/4

teaspoons

salt

1/2

cup

butter,

room temperature

3/4

cup

sugar

(granulated)

2

large

eggs

1

teaspoon

pure vanilla extract

1/2

cup

milk
Chocolate Frosting:
4

cups

powdered sugar

(confectioners' sugar)

1/3

cup

unsweetened cocoa powder

3

tablespoons

butter

1/2

cup

milk

2

cups

unsweetened decimated coconut*
Instructions
Lamington Cake Instructions:
Preheat the oven to 350 Degrees F. Place oven rack to middle position. Either butter or spray the bottom and sides with non-stick cooking spray of an 8-inch square baking dish; set aside.

In a large bowl, sift together the flour, baking powder, and salt; set aside.

In another bowl using your electric mixer, beat the butter until soft. Add the sugar and beat until light and fluffy. Add the eggs, one at a time, beating well after adding each egg addition. Add the vanilla extract to the mixture and mix well. Use a spatula to alternately mix in the sifted flour mixture and the milk, in three additions, beginning and ending with flour.

Spread the batter into the prepared cake dish and smooth the top with a spatula.

Bake approximately 25 to 30 minutes or until a toothpick inserted in the center of the cake comes out clean. Remove from oven. Let the cake cool in the baking dish for approximately 7 minutes and then invert it onto a wire rack to let cool.

Once the cake has cooled, cut it into 16 (2-inch squares) and wrap each square of cake in plastic wrap. Place the cake squares in the refrigerator for at least 2 hours (more is better). Hint: You can also freeze the cake squares. Frozen cake squares are much less crumbly when rolling in the runny icing. You have to work quickly though because they thaws fast.



To assemble the Lamingtons: Place some paper or plastic wrap under the wire racks to catch any dripping frosting. Place the cake squares on the racks and have your warm Chocolate Frosting and coconut ready. If the frosting starts to set while using, stand bowl in hot water until frosting thins down.

Quickly spoon or ladle the warm Chocolate Frosting over the chocolate squares, and then let the cake drain. Coat each cake square on all sides in the Chocolate Frosting. It is best to just do a few cake squares as a time.

Using a small knife or spatula, gently roll each coated cake square in the coconut. Repeat with remaining cake squares. Set the cakes aside to dry before serving.

Once the Lamingtons have set, store in an airtight container for several days.

Makes 16 (2-inch) Lamington squares.
Chocolate Frosting Instructions:
Place the powdered sugar, cocoa powder, butter, and milk in a heat-proof bowl over a saucepan of simmering water. Stir the mixture until it is smooth and of pouring consistency. Remove from heat. You do not want the liquid to get too thin as the cake will not absorb the frosting properly.
Recipe Notes
* It is the white fleshy part of the coconut, which is processed into smaller shreds or flakes.  After being cut or grounded into granules and/or slices, the coconut pieces are dried to remove maximum moisture from them.  Available at most supermarkets.
Comments and Reviews