Sally Lunn Cake History – A large sponge cake-like bread, more like a bread than a cake that is either yeast or baking powder based that can be made either into a cake, buns, rolls, or even a loaf of bread.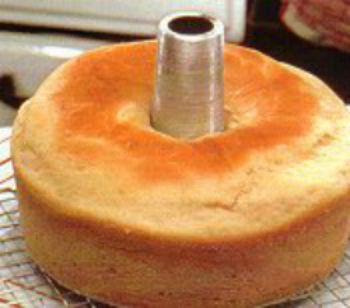 Photo from Levure Fleischmann's & ACH Food Companies, Inc.
1680s – Some historians maintain that Sally Lunn cakes were originally made by Protestant refugees from France, who called them "soleil et lune."  Translated into English this means sun and moon, with sun" referring to the warmly colored top, and "moon" to the white and airy interior. In the mouths of English vendors crying their wares on the streets of Bath, "soleil et lune" could become Sally Lunn.  In 1685, Louis XIV (1636-1715) revoked the Edict of Nantes (slaughter of Huguenots), which gave little protection to French Protestants.  He banned practice of any religion except Roman Catholicism in France.  More than half a million Protestants fled the country to England, Germany, and the Netherlands.
1700s – The most popular version says that Sally Lunn, real name of Solange Luyon, was a pastry cook in Bath, England where she made and sold these buns in the streets for over thirty years.  Following is from the Sally Lund's Museum in Bath, England:
"Legend has it that from her home in France, where the Protestant Huguenots were being cruelly persecuted, came young Sally Lunn to find employment with a baker who rented premises in Lilliput Alley.  She sold his wares in the street, but when her skill at baking Brioche was discovered she no doubt spent for more time in the bakery itself.  Sally Lunn's Buns were a tremendous success; others tried hard to copy them, but her skill with the rich, soft and delicate dough inspired customers specifically to request the Sally Lunn.
In the latter half of the 1700s, the famous Spring Gardens drew the fashionable throng across the river to the public and private breakfasts that were one of the delights of Bath.  A particular attraction were the hot, buttered Sally Lunn's, as advertised in the Bath Chronicle.  Clearly mere prose could not do justice to such a gastronomic pleasure.  When Spring Gardens closed down in August 1798, it would appear that exclusive rights to Sally Lunns recipe were bought by the baker William Dalmer, who began advertising Sally Lunn's the following year.  Dalmer combined baking with song writing and went one better than a verse:  A Much Admired Duett' to extol his prize product:
Buy my nice Sally Lunn,
The very best of Bunn,
I think her the sweetest of any.
Another story that French chef, Marie Antoin(e) Careme (1784-1833), famous chef and author, while visiting there with the royal entourage, discovered the delicate cake and presented it to his own country "rigged out in the height of French fashion."  It was called a French Solilemme.  In northern France, solilemme is the name of a rich brioche-like bread.  Right after baking, solimemes are split horizontally; the surface is spread with melted butter, then the top is replaced and they are served warm.
1844 – Charles Dickens (1812-1879) described in his book, The Chimes, about a drear evening as "the sort of night that's meant for muffins. . . Likewise crumpets. Also Sally Lunns."
Comments and Reviews