The Club Sandwich is a sandwich with cooked chicken breast and bacon, along with juicy ripe tomatoes and crisp lettuce layered between two or three slices of toasted bread with mayonnaise.
The origin of this sandwich, which is most often associated with hotels around the world, is all a matter of speculation and guesswork.  The name probably comes because of its popularity at resorts and country clubs.  It definitely existed in the United States by the late 19th century.  The Club Sandwich was the favorite of former King Edward VIII of England and his wife, Wallis Simpson.  In fact, she took great pride in preparing this sandwich.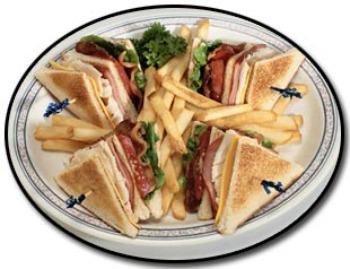 1894 – The most popular theory is that the sandwich first appeared in 1894 at the famous Saratoga Club-House (an exclusive gentlemen only gambling house in upstate Saratoga Springs, New York) where the potato chips was born.  Originally called Morrissey's Club House, were neither women nor locals were permitted in the gambling rooms. In 1894, Richard Canfield purchased the club:
1903 – The oldest recipe for the club sandwich was published in the Good Housekeeping Everyday Cook Book, by Isabel Gordon Curtis in 1903.  The recipe states:
Club Sandwich – Toast a slice of bread evenly and lightly butter it.  On one half put, first, a thin slice of bacon which has been broiled till dry and tender, next a slice of the white meat of either turkey or chicken.  Over one half of this place a circle cut from a ripe tomato and over the other half a tender leaf of lettuce.  Cover these with a generous layer of mayonnaise, and complete this delicious "whole meal" sandwich with the remaining piece of toast.
1904 – The 1904 Worlds Fair in St. Louis helped help popularized the club sandwich with four of the restaurants including their version on the menus.  According to the book Beyond The Ice Cream Cone – The Whole Scoop on Food at the 1904 World's Fair by Pamela J. Vaccaro:
Mrs. McCready's Model Restaurant, the American Inn, included in its sandwich fare "The American Inn Club."  The Old Parliament House had a "special Club Sandwich," and even Fair Japan had "The Club Sandwich."  So the Fair may have done its part in popularizing this sandwich not through one specific concessionaire, but through many.
1916 – From the 1916 book Salads, Sandwiches, and Chafing Dish Recipes, by Marion H. Neil:
Origin of the Club Sandwich – It will not surprise any who know how frequently most excellent things are born of necessity to know that the club sandwich originated through accident. A man, we are told, arrived at his home one night after the family and servants had retired, and being hungry, sought the pantry and the ice chest in search of something to eat.  There were remnants of many things in the source of supplies, but no one thing that seemed to be present in sufficient abundance to satisfy his appetite.  The man wanted, anyway, some toast.  So he toasted a couple of slices of bread.  Then he looked for butter, and incidentally something to accompany the toast as a relish.  Besides the butter he found mayonnaise, two or three slices of cold broiled bacon, and some pieces of cold chicken.  These he put together on a slice of toast, and found, in a tomato, a complement for all the ingredients at hand.  Then he capped his composition with a second slice of toast, ate, and was happy.  The name club was given to it through its adoption by a club of which the originator was a member.  To his friends, also members of the club, he spoke of the sandwich, and they had one made, then and there, at the club, as an experiment, and referred to it afterward as the " club sandwich."  As such, its name went out to other clubs, restaurants, and individuals, and as such it has remained.  At least, this is the story as it is generally told.
1929 – Florenece A. Cowles wrote about the history of the club sandwich in her cookbook Seven Hundred Sandwiches, published in 1929:
Who invented and christened the club sandwich?  And how, why, when and where?  No authoritative answers to these questions are available.  One legend has it that a man came home late and hungry from his club one night, raided the ice box and made himself a super-sandwich which he dubbed "club."  Another says that the chef of some club made himself a reputation by devising this special type of comestible.  Anyway, who cares, and what difference does it make?  The club sandwich is here to stay.  It is a meal in itself, and a meal which may have highly diversified component parts, as long as the principal specifications of toast, meat and salad ingredients are adhered to.  Originally it was constructed on the toppling tower plan, but in any other shape it tastes as good and convenience now dictates a more open formation which may be readily attacked.  The club sandwich may consist of anywhere from one to five stories.  The foundation is always toast, but the superstructure depends on the maker's fancy–and the materials at hand.  The sandwich should be eaten with knife and fork.
1930's – Some historians think that the sandwich was originally only a two-decker and that it originated aboard the double-decker club cars of our early trains in America that traveled from New York to Chicago in the 1930's and 1940's.
1940 – According the 1940 New York Writer's Project book called New York: A Guide to the Empire State:
In 1894 Richard Canfield (1865-1914), debonair patron of art, purchased the Saratoga Club to make it a casino.  Canfield Solitaire was originated in the casino's gambling rooms and the club sandwich in its kitchens.
1972 – James Beard (1903-1985), American chef and food writer wrote the following about the Club Sandwich in his book, James Beard's American Cookery:
. . . it is one of the great sandwiches of all time and has swept its way around the world after an American beginning.  Nowdays the sandwich is bastardized because it is usually made as a three-decker, which is not authentic (whoever started that horror should be forced to eat three-deckers three times a day the rest of   his life), and nowadays practically everyone uses turkey and there's a vast difference between turkey and chicken where sandwiches are concerned.
Sources:
A Brief History of the Canfield Casino, the Saratoga Springs History Museum, The Canfield Casino, Congress Park.
Craig Claiborne's The New York Times Food Encyclopedia, compiled by Joan Whitman, Times Books, The New York Times Company, 1985.
James Beard's American Cookery, by James A. Beard, Little, Brown and Company, Boston, New York, Toronto, London, 1972.
New York: A Guide to the Empire State, produced by the New York Writers' Project (New York: Oxford University Press, 1940)
Salads, Sandwiches, and Chafing Dish Recipes, by Marion H. Neil, David McKay, Philadelphia (1916).
Seven Hundred Sandwiches, Florenece A. Cowles [1929]
Comments and Reviews