Eating a Slugburgers is a matter of preference, not of practicality.  You either love them or hate them!  In fact, some people actually crave them.  Do not worry, slugburgers are not made from slimy terrestrial gastropods, commonly called slugs.
During the Depression years, diner cooks sought to stretch ground beef to get more burgers per pound.  Originally these hamburgers were made using potato flour as an extender.  Today, the beef mixture contains soybean grits.  The slugburger is made into small patties, which are fried in canola oil.  They are traditionally served topped with mustard, dill pickles, and onions on a small 5-inch hamburger bun.
These hamburgers that once cost only 5 cents per hamburger are now selling for $1.20 today.  In the past, nickels were given the nickname of slugs.
The only time you will be asked to specify between "slug" and "beef" is if you just order a "burger."   To actually get a traditional hamburger, you must specify a "beef burger."
In Corinth and the surrounding small towns in Mississippi, slugburgers are still very popular, with an annual Slugburger Festival being held in Corinth, which began in 1988.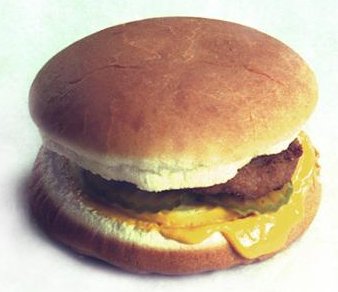 Photo by Willie Weeks.
History of Slugburgers:
John Weeks started selling hamburgers around 1917 in Corinth, Mississipi from a moveable building (6 feet wide and 12 feet long that was constructed using two bicycle wheels) that had enough room for one man to stand in it, with space for a small pan heated with an oil burner, a shelf long enough for the meat and buns, and hog lard for cooking, and a pass through window.  John had his hamburger meat ground by the McEwen brothers, local butchers, according to his specification which included potato flakes and flour. He sold these hamburger for 5 cents each.
A one time, five of the Weeks' brothers were selling Weeksburgers in the south end of Corinth.  They Were John, Dave, Cord, Bill, and Fate Weeks.  Fate, the youngest brother, also had a dozen different hamburger stands that he ran.  He started working for his brother in 1919.  In 1947, he purchased an old trolley car for $100 and converted into a cafe.  During his career, Fate Weeks converted four trolley cars into hamburger joints.
These tiny hamburgers were originally called Weeksburgers.  They did o't get their name "slugburger" until much later.  According the the town legend, but not fact, the term "slugburger", comes from the slang term for a nickel.
Today, the slugburger tradition is carried on by Dianne and Willie Weeks at the Weeks' Diner in Booneville, Ms. Willie Weeks sent me the following information:
"Fate and Lois Weeks were my parents.  I grew up in a hamburger joint.  . . I cut my teeth on Weeksburgers (slug burgers).  My wife and I have sold Weeksburgers in Booneville, MS. for 27 years.
John Weeks brought the old fashioned hamburger recipe to Corinth, MS. in 1917 from Chicago.  John was my daddy's oldest brother.  The elders in our family said John got the recipe from German immigrants.  I don't know if John worked for them or not.  White Castle started there and so did McDonalds.  Chicago was a beef processing center in the late 1800s and early 1900s.
Uncle John gave the recipe to the McEwen brothers and they provided everyone with old fashioned hamburger mix for about 40 years.  Then C. F. Gray who worked for the McEwens for 20 years or so, went into business for himself in 1957, along with is wife,  Wanza, and became the main suppliers of what became known as slugburger mix.  They retired in 2004 and gave the recipe to Dianne and me.
The original recipe called for potato flakes as the extender.  Sometime later, before 1950, soy grits replaced that and has remained the essential ingredient of Weeksburgers.
My family has received little credit for this. Corinth has claimed it as their own creation! I first heard the term "slug" after McDonald's came to town in 1975."
Sources:
The Gourmand's Guide To Dining In And Around Cornith, Milton Sandy, Jr., The Yarns and the Cloth – An Unorthodox History of A Place and It's People, by E. D. Richard, Corinth Information Database, Version 1.3, copyrighted by Milton Sandy, Jr., http://mlsandy.home.tsixroads.com/Corinth_MLSANDY/lh003.html
Fate Relishes Trolley Ride To Lifetime, by william Thomas, Commercial Appeal newspaper, Memphis, TN, December 25, 1975.
Willie Weeks, son of Fate and Lois Weeks, owner of Weeks' Diner.
Comments and Reviews