Lamb Osso Buco Recipe
Braised Lamb Shanks with Anchovy Butter is flavored with lemon, anchovies, and peppers.  In the Fall, when I have an abundant of sweet chile peppers, I like to add anchovies to braised dishes for an unexpected kick of flavor.  The addition of anchovies was awesome in the Lamb Shanks, plus they also help thicken the sauce.  I like to serve these lamb shanks with Butternut Squash Puree with Fresh Lemon or Butternut Squash Risotto with Chives.
Anchovies are good for you and they are delicious!  Learn how just a little bit of anchovies can perk up a dish.  People who claim to dislike these fish, just have not tasted them prepared and served right.  Give them a try and learn to love cooking with them!
This wonderful recipe, comments, and photos were shared with my by Karen Calanchini, Food Stylist and Photographer, of Redding, CA.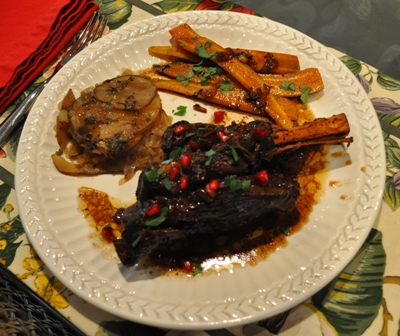 Braised Lamb Shanks with Anchovy Butter Recipe:
Keyword:
Braised Lamb Shanks with Anchovy Butter Recipe, Lamb Osso Buco Recipe
Ingredients
4

meaty

lamb shanks

(about 4 1/2 to 5 pounds total)

3

tablespoons

chile peppers

(such as Jimmy Nardello or Anaheim chile peppers)

Coarse salt

or sea salt and freshly-ground pepper

2

tablespoons

butter

4

anchovy

fillets (with a little oil from jar)

1

cup

red wine

1/2

cup

beef stock

or broth*

Lemon

peel strip from 2 lemons

4 to 5

rosemary

sprigs
Instructions
Preheat oven to 325 degree F.

The lamb shanks have a bit of papery white covering called fell. Remove the fell. Leave the silver skin which is the shiny covering attached to the meat as this will cook away. Salt and pepper both sides of the lamb shanks; set aside.

In a large shallow oven-proof baking or roasting pan large enough to hold the lamb shanks in a single layer, heat the olive oil over medium-high heat. Sear the lamb shanks, two at a time along with some of the chile peppers, until the shanks are deeply browned and the chile peppers are lightly browned; remove from heat to a plate. Repeat with the remaining two lamb shanks and chile peppers.

Add the butter and anchovies to the drippings in the pot. Using a wooded spoon, smash the anchovies and mix in with the drippings.

Return the seared lamb shanks and chile peppers to the pot, turning several times to coat well. Add the wine, beef stock/broth, lemon strips, and rosemary. Cook until the mixture becomes fragrant and you can smell the lemon. Remove from heat and place the lid on the pot.

Cover the pot tightly with a lid or aluminum foil and transfer to the bottom rack of the oven. Cook the lamb for 2 1/2 to 3 hours or until meat is tender. To test, insert a knife or skewer into a thick section (there should be no resistance, juices should run clear, and the meat almost falling off the bones). The internal temperature of your meat thermometer should register 180 degrees F.

Remove from oven and serve.

I get many readers asking what cooking/meat thermometer that I prefer and use in my cooking and baking. I, personally, use the Thermapen Thermometer. Originally designed for professional use, the Super-Fast Thermapen Thermometer is used by chefs all over the world.  I only endorse a few products, on my web site, that I like and use regularly.
You can learn more or buy yours at: Super-Fast Thermapen Thermometer.
Sponsored Content
Comments and Reviews