Mediterranean Stuffed Shells can be on the table in less than an hour. The shells are stuffed with ground turkey, artichokes and ricotta cheese.  Topped off with marinara sauce and more cheese!  You will love the flavor of these stuffed shells.  Enjoy this hearty meal that is sure to fill your belly and stick to your ribs.
This outstanding recipe for Mediterranean Stuffed Shells and photos were shared with me by Karen Calanchini, Food Stylist and Photographer, of Redding, CA.  This is dish is also excellent served with Karen's Round Zucchini Squash with Banana Peppers.
More delicious Pasta Recipes and Poultry Recipes for more great cooking ideas.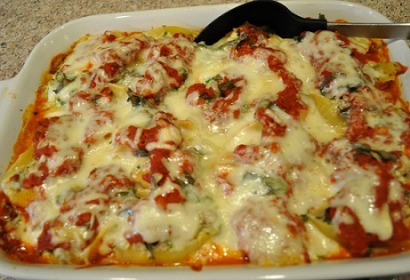 Mediterranean Stuffed Shells Recipe:
Keyword:
Mediterranean Stuffed Shells Recipe
Ingredients
Arrabbiata Sauce

or Marinara Sauce (see links to recipes in instructions below)*

1

(12-ounce) box jumbo

pasta shells

(also known as seashell pasta)

2

tablespoons

olive oil,

extra-virgin, divided

1

cup

yellow onion,

chopped

4

cloves

garlic,

diced

1/2

teaspoon

thyme,

dried

1

pound

turkey thighs,

boneless, skinless, and ground**

Salt

and freshly-ground pepper to taste

1

(8-ounce) package frozen

artichokes,

thawed and chopped***

1

(15-ounce) container

ricotta cheese

3/4

cup

Parmesan Cheese,

freshly-grated

2

eggs,

lightly beaten

2

tablespoons

parsley,

fresh, chopped

1/4

cup

basil

leaves, fresh (use small leaves whole and large leaves sliced)

1 1/2

cup

mozzarella cheese,

grated
Instructions
Over high heat, bring a large pot of salted water to a boil. Add the jumbo pasta shells, give them a gentle stir, and partially cook, stirring once or twice, until tender but still very firm to the bite, approximately 3 to 4 minutes. Remove from heat, gently drain, rinse with cold water and drain again; set aside to cool.

Meanwhile, in a large skillet or frying pan over medium-high heat, saute the onion, garlic, and thyme until the onion is soft and just starting to brown. Add the ground turkey, 1/2 teaspoon salt, and 1/4 teaspoon pepper; continue to cook, stirring occasionally, until the meat is cooked through. Add the artichoke hearts, stirring to combine, and then remove from heat; set aside and let cool.

Preheat oven to 350 degrees F. Cover the bottom of a 9x13x2-inch baking dish with 1 cup of the prepared Marinara Sauce or Arrabbiata Sauce; set aside.

In a large bowl, combine the cooled turkey mixture, ricotta cheese, parmesan cheese, eggs, parsley, and basil. Add salt, and pepper to taste and stir to combine.

Stuffed Jumbo Pasta Shells: Hold a cooked jumbo pasta shell in the palm of your hand. Using a spoon, carefully stuff the shell with about 2 tablespoons of the prepared turkey mixture. Nestle the stuffed shell, upright, into the sauce in the baking dish. Continue filling the shells until the baking dish is full. Your should have about 24 stuffed shells. Drizzle the remaining 4 cups of Arrabbiata or Marinara Sauce over the stuffed shells and sprinkle the mozzarella cheese over the top.

Bake until the stuffed shells are heated through and the cheese is just beginning to brown, approximately 25 to 30 minutes.


Remove from oven and serve. Makes approximately 6 servings.
Recipe Notes
* 5 cups of good-quality store bought Marinara Sauce may be substituted.
** Purchased lean ground turkey may be substituted.
*** Marinated artichokes my be substituted, if you prefer.
Comments and Reviews