Roasted Lemons – My latest love is roasting lemon slices in a little olive oil until the juices caramelize and the edges brown.  While cooking, the lemons release their juices.  What you are left with, is what you see in the picture, caramelized yummyness!  Even used as a garnish, these lemons are so pretty.  Check out my recipe for Jambalaya with Roasted Lemon.
This recipe, comments, and photo were shared with my by Karen Calanchini, Food Stylist and Photographer, of Redding, CA.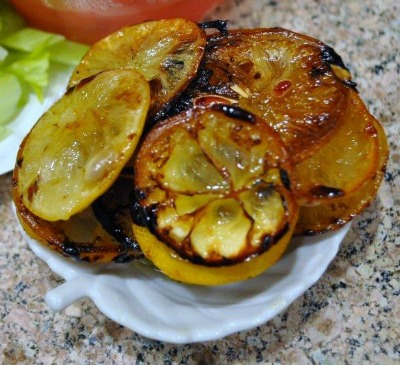 More delicious recipes using Lemons and lots of Butters, Condiments, Sauces, Relish and Jelly Recipes for more great cooking ideas.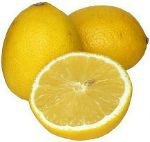 Roasted Lemons Recipe:
Keyword:
Roasted Lemons Recipe
Servings
:
6
lemon slices per lemon
Instructions
Preheat oven to 375 degrees F. Spray a heavy pan (large enough to hold the lemon slices) with olive oil.


Scrub lemons with a vegetable brush under warm water; rinse well and dry with a clean cloth.

Thinly slice the lemons and remove seeds. Place the sliced lemons into the prepared pan in a single layer.

Roast lemon slices for about 25 to 30 minutes or until they turn gold brown on the edges and on the bottom side, turn and roast for a few more minutes. Watch closely at this point and remove lemons when they have begun to caramelize. As the lemons start to cook they release all the juices, that cooks away as the lemons brown and caramelize.
Comments and Reviews