Smoked Turkey Bean soup with Kale is a great use for all that leftover smoked turkey form Thanksgiving.  It has a rich and flavorful smell and taste.  Smoked Turkey Bean soup is a hearty and rustic meal that is great for warming your bones on a cool winter evening.  Side dishes that go well include flaky biscuits or a soft sweet cornbread.  Soup is so good, plus it is healthy!
This delicious Smoked Turkey, Bean and Kale Soup recipe, comments, and photos were shared with my by Karen Calanchini, Food Stylist and Photographer, of Redding, CA
Smoked Turkey Bean Soup with Kale Recipe:
Keyword:
Smoked Turkey Bean Soup with Kale Recipe
Servings
:
6
to 8 servings
Ingredients
1 1/2

pounds

smoked turkey meat*

1/2

pound

Poquito Beans,

dried**

Water

(to cook beans in)

2

bay leaves,

dried

1

large

onion,

large dice

Olive oil,

extra-virgin

6 to 8

cloves of

garlic,

diced

Red Pepper flakes

Thyme

leaves

2

bunches Lacinato

Kale

(large stem removed), cut leaves into bite size pieces***

1

(14.5-ounce) can

Fire-Roasted Diced Tomatoes with juice

26

ounces

chicken stock

or turkey stock (homemade or a good-quality store bought)****

3 to 4

Hatch Chile Peppers,

grilled, seeded, and skin pulled off

1/2

head small green

cabbage,

sliced

3/4

cup

barley

Small

carrots

cut into angled slices, about 3 to 4 (as many as you want)

Salt

and freshly-ground black pepper to taste

Parsley,

fresh

Parmesan cheese,

freshly-gated
Instructions
Cut the smoked turkey into chunks, removing all visible fat; set aside.

In a large pot over medium-low heat, add the dried beans, water (to cover the beans), and bay leaves. Bring the dried beans and water to a boil, and then lower the heat and simmer for 60 to 90 minutes, or until the beans are almost tender. Remove from heat, drain off the water and discard, place the lid back on the pot, and set aside.

Check your package of beans, as cooking times vary for different varieties. But also check the beans occasionally, because sometimes the beans will cook more quickly than the package says.

NOTE: When cooking beans, always simmer. Boiling can cause the cooking liquid to overflow, as well as the beans to break apart and the skins to separate. When dried beans boil, a foam forms on the top of the cooking liquid. This foam is water-soluble protein released from the beans and it will be absorbed back into the bean cooking liquid. It is not necessary to remove the foam.

In a large frying pan over medium-high heat, sautonion, in olive oil for a few minutes, add garlic, red pepper flakes, and thyme; sautuntil fragrant. Add the turkey chunks, cooked beans, kale, tomatoes, chicken/turkey stock, and chile peppers; bring to a simmer and cook until beans are a little tender, approximately 60 minutes.

Add cabbage and barley; simmer until barley and beans are tender. Note: Add more liquid as needed (the barley may require the addition of more chicken broth or even a little white wine). Add carrots, salt and pepper to taste and cook until carrots are al dente.

Note from Karen: I like to make my soups in the morning, and then let the flavors meld until serving time. When ready to serve, heat the soup gently, taste, and adjust seasonings if needed. Just before serving, I add fresh parsley and some freshly-grated parmesan cheese.
Recipe Notes
* Karen used leftover smoked turkey from a whole smoked turkey, but you can also use purchased smoked turkey meat.
** Poquitos beans are small, pinkish-brown beans indigenous to the Santa Ynez region.  Dried pink beans, kidney beans, or white beans may be substituted.
Karen purchases her heirloom and other dried beans from Purcell Mountain Farm which is a family-operated farm located above the Kootenai River Valley at the foothills of the Purcell Mountain Range.  It is nestled in the Northeastern-most part of Idaho.  Karen says, I love their dried beans because they come from the farm directly to you.  Their service is excellent and fast.  Because their dried beans are so fresh, I have never had to soak any of the varieties I have tried.  They usually cook within an hour and are ready to add to your recipe.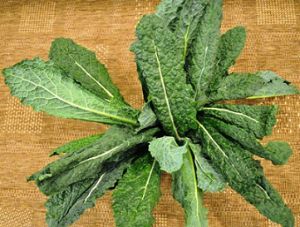 *** Lacinato kale is also called black kale, cavolo nero, dinosaur kale, and Tuscan kale.  It is a dark green, bumpy, very flavorful cousin of ordinary kale.  Regular kale may be substituted.  Also Swiss Chard may be substituted.
**** Check out Chicken Stock - Basic Chicken Stock to learn how easy it is to make your own homemade chicken stock.
Comments and Reviews