Spicy Pulled Beef with Peppers Recipe is absolutely phenomenal and so easy-to-make.  The recipe goes together fast with very little fuss.  There are lots of flavors going on and it makes a nice comforting meal.  It is sure to become a family favorite.
This very tender and delicious Spicy Pulled Beef with Peppers recipe, comments, and photos were shared with my by Karen Calanchini, Food Stylist and Photographer, of Redding, CA.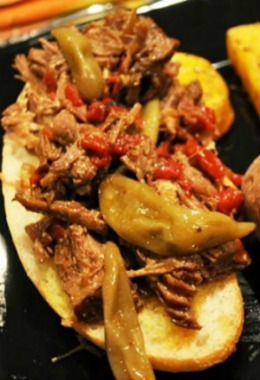 Spicy Pulled Beef with Peppers Recipe:
Keyword:
Spicy Pulled Beef with Peppers Recipe
Servings
:
4
to 5 servings
Ingredients
1

(about 2 1/2 to 3 pounds)

boneless beef chuck roast

Coarse salt

or sea salt

Black pepper

and half-sharp paprika, freshly-ground*

4 to 5

garlic

cloves, diced

1

(10.5 ounce) can

French Onion Soup

or Beef Consomme

1

(12 ounce) jar

wax peppers,

mild, with liquid from jar, left whole

1

(13 ounce) jar

roasted sweet red peppers

(drain off liquid and discard), and rough chop

1/4

cup

Beef Stock

Rolls,

toasted and buttered**
Instructions
When ready to cook, preheat oven to 275 degrees F.

In a small bowl, combine salt, bold black pepper, and paprika; rub onto both sides of the beef.

Heat a heavy oven-proof pot or a Dutch Oven on medium heat. Add approximately 1 to 2 tablespoons olive oil. Place the prepared beef roast in the pot and brown on both sides. After you flip the meat to brown, add the garlic to the olive oil (alongside the meat) and saute until it turns golden and becomes fragrant.

Add French Onion Soup, waxed peppers, roasted peppers, and beef stock. At this point, taste the liquid and add additional salt, if desired, or add a beef bouillon cube.

Making Spicy Pulled Pork with Peppers ahead of time: At this point, you can put this dish into the refrigerator to cook later in the day. You can also make this dish a day ahead. After meat is cooked (see below), remove the whole peppers, put into a dish with a lid, and place in the refrigerator. Shred the meat and place (with the juices in the refrigerator overnight) and let the resulting fat harden. Remove fat the next morning, add wax peppers back into the dish, and then gently reheat when ready to eat.

Cover with a tight fitting lid, and bake approximately 5 to 6 hours or until the meat is fork tender and falling apart. If meat in not tender at this point, return to oven for an additional 30 minutes and then check again. Add a little more beef stock, if necessary, to keep meat moist.

When meat is done, remove only the meat to a cutting board. Using two forks, shred the meat (do not leave any large pieces). Return meat to the cooking pot and mix together with the liquid and peppers.

Serve on toasted and buttered rolls of your choice. Cut a wedge out of the top of a large roll, making a trough down the middle of the bread. Pile the shredded meat into the trough. T he pork mixture will stay in place nicely while eating.
Recipe Notes
* Extra Bold Indian Black Peppercorns are the world's best as only ten pounds out of every ton of Tellicherry pepper makes the special grade.  Half-sharp Hungarian paprika is a spicier, hotter version of Hungarian sweet paprika.
** I like to serve this pulled beef on Mexican Bolillo Rolls.  However, if you prefer a roll that is more crusty, you can cut a wedge out of the top of a large roll (of your choice), making a trough down the middle of the bread.
You might also like:
Beef Braised In Barolo Wine
Don't waste the extra braising sauce – You will have lots of braising sauce left from this dish.  This delicious sauce can be used as a soup base, pasta base, or used to cook chicken pieces in and then served over pasta.
Beef Tenderloin Roast – Filet of Beef Roast
This meat dish was a favorite of Ike and Mamie Eisenhower, and it was served at the White House for their friends and dignitaries.
Braised Italian Cross Rib Roast
This is a very tasty dish that is great for the Fall season.  It was so much fun to make and just excellent tasting, as the peppers really give the sauce flavor.
Garlicky Herb Cross Rib Roast
This roast is very flavorful and full of fresh herby goodness.  As the recipe calls for Balsamic Vinegar, make sure you use a good-quality aged balsamic vinegar.
Comments and Reviews